Sansgibin (Thanksgiving) and Noche Buena (Christmas Eve) are the Cuban occasions reserved for caja china, a tradition that -- along with many Cuban refugees -- made its way to Miami in 1959. It also happens to be one of the most delicious ways to experience eating pork. At its most fundamental level, caja china is a Cuban-style pig roast, with the name itself translating to "Chinese box" and the roasting process being, well, a box method of cooking swine.
Louisianians call it the "Cajun microwave," the Brits refer to it as a "hog roast," and the Indonesians celebrate with "babi guling." The tradition itself dates back thousands of years, but didn't become widespread in Miami until about 1986, when a company by the name of La Caja China, helmed by the Cuban immigrant Guerra family, was born.
The Guerras found a way to streamline pig roasting, speeding up the process from eight hours down to four, and, more importantly, making it idiot-proof along the way (instructions are written on the side of the box). And while no one is sure if the Chinese had any direct influence on the caja china we know today, the origins of its name come from the fact that Hispanics call anything exotic or mysterious "Chinese" -- which is most definitely an antiquated term that spawned from the influx of Chinese brought into Cuba in the 1850s to toil in sugarcane fields and build railroads.
As for the actual box, it's constructed out of aluminum -- but features wood on the exterior for aesthetic purposes -- and is covered with a metal tray topped with fiery coals that need to be replaced every hour, creating a hot-box situation. The company suggests two and a half 18lb bags of charcoal, and the whole hog is secured with an open grill rack, ensuring that the pig doesn't slide around and heats thoroughly and uniformly. Plus, it makes it easy for flipping.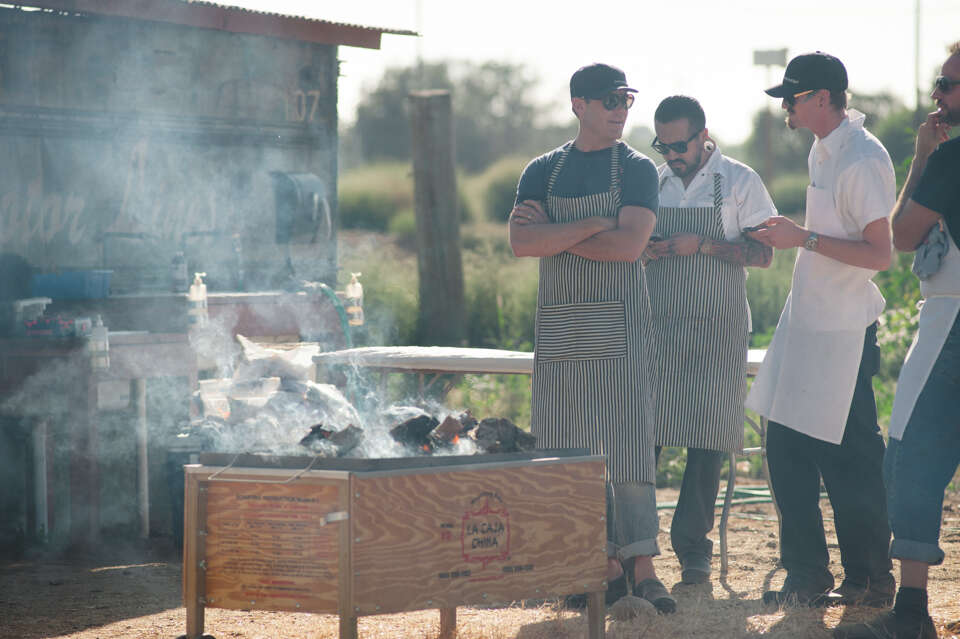 The pre-roasting consists of sourcing a butchered whole hog and injecting it (or brining it) with tons of mojo. Thankfully, sourcing a whole hog isn't too difficult, as this is Miami we're talking about, a place where roosters roam the streets unchecked. Supermarkets around the city, including Publix, will sell you pig, as well as local butcheries.
When it comes to actually eating the hog, it's what defines the holiday season for Cubans in Miami. The air is filled with the sultry smell of Sazón and mojo. Salsa music and reggaeton act as the soundtrack, and there's no shortage of domino games, cigars, and women dressed to the nines. This vibrant scene takes place under palm trees and 80-degree weather, and the all-day affair usually begins in the afternoon and -- depending on how territorial papo is about the pig roasting -- it's an all-hands-on-deck situation.
One thing's for sure, it's always a tremenda fiesta. The end result is lechón -- a bounty of crispy skin (or chicharrónon, aka the stuff that runs out first) on the outside and juicy soft white meat on the inside. The best way to make the perfect plate is by mixing equal amounts of chicharrónon with the tender meat, but you may also want to grab a slice of fluffy, heavily buttered Cuban bread and add generous portions of lechon, creating one of the most delicious sandwiches you'll ever have. Side dishes typically include cristianos y moros (black beans and rice) or congri (red beans and rice) or both (because, delicious!), yuca, mariquitas (plantain chips), tostones (fried plantains), and for dessert, flan (caramel custard dessert) and turrón (nougat).
If all of this sounds like a very formidable way to eat, fear not. You can always hit up La Esquina del Lechon Pork & Steakhouse and order it Thursday through Sunday. One way or another, you need to get your hands on this pork dish.
Sign up here for our daily Miami email and be the first to get all the food/drink/fun in town.
Mandy Baca is a Thrillist contributor and pig enthusiast. She is always accepting invitations to pig roast parties. Follow her on Twitter at @mandybaca.