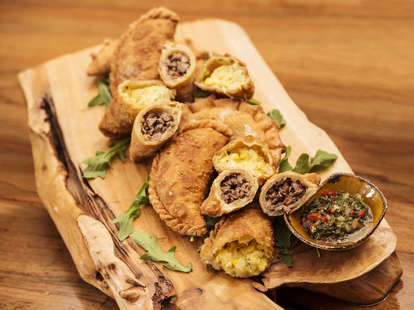 With all the money people in Miami spend on drinks, plastic surgery, and drinks for girls who've had plastic surgery, there's hardly anything left over for food. And while you could solve this problem by eating nothing but TGI Fridays Endless Apps, you could also check out our list of the 18 best eat deals on everything -- from pizza to oysters -- in Miami. You're welcome...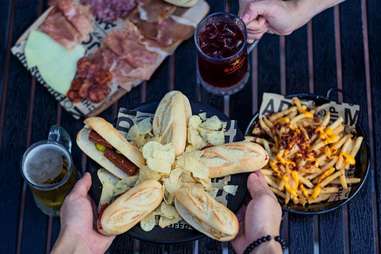 Multiple locations
What you're getting: Original Montaditos, $1
The restaurant's selection of 100 items is all $1 on Wednesdays, but if you can't wait until then, a small selection of their menu is always a buck, including these bite-sized mini baguettes loaded with ingredients like serrano ham, chorizo, and pork loin.
Coconut Grove
What you're getting: Falafel platter, $6.95
In this Latin paradise, sweet falafel's kinda hard to find, so score this huge plate with pita bread, hummus, and tabouli, and it's so cheap; you'll have enough cash for a baklava snack for later.
Miami Beach/Brickell
What you're getting: Prosciutto sandwich, $7.90
This sweet spot has been feeding rowdy Miamians late at night for years. The sandwiches, big enough for two, come loaded with tons of veggie toppings (lettuce, tomatoes, green & hot peppers, black olives, red onions, cucumbers, cornichons) and an addictive French dressing. We may or may not have stolen a bottle or two of this over the years.

Kendall
What you're getting: Jamaican Patties, $2-2.50
The secret behind that yellow tinge on the flaky shell? A hint of turmeric, mon. These spicy babies come filled with a slew of options -- beef, beefy cheese, jerk chicken, curry chicken, vegetable, callaloo, and plantain tarts, plus a small hint of Scotch Bonnet peppers. They're baked fresh daily, but we can't promise they'll last all day.
Little Havana
What you're getting: The Original Pan con Minuta (snapper sandwich), $7.35
Fresh snapper is battered and deep-fried with the tail on, placed on a Cuban bun and topped with chopped onions and secret sauce. The tradition dates back to Cuba where the Garcia Brothers mastered the art of fishing, and then eating said fish, over decades.
Miami Beach
What you're getting: Joe's Famous Half Fried Chicken, $6.95
Yeah, you can be a big baller at this old-school SoBe institution with a fried chicken feast that is enough to feed two. Stone crabs are overrated when you can buy these year round.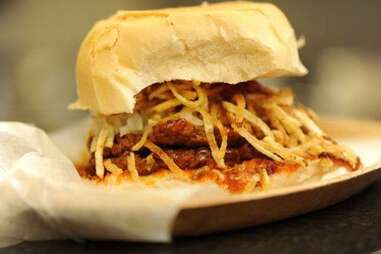 Coral Terrace
What you're getting: Frita Cubana, $3.50
Not only is this one of those only-in-Miami foods, but this Cuban hamburger with matchstick potatoes and secret sauce is also a cheap eat. The Mago makes them so lean, your wallet and your stomach can afford to eat two.
Brickell
What you're getting: Oysters, $1 during happy hour
The view from the outdoor terrace isn't too shabby, either.
Doral
What you're getting: Enchilada Verde, $6.50
All your money will be gone after you play the links at Trump National. Thanks Donald. Two enchiladas with your choice of chicken, steak, or cheese, served with refried beans, Mexican rice, and chips will be the best hole in one of the day.

Multiple locations
What you're getting: Pan con lechon, $4
This is Miami's mecca of pork and for good reason; the chicharrones (fresh pork rinds) are so good that people revolve their trip around them. This place has got the whole nose-to-tail theory down pat, using other parts of the pig for its juicy sandwich.
Downtown
What you're getting: Lunch Combos $4.99-7.99
Lunch combos? Lunch combos usually mean fast food, but when there are empanadas involved and the place is located right in front of Bayfront Park (aka fresh air) they mean this place makes the list.

Downtown
What you're getting: The happy hour menu, $5-6
Hotels usually mean expensive food, but head here during Happy Hour, when it offers a menu between five and six bucks from 4-7pm, and eat as much guac & chips, choclo empanadas, crispy calamari, chicharron de camarones, Spanish ham croquettes, and smoked swordfish dip as you can.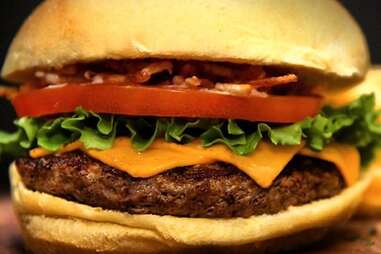 Westchester/Coral Gables
What you're getting: Pincho Burger, $6.99
In Latin American countries, pinchos are Spanish for meat skewers. The fast-casual restaurant may have started with that concept in mind, but its burgers easily outshines 'em. So much so, that it won People's Choice Award at this year's SOBEWFF Amstel Light Burger Bash. The original with lettuce, tomato, onion, cheese, potato sticks, and pink sauce is a great primer.
Wynwood
What you're getting: Spaghetti Al Pomodoro, $10.50
The best Italian food comes in the form of simple ingredients and large portions. This place has both, but thankfully, it won't break the bank like that other big shot spaghetti slinger in town. Plus, you'll be surrounded by loads of cool art, before, during, and after.

Downtown
What you're getting: Bihun Ayam Jakarta, $7.95
Who knew there was an Indonesian restaurant in the middle of Downtown Miami? It's so small, we missed it the first time around too, but from lumpia to gado-gado and laksa, the entire menu is accessible. This dish of rice noodles, chicken, mushroom, spinach, and quail egg is a good intro into this exotic cuisine. Pro tip: it's cash only.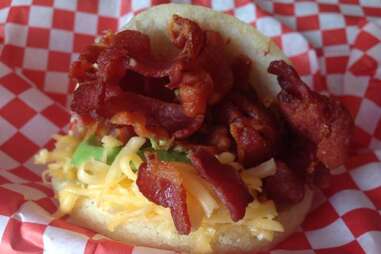 Midtown
What you're getting: An arepa, $5.50-6.50
The arepa battle between Colombians and Venezuelans vying for ownership of these circular cheese-filled cakes is strong. In this case, Venezuela wins. They are delicious as is, but toppings like shredded beef, pork, and avocado make it even better.
Coral Gables
What you're getting: All pizza pies under $11
Ah, pizza, our recession-proof love. If you were Italian, this one would make your Nonna proud... if she was Neapolitan and used fresh ingredients instead of the canned stuff most Grandmas use. Now, who's up for a pizza party?

Little Havana
What you're getting: Carne asada, $8
Fritangas are neighborhood Nicaraguan cafeterias. This one is different, however, because it offers the largest serving of carne asada this side of Nicaragua atop gallo pinto, queso frito, and maduros. Even better, there's a tiny market in the back and it's open 24 hours a day.

Sign up here for our daily Miami email and be the first to get all the food/drink/fun in town.