Kinda like you've heard about good customer service and professional hockey from your friends in Broward and PBC, you've also probably heard about Duffy's Sports Grill, a mythical utopia with more TVs than Tony Montana's office and endless 2-for-1 drinks. And now that they've finally come South to CocoWalk, you're gonna need some help figuring out how to make the most of their menu.
Recommended Video
The Best (and the Rest): Best Easy Ramen Hacks and Winter Beers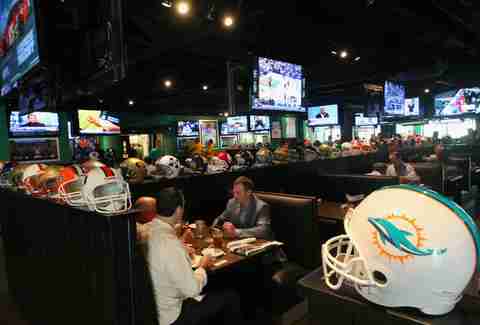 Step 1: Find a seat.
Grab a seat next to your favorite team's helmet, or at least within view of one of their 93 flatscreens that'll probably show professional ice fishing if you tell them what channel it's on.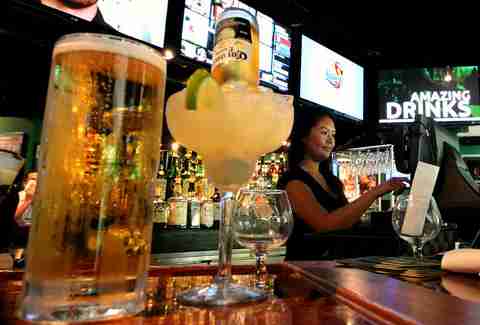 Step 2: Drinks.
Start pounding suds like these 32oz mega-beers or 'tails like these Corona-ritas that are not only 2-for-1 all the time, but are also, apparently, AMAZING.
Step 3: Snack.
The Jalapeno Pimento Cheese Spread served with crispy flatbread will take the edge off your hunger while you study the massive menu which they call "The Playbook". Copycats.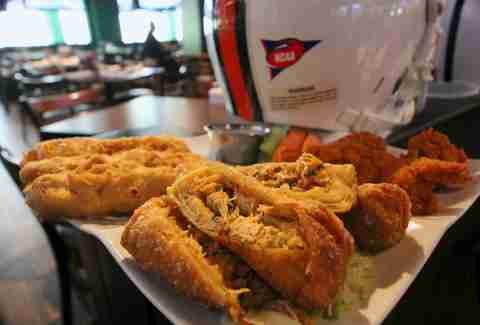 Step 4: Appetizers.
Ryan Tannehill gets paid a lot to make tough decisions. You don't, so just go ahead and order the Appetizer Tasting with boneless chicken wings, beer-battered mozzarella sticks, and Tex-Mex egg rolls with seasoned chicken, Jack & cheddar cheese, roasted corn, red peppers, and cilantro. Oh, and some vegetables you can ignore.
Step 5: Tacos.
These panko-crusted lobster numbers w/ cilantro-cream sauce & cabbage are not to be missed.
Step 6: Mains.
This behemoth combines all the greasy deliciousness of a Swiss cheeseburger with all the greasy deliciousness of pastrami, adds slaw, then puts it on a pretzel bun -- it's called the Rachel Burger, probably 'cause it'll make you look like Ross... Rick Ross.
Step 7: Even more mains.
This half-rack of baby-back ribs in a sweet tangy sauce with sweet potato fries is half-off every Thursday. So, USF alums, go ahead and celebrate.
Step 7: Dessert.
Grab this crispy fried cheesecake around that time in the fourth quarter when the color guys run out of ways to call the SEC "the best conference in the history of organized sports", and some of the other TVs have already been turned to something called hockey(?).