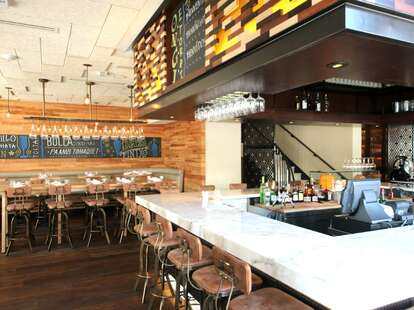 To avoid any dangerous Spanish gastrobar deficiencies in Coral Gables, Por Fin has been reopened as Bulla, which is pronounced like Stuart Scott's catchphrase "as cool as the other side of the pillow" "boo-yah", translates to "noise", and is serving an array of Spanish cuisine inspired by the owner's trip to Barcelona last summer
Rooftop! So much better than sitting on the roof bottom, which only happens in Beetlejuice.
If you and 49 of your Tumblr friends feel like making as much bulla as you damn well please, you can rent out the upstairs private dining room, which comes complete with projectors that drop from the ceiling
A nice wide-open kitchen. Chef Luis Quant apparently likes to be scrutinized
Start out with a selection of quesos like lemony Mahon, sharp goat's milk Garrotxa, and a nutty Manchego
The Montado de Anchoa sticks a skewer right through Spanish anchovy, roasted pepper, Leonora cheese, and guindilla
Rabo de Toro is a bowl of braised oxtail, shishito peppers, and Lou Diamond Phillips's favorite rice (bomba) topped with shoestring potatoes
This Sepia a la Plancha is sautéed cuttlefish, grapefruit, and and shaved fennel
Huevos Bulla translates to "Noisy Eggs", is served over homemade potato chips, is topped with Serrano ham, truffle oil & potato foam, and looks totally ridiculous
No, you're not allowed to operate this vintage hand-cranked slicer. Especially after enjoying 50 Spanish reds, 20 Spanish whites, and sangria made with beer, which will surely make you apt to begin distributing many hugs and hand-pounds.