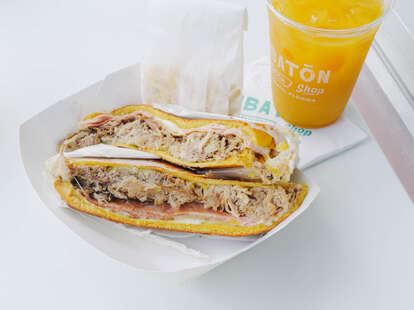 Photo by James Jackman for Thrillist
Photo by James Jackman for Thrillist
"Alexa, play Pitbull," David Reidenberg says as he flips on the bathroom lights at Cubaton, his new Cuban sandwich shop in Miami Beach. Slowly, the familiar harmonica intro to "Timber" fades in as the lights blink on, exposing what can best be described as Pitbull shrine with a toilet.
Classic images of Mr. 305—his James Bond suit, the El Mariel album cover—are interspersed with classic vinyl of "305 Anthem" and "Bojangles." The space could be the welcome foyer to a Pitbull museum, if that museum reminded employees to wash their hands.
"It's designed so both men and women have to lock eyes with him while they're using the bathroom," Reidenberg says proudly. Say what you will, his design is impeccable.
The Pitbull-themed potty is undeniably a star of the show at Cubaton, but its sandwiches are as true to Miami as the man who adorns the bathroom walls. And with a small space and even smaller menu, Reidenberg has brought the beach what it's been painfully missing for years: Somewhere to grab a Cuban sandwich and cafecito for a decent price.
Reidenberg isn't Cuban—not even close. He's a 29-year-old French-American who was raised Jewish in New Jersey and attended culinary school in New York, then came to Miami and became enamored with Cuban culture.
"When I got down here I wanted to learn everything there was about the food," he says. "The first thing was just to try out every place big and small, from gas stations to every ventanita I could find."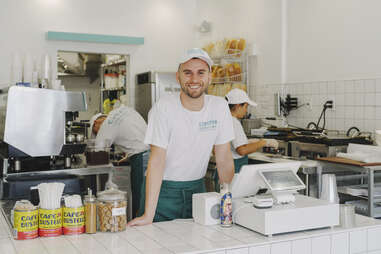 His search led him to the iconic Palacio de Los Jugos, which has colorful decor and a chaotic atmosphere that convinced Reidenberg Miami would become home. "I love that it looks like a circus, because it really is a circus in there," he says. "That was the moment I realized I'm not here for a short stay—I'm living here."
He settled in Miami Beach and was frustrated that he couldn't find the gas station- and ventanita-style Cuban fare he could across the causeway. So when commercial space in a 400-square-foot former cookie shop opened up, he jumped at the chance to bring affordable Cuban sandwiches back to the beach.
"South Beach has a lot of [Cuban restaurants] with Cheesecake Factory-style menus, but everyone was ordering the same thing: The Cuban sandwich," he says. "So I said, 'why not do a shop that just has five sandwiches and specializes in one thing?'"
The space feels every bit like a Hialeah sandwich counter with the aroma of cooking pork filling the air as soon as you step inside. It's missing a little bit of grime, but what it lacks in sticky floors it makes up for in playful touches. The walls that aren't adorned with Pitbull paraphernalia boast custom renderings of Jupina soda from Michelle Gutierrez, the artist behind the nostalgic local art series West of Chester. She also did a Pitbull piece in the bathroom, which Reidenberg had custom made.
Of course, a French guy from New Jersey isn't necessarily a natural to create a Cuban sandwich menu, so Reidenberg consulted with his best friend from culinary school, Caroline Ferra, who is Cuban-American.
"When we first started marinating the pork, I remember telling her, 'I want this to taste like your Christmas pork,'" he says. "So that was the inspiration behind a lot of the recipes."
The result is a Cuban sandwich that's immediately cemented itself on any self-respecting list of the city's best. The pork is slow-roasted for eight hours in a proprietary mojo sauce of cumin, garlic, black pepper, and orange juice. It's served on Cuban bread made with manteca, as it should be, from a family-run bakery in Allapattah. The Cubano is then pressed at a high temperature, which gives the sandwich a distinctive crunch with every bite.
The Cuban-style sandwiches don't stop with the factory worker classic, though. The menu also boasts a pan con lechon served with mojo onions and garlic-cilantro aioli on Cuban bread. You can also try the Medianoche, basically the same as a Cuban sandwich but served on a brioche-like challah bread. The lard-free Medianoche bread is also the base for Cubaton's lone vegetarian option, filled with a savory mix of avocado, roasted red peppers, tomato, mojo onions, and a spicy mojo verde sauce.
"I always ask people who order that sandwich on Cuban bread if they're vegetarians, because most people don't know Cuban bread is made with manteca," Reidenberg says. "It's surprising how many vegetarians don't care about Cuban bread. They just look the other way with it."
Cubaton also serves juices, batidos (fruit-infused milkshakes), and Cuban coffee. The Palacio-inspired jugos flow through colorful dispensers just right of the ordering counter in flavors like fresh mango, passionfruit, tamarindo, and guanabana.
The batidos are thick, creamy fruit shakes that call to mind the fruit stand Robert is Here, minus the chunks. Much like he did with the pork, Reidenberg wanted to create batidos like the stuff abuelas would make.
"A lot of places will just use mamey, water, and milk. But a lot of Cuban grandmothers will also throw in sweet and condensed milk, or evaporated milk, if you want to give it that tiny bit of homestyle flavor," Reidenberg says. "So that's exactly what we did."
He adds that same evaporated milk to Cafe Bustelo espresso, to give them a richer, more nostalgic taste than most Cuban coffees. While you're welcome to order a cafecito, colada, or cafe con leche, the summertime best seller is the iced cafe bombon, a drizzle of condensed milk topped with a double shot of espresso over ice, then finished with a house blend of evaporated and sweetened condensed milk.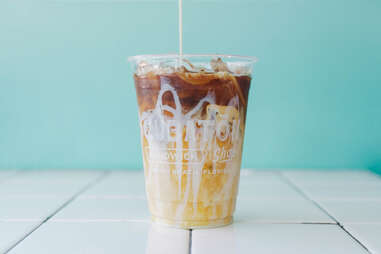 The French man's foray into Cuban cuisine seems to be working, as Cubaton has already gained a loyal local following. As Reidenberg and I sat outside sipping coladas and discussing the finer points of rice and beans, a man in a Penn State hat walked out of the shop with a to-go bag in hand and shared that he was back for the third time this week—he was only visiting for a week-long vacation.
With sandwiches that can hold their own and prices topping out at $12, it's no surprise Cubaton is already gaining popularity. Much like the songs from the man inside its bathroom, Cubaton's sandwiches are an instant hit.
Matt Meltzer is a Miami-based contributor for Thrillist, a veteran of the United States Marine Corps, former pageant judge in the Miss Florida America system, and past contributor to Cosmopolitan magazine. Matt graduated with a BBA from University of Miami and holds a master's in journalism from the University of Florida. He currently lives in Miami with his Betta fish, Bob.