Fish shacks and dim sum top this year's must-hit list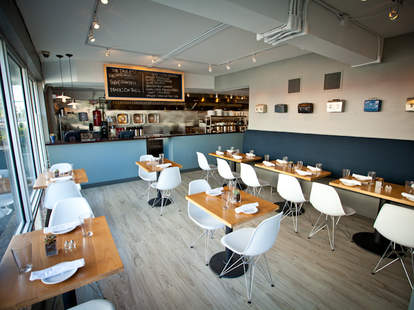 Miami's food and drink titans are here to offer their take on 2012's most important openings, from frita paradises to some of the most adventurous consumption this side of the entrance to the MacArthur causeway
Janie Campbell, Miami Editor, The Huffington Post "Broken Shaker (thank you tiny baby Jesus it came back!) and Blue Collar. Also, Wood Tavern is just such an easy, fun go-to bar, and Pizzarium's pumpkin pizza is to die for.
Michael Schwartz, Owner/Chef, Michael's Genuine Food & Drink "I spend a lot of my dining out time at Pubbelly restaurants, especially Sushi. My Ceviche is a great little spot.
Sef Gonzalez ("Burger Beast"), Founder, BurgerBeast.com "Blue Collar, Cuban Guys, LoKal Burgers & Beer, and Rebel House, those four stand out. I think I've actually been to Blue Collar more times than I've visited my parent's house this year.
Michelle Bernstein, Chef/Owner, Michy's and Crumb on Parchment "Momi Ramen, you have to check it out!
Lee Schrager, Founder/Producer of the South Beach Wine & Food Festival "The Bazaar at SLS South Beach, MC Kitchen, Tosca, Pride & Joy, and J&G Grill.
Michael Pirolo, Chef/Co-owner, Macchialina Taverna Rustica "My Ceviche, Bazaar, and Foxhole
Giorgio Rapicavoli, Chef/Owner, Eating House "Macchialina and The Broken Shaker. Both are just great food/drink done by hard working people that really give a sh*t about what they're doing.
John Lin, PR guru/Founder of IAmJohnnyBoy.com "South Street, Chef Philip Ho, and Thea's Pizzeria.
Jeff McInnis, Executive Chef, Yardbird Southern Table & Bar "Macchialina Taverna Rustica and My Ceviche. My Ceviche is just one of those super tiny spots that you could just walk by without really knowing it was there; but if you did keep walking, it would be your loss. Best ceviche in town. And Macchialina is just damn good comfort Italian food. They don't mess around, best raviolis and agnolotti I've ever had in my life.
Alan Roth, Owner, Ricochet "I really like what they did with SLS Hotel. Pride & Joy is great. And the vibe & food at South Street nails it.
Danny Serfer, Chef/Owner, Blue Collar "Without question Josh's Deli. MC Kitchen, too."