Blissfully ruin your New Year's resolutions with these gotta-hit spots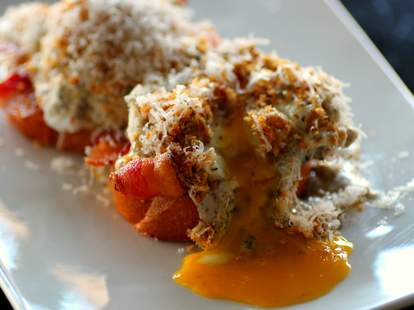 While the nachos at Chili's are undeniably fantastic for up to 2.7 meals a day, 2013 seems like as good a time as any to branch out and visit some new places. On that note, here's what Miami's best industry folk are planning to hit, so you can just steal their ideas
Jeff McInnis, Executive Chef, Yardbird Southern Table & Bar "It would go something like this: Pubbelly, Gotham, Khong River House, Swine, Sugarcane, and Meat Market.
John Lin, PR guru/Founder of IAmJohnnyBoy.com "Poor Man's Lobster. Anything by the Mandolin peeps has got to be great. I'm looking forward to George's opening in Midtown, too.
Sef Gonzalez ("Burger Beast"), Founder, BurgerBeast.com "I still need to make my way over to Eating House, The Federal, and Haven. I'm trying to keep the list small so I can accomplish my goals early.
Janie Campbell, Miami Editor, The Huffington Post "Taqueria Mercadito's amazing carnitas torta. Related: I will physically fight anyone who suggests Taqueria's burritos aren't the best in Miami. Macchialina's short rib lasagna, which I wanted to rub on my face. Blue Collar's brunch, the ultimate hangover cure.
Lee Schrager, Founder/Producer, South Beach Wine & Food Festival "Florida Cookery, Cooper Avenue, Toro Toro, and Khong.
Jose Mendin, Chef/Partner, Pubbelly "I'm obsessed with DB Moderne. Best restaurant in Miami.
Alan Roth, Owner, Ricochet "Novecento is opening its doors across the street from [my place Ricochet] in April, which should help the landscape of Midtown. Plus, I love the Novecento brand and food.
Danny Serfer, Chef/Owner, Blue Collar "Goat belly."