Yay! You finally got a call from a girl you've been trying to.. um… "date" since the 12th grade, but today won't really be a good day unless you figure out how to make her a gourmet, four-course feast, despite only having a hot plate and an oven in your tiny excuse for a kitchen... or, the Lakers beat the SuperSonics. Since neither of those is very likely, why not just let former One Ninety chef Alan Hughes cook you a gourmet, four-course feast at Embassy? Oh, and he'll only be using a hot plate and an oven...
Recommended Video
Enjoy Baklava for Breakfast
... in a tiny excuse for a kitchen. The 40-seat Embassy's cook-space is, at less than 100sqft, about the size of something only R. Kelly is comfortable producing most of his stuff in: a closet.
But that doesn't stop 'em from making things like Octopus Crostini w/ roasted tomatoes, for your first course. First step: boiling up some octopus on that hot plate.
Next they slather some bread and tomatoes in olive oil and roast both in the convection oven.
Finally, they pile 'em all together w/ some over-roasted shallots, and this sucker (Ha! Get it?!) is ready to eat.
Next up: Japanese-inspired Eggplant Tapas that starts with sliced 'plant breaded in Panko.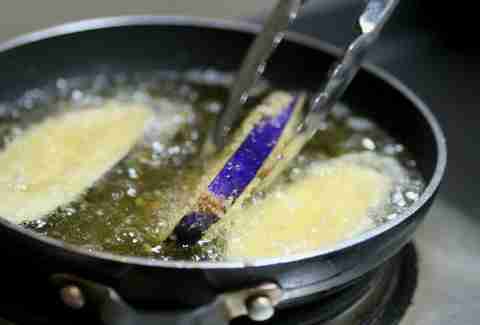 Next, they fill a skillet with a couple inches of Canola and almost deep-fry those bad boys...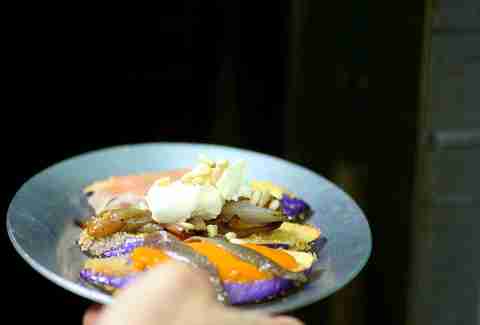 ... then top 'em with tomato sauce, anchovy, roasted shallots mascarpone and pine nuts... or just wrap it in Serrano, which may sound like a fictional Cleveland player who can hit the straight ball "very much", but it's actually delicious ham.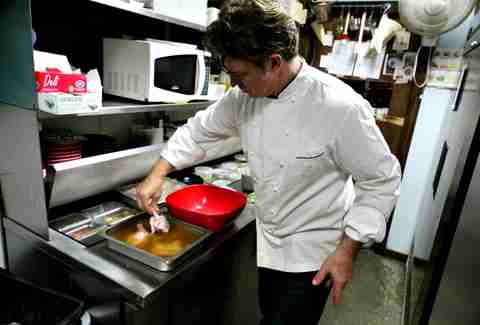 Your main course is Duck Confit. They take a roasting pan, fill it with duck fat, star anise, cloves, and bay leaves, and drop Daffy right in there.
It goes in the oven w/ roasted shallots & figs, then gets topped with something Ice Cube, or anyone really, hopes to avoid on a good day: One (sprig of) Thyme.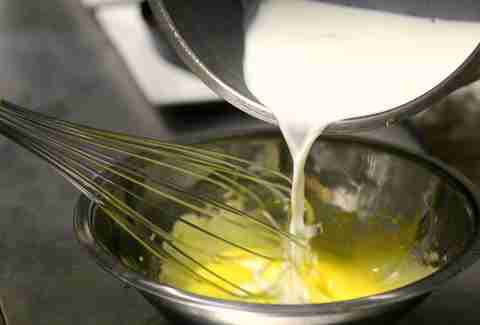 For dessert: an Earl Grey and white chocolate verrine. He makes this by steeping Earl Grey tea in cream on his trusty hot plate, then whisking it with eggs and sugar.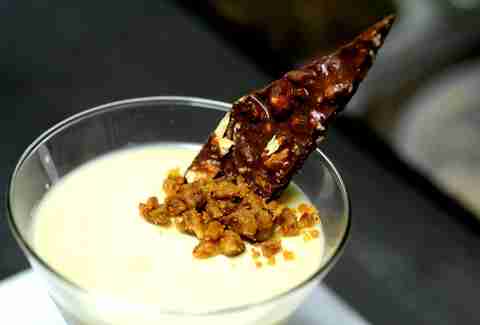 Pour it in a Martini glass and top it w/ graham cracker crumble & chocolate praline and you've got a badass dinner you could've made yourself, but really should leave to the professionals. Either way though, you're coming out feeling the opposite of 15lbs lighter.