These people have seen the future, and it has doughnuts in it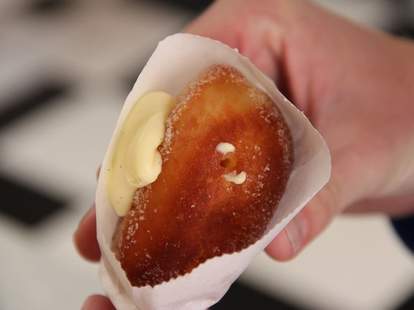 We were going to ask the Mayans or John Cusack about their predictions for Miami's food and drink scene in 2013, but instead went with the slightly more-reliable minds of 305's best food and drink people. Enjoy the removal of hipsters and the addition of doughnuts
Giorgio Rapicavoli, Chef/Owner, Eating House"I think the trend of fermentation will continue. Lots of housemade vinegars, miso, garum, and fish sauces. And chefs will be more into aging their products, be it meat, game, fish, or vegetables.
Sunny Oh, Chef, Juvia"We will discover the real truth behind sugar.
Alan Roth, Owner, Ricochet"People will stop using the word 'hipster' and 'pop-up'. Well, at least I'm hoping.
Michael Schwartz, Owner/Chef, Michael's Genuine Food & Drink"Less food trucks, probably more pop-ups, and better fine-dining options on the mainland.
Sef Gonzalez ("Burger Beast"), Founder, BurgerBeast.com"Less burger and more hot dog joints, a few killer 24-hour breakfast restaurants. And some awesome doughnut shops wouldn't hurt either.
Janie Campbell, Miami Editor, The Huffington Post "I am going to HATE what the new owners do to the Raleigh Hotel. Chef Jamie DeRosa is going to be cooking up something we're all talking about. And another ring for LeBron!
Michelle Bernstein, Chef/Owner, Michy's and Crumb on Parchment"Great hotel restaurants are coming soon.
John Lin, PR Guru/Founder of IAmJohnnyBoy.com"More and more tapas plate-style restaurants with the same boring mixologist drinks."