Two important facts you probably weren't aware of: 1) a gosherd is what you call someone who owns geese, and 2) the very best evenings begin at restaurants where you can score great eats AND get the party going while you do so.
Recommended Video
This Restaurant Reinvented the McGriddle
Taverna Opa
Brickell
There's really nothing that doesn't go with wood-fired kebabs, seafood and steaks, but what goes best with them are waiters making it rain paper napkins like they're a short-on-cash Lil' Wayne, and scantily-clad belly dancers strutting past you while you stuff your face with hummus, all while Greek music plays at Megadeth-level volumes in the background. Obviously.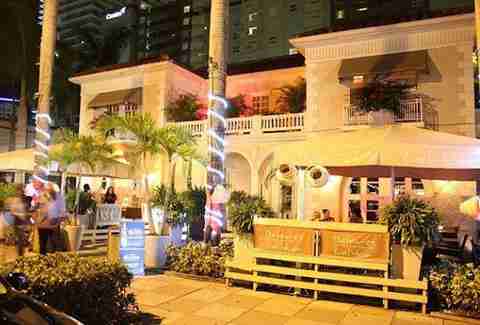 Dolores But You Can Call Me Lolita
Brickell
The name's not the only part of this firehouse-dwelling Brickell nightspot that has a serious identity crisis:  upstairs Dolores is serving a diverse menu with veal churrasco, gnocchi massala and Kobe beef sliders, while downstairs a DJ serves up... well, dance music, presumably. 
Bazaar by Jose Andres at SLS
South Beach
This small, grand chandelier-adorned dining room sits smack in between the SLS Hotel's entrance/lobby bar and Hyde Beach, which means all of the out-of-your-league models walking by will definitely... err, possibly... um, probably not stop by your table and try the foie gras PB&J sandwich you just ordered. 
Sushi Samba
South Beach
Long before restaurants starting hiring DJs before they hired chefs, this Japanese/ Peruvian/ Brazilian foodery had a dude spinning house in the dining room. They're still doing it, but have added so much additional entertainment (the occasional decked-out Brazilian dancer, live drums, etc.) that the party usually spills out onto Lincoln Road.
Barezzito
South Beach
Though it might sound like a guy the Marlins should add to their pitching rotation, Barezzito is actually a colorful live-music and sushi spot with 18 locations in Mexico that opened its first U.S. location on Collins Ave, where they've got Japanese/Latin fusion food, killer cocktails, and a connected nightclub that goes 'til 5a.
Mr. Chow
South Beach
This massive eat-space inside The W bustles with waiters eager to ply your table with multiple courses of Chinese-inspired eats, plus things like hourly noodle-making shows, but the crystal chandeliers hanging from the ceiling actually deflect sound, so you should be careful no one's eavesdropping when you say "This tastes a lot like PF Chang's can talk to the people in your party (diner). 

Baoli
South Beach
If you don't mind having your dinner interrupted by the quarter-hourly sparklers and sirens that tell you somebody just bought a really expensive bottle of vodka, this tree-cannopied outdoor restaurant/club will give you the best European scenery you can get without flying across the pond. The name's Italian, but the menu's Japanese, a fact that doesn't even hit you when there's Swedish models dancing on the table next to you.
Villa Azur
South Beach
From a couple of nightlife/restaurant veterans and actor Olivier Martinez (aka, the dude who banged Diane Lane in a hallway), this stately-but-relaxing French eatery aims to capture the "glamour and allure found in the French Riviera" by turning their  white-curtained outdoor dining room into a party space that really finds another... waitforit!... Gere once the sun goes down.