Kylo Offers a New Spin on the '90s Food Court
This sleek new downtown food hall is all digital—and put Popeye's Spicy Chicken Sandwich on a pizza.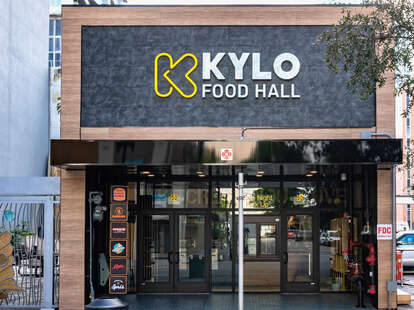 Remember the shopping mall food court, where you and your friends would bounce around scoring samples from Kelly's Cajun Grill then solving the world's problems over a big shared order of Burger King fries? Recently, it's seemed like that treasure trove of guilty-pleasure food was long gone, replaced by the ever trendy "food hall," where Machu Wok gave way to an artisan dumpling stand, and BK moved out in favor of a Japanese wagyu smashburger.
But a new downtown digital food hall has brilliantly fused the two, where you can order a gourmet grilled cheese sandwich on the same tab as a Double Whopper, and top them off with some of the Midwest's most beloved ice cream. Kylo, which stands for "Kitchens You Love," opened its doors on November 2, right across the street from the Dade County Courthouse. And in addition to bringing mix-and-match dining to its logical next level, it's also offering a fresh take on the food hall experience.
Blending big name brands with local favorites
Kylo is the brainchild of Restaurant Brands International, the Miami-based parent company of Burger King, Popeye's, Firehouse Subs, Tim Hortons, and other iconic fast food institutions. It's partnered with some of Miami's most popular restaurants to offer a seven-kitchen, brick-and-mortar concept that's completely digital, but lends a little more credibility than the glut of mysterious "virtual kitchens."
"Our brands are recognizable, there's a huge following," says Luis Maia, the head of Kylo. "And there's a big market for people who want to walk right in instead of doing all delivery. The location is beautiful, it attracts a lot of guests, and it's better for credibility. They can see it's a real location."
Set in an old Burger King at 50 W. Flagler St., Kylo has no counter servers or order takers. You won't see a line cook unless you peer back into the sea of stainless steel kitchens. Its customer space consists of a couple of touchscreen kiosks and a counter where completed orders wait for their owners.
To order, guests can pony up to the touchscreens and choose food from one of seven different restaurants: Ms. Cheezious, Spris Artisan Pizza, Sergio's Cuban, Burger King, Firehouse Subs, Popeye's, and Jeni's Ice Cream.
The menus are limited, as Kylo has sought to bring a greatest hits collection of menu items rather than deep cuts. You won't find chicken sandwiches at BK or anything other than empanadas at Sergio's. Still, Maia insists most guests will enjoy the opportunity to craft a meal of favorites from some beloved brands.
"We tried for one brand not to compete with the others," he says. "But we have the best sellers from everywhere, and at Spris, we have a very comprehensive menu."
The offerings are enough to create a pretty epic meal if you want. Craving a Ms. Cheezious short rib melt and some Popeye's nuggets? Both are at your disposal. Fancy a Whopper and a rucola e prosciutto pizza with some Brambleberry ice cream? Your cardiologist might stop you, but Kylo won't.
The new food hall has even gone so far as to put some of these classic dishes together in genius creations tailor made for Instagram. Most notably, the Popeye's Spicy Chicken Sandwich Pizza—a mashup of the cult classic chicken sandwich and Spris' margherita pizza, where chicken nuggets, diced pickles, and a drizzle of hot sauce cover the traditional tomato sauce and mozzarella.
You'll also find the Burger King and Ms. Cheezious Short Rib Melt, essentially the ramped-up grilled cheese with Burger King fries inside. Light it is not, but the fries add a greasy crunch giving the sandwich an extra layer of flavor.
Both these items are only on the introductory menu, though. So if you haven't eaten a Popeye's Chicken Sandwich on a pizza since you lived in a frat house, now is the time to order.
Speaking of college, those who attended Ohio State University will be delighted to learn that Columbus's own Jeni's Ice Cream has a spot inside Kylo. While this is its first foray into South Florida, it's a favorite across the Midwest, and especially among people who insist there really was pass interference in the 2003 Fiesta Bowl. The Kylo outpost offers just two flavors in cup and pint size, Brown Butter Almond Brittle and Brambleberry Crisp. Blackout chocolate cake, according to Kylo's website, is forthcoming.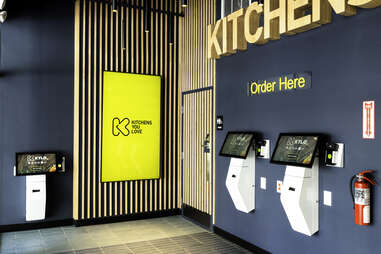 Ordering is easy, and delivery won't kill your wallet
In addition to ordering in-store, guests can also order on Kylo's app—available for both iPhone users and Green Text Nation—or on its website. The full menus from all seven concepts are available there, and everything is completely customizable.
Once your order is placed, you can just kick back in the sleek lobby or wander outside into the South Florida sunshine. You'll get a text when your order is ready, at which point you can saunter back in and pick up your goodie bag of greasy deliciousness. You'll have to get it to go, though, as there's no place to sit inside. Kylo also offers delivery both through its app/website and all your favorite third-party delivery platforms. And, thankfully, the price isn't marked up on any of them.
Though this is Kylo's first location, the concept is pretty transferable to any city. And while Maia diplomatically says the company is just focusing on the one location for now, he wouldn't rule out other Kylos either.
So perhaps it is that the mall food court isn't dead, it's just evolved with technology and changing tastes. Now you can do your fast-casual food hopping on your phone or an easy-to-use touchscreen, blending menu items from different restaurants in one, digital swoop. Kylo might not transport you back to the lazy teenage afternoons of yesteryear. But at least you can eat like it.