An Italian favorite is back on Las Olas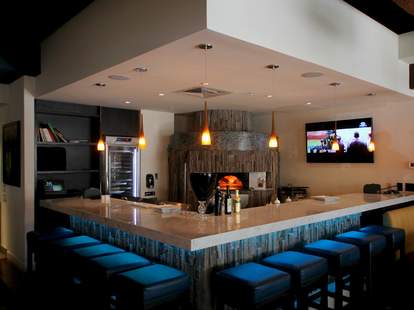 Usually, the only hand-pulling that happens on Las Olas is when the Superfriend of the hot girl you're talking to tries to drag her away at The Royal Pig. But now that Mancini has come back, you can enjoy a much more enjoyable hand-pulling as servers stretch and bend freshly-made mozzarella over homemade pastas right next to your table, where you can also enjoy wood-fired pizzas, fresh seafood, and crudo
Owner Jack Mancini re-opened his long-standing Las Olas staple just a few blocks down from the old place -- it's now got 160 seats, 150 mostly-Italian wines, and tons of outdoor seating
The crudo menu includes stuff like lobster carpaccio, tuna with capers & anchovy garlic, and this: red snapper crudo with marinated citrus, celery, herb pistou, and chili-lime vinaigrette.
These herbed black mussels are served with white wine broth, olives, rosemary, and chili flakes
This agnolotti is made right in the kitchen and topped with spiced roasted butternut squash, braised lamb shoulder, wilted arugula, and amaretti crumb.
Elmer Fudd's favorite dish is this fresh pappardelle with rabbit sugo and truffle espuma. Dude just loves twuffle espuma
Finish up with this tasty tiramisu with marsala and mascarpone, topped with cocoa and a ladyfinger. Which is considerably thinner than the finger you saw when you tried to convince that hot girl to stay at the bar.