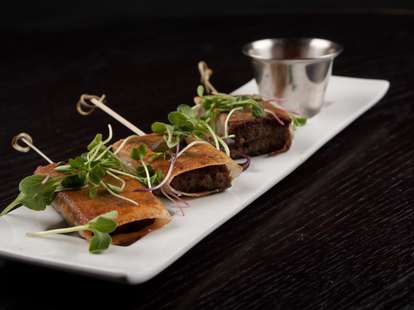 At least 600 times a week, you find yourself shaking your head, shrugging your shoulders, and muttering, "Only in Miami." This usually happens when you're trying to explain one of our city's quirks to out-of-towners, but it also happens when you order one of these eight South Florida-repping foods, throw it up on your Instagram, and mark it with the 305's favorite hashtag: #onlyinmiami.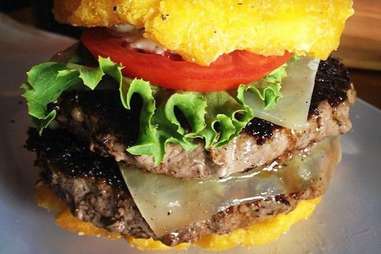 Toston burger
Pincho Factory, Westchester
The Today Show made a huge mistake when they brought on Pincho Factory's Nedal Ahmad last month to make this burger for a nation-wide audience. Sure, this mixture of short rib, brisket & chuck topped w/ Monterey Jack, lettuce, tomato & cilantro sauce stuck between two deep-fried plantains is the most delicious thing Al Roker's ever had, but they failed to realize it wouldn't do anything to improve ratings here, since no self-respecting Miamian is up at 8am. On a weekday.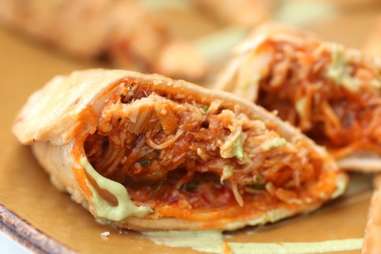 Ropa Vieja empanada
Wynwood Kitchen and Bar, Wynwood
If they named this thing in English, it would be pretty hard to convince anyone there was something delicious called an "Old Clothes Pie". Fortunately, in Miami we can choose from two languages, and give this spicy, Creole pulled chicken in deep-fried pastry dough a much prettier-sounding name. Though given the kind of dudes who hang out in Wynwood, the "ironic" English name might have worked, too.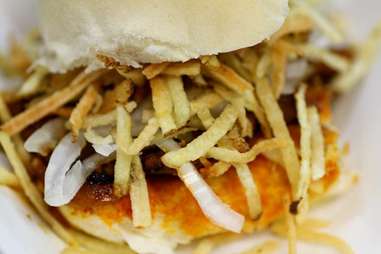 Fritas
El Mago De Las Fritas, Coral Gables
During what was perhaps the most gluttonous day in Thrillist history (and, basically just a Thursday for the Burger Beast), we sampled every frita at Calle Ocho with Miami's top frita maven, and this one came out on top. It's also Obama's first stop every time he comes to town, where the "wizard of the fritas" is alllll out in the open, frying up his all-beef patties with house seasoning, raw and cooked onions, potato strings, and ketchup, then serving each one personally on a Cuban bun.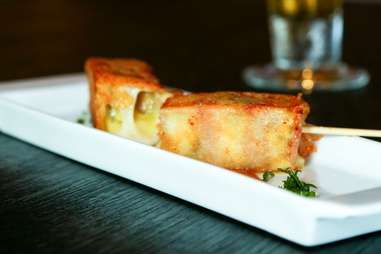 Cuban Sandwich on a Stick
De Rodriguez Cuba on Ocean, SoFi
In what we can only assume is Miami-native and James Beard award-winner Douglas Rodriguez's tribute to that outside-the-Orange-Bowl classic -- mystery meat on a stick -- D-Rod takes all the ingredients of a Cuban sandwich (roast pork, sliced ham, Swiss & pickles) and substitutes them for what was, now that we think about it, something we probably shouldn't have eaten.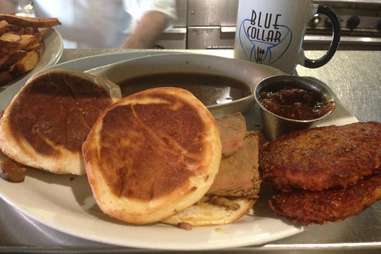 The "Corben"
Blue Collar, Mimo
Not only is this sandwich named after the Miami native who directed such essential Dade County chronicles as The U and Cocaine Cowboys 2: Hustlin' with the Godmother, it also fills the desperate brisket sandwich void left when Wolfie Cohen's Rascal House closed by serving braised brisket on Portuguese muffins w/ Dijon & dipping jus, then plating it with, what else, potato latkes and apple sauce.
Medianoche Croquetas
Bread + Butter, Coral Gables
No food can capture allllll the flavors of a Little Havana cafeteria in one bite better than these croquetas, which combine pork, ham, Swiss & pickles, and're served with a mustard aioli and soda crackers... unless the whole thing was cured with cigar smoke and came on a plate made of dominoes.
Cuban Chop Chop
Chicken Kitchen, Multiple Locations
In other places, "Chop Chop" means "move fast". Only in Miami does it mean, "Wait in a line that moves slower than the non-US passport line at MIA for a plastic bowl overflowing with yellow rice, black beans, lettuce, tomatoes, and mojo-marinated chicken breast". And two cups of honey mustard sauce, of course.
Abuela Maria ice cream
Azucar, Little Havana
It's hard to justify having pastelitos for breakfast, a mid-morning snack, an after-lunch snack, just before dinner and then AGAIN for dessert. If only you could, like, put it in ice cream or something so that... WHOA! Hey, look at that, this ice cream shop put ruby red guava, rich cream cheese, and crispy, sweet galletas in the actual ice cream. Now if only we could figure out a way to explain to visitors why we're still eating it five times a day.