A 'Golden Girls'-Themed Kitchen Just Opened in Miami
Yes, cheesecake is on the menu.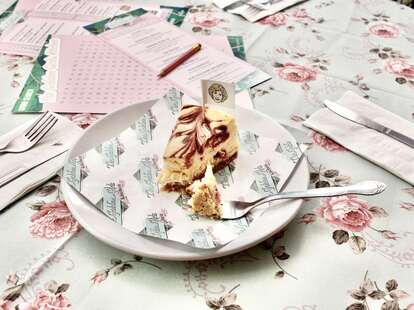 Photo courtesy of Golden Girls Kitchen
Photo courtesy of Golden Girls Kitchen
The Golden Girls remains one of the most culturally influential shows to ever grace the small screen. Not only was it years ahead of its time on issues like marriage equality and female sexuality—it was also bitingly hilarious and full of sarcastic, witty one-liners that stand up almost 30 years later.
It's why I moved to Miami as soon as I was old enough to decide for myself and why my college apartment was a wash of wicker and pastel upholstery. When I visited LA shortly after Rue McClanahan died, I put flowers in the driveway at 245 N. Saltair, much like Friends fans recently did for Matthew Perry in New York.
So when word of the Golden Girls Kitchen hit social media, I got messages from just about every person I'd ever met to share the news. And when it finally opened this week, I was, quite literally, the first person through the door.
Ignore, for a minute, that I was in a breezy retrofitted outdoor space in a Wynwood warehouse. As far as I was concerned, I had traveled back to 1986 at 6151 Richmond Street, and I was sitting in a place I'd never dreamed I could visit. And as the warm, tropical air blew through I almost expected Blanche Devereaux to come sashaying through the French doors, or for Harry Weston to walk up and ask if I'd seen his dog.
The pop-up restaurant experience is a collection of Golden Girls sets, themed rooms, and tributes to the greatest comedic ensemble cast of all time—with some food thrown in so you can get a taste of what fueled the funniest ladies of the 1980s. It'll be open through the end of the year at 350 NW 24th Street in Wynwood.
Just past the hostess stand, after the neon "Thank You For Being a Friend" sign, the living room that shaped my sense of interior design sits in real life. I picked up the 1980s push button phone next to the couch, and said, "No Stan, Dorothy's not here."
After the living room, you'll find a mockup of the famous Lanai filled with tables where you can sit and enjoy dinner with a warm Miami breeze. Sadly, there are no lounge chairs, and no Walkmans cued up to play "Purple Rain." But the painted backdrops look just like the show.
Past a painted wall of Golden Girls quotes and through a door you'll find yourself in the famous Golden Girls kitchen, painstakingly outfitted in 1980s appliances and kitschy wall decor. The set reconstructions are Instagrammable moments—but more importantly, they're like your childhood come to life.
You can lay down in Blanche's palm frond bedroom, and pose for your own entry in "The Men of Blanche's Boudoir." You can order a drink at the Rusty Anchor—which is a little too well lit than it should be and unfortunately doesn't have a piano for you to sing on—but it does have a staff or bartenders done up in Hawaiian shirts, with nametags from the Shady Pines Retirement Home. Apparently, those survived the fire.
The menu is a cheeky collection of show references that'll have you and your friends competing to see who can get them first. You'll find Sohpia's Lasagna al Forno made with meat and without. A bacon, lettuce, and potato sandwich, which if you say it fast enough sounds like a BLT. There are cheese balls that seem a little more like arancini, seriously increasing the likelihood a little old Sicilian lady will sneak one as soon as you look away.
There's even a Cuban sandwich on the menu, which is sadly not served by a prize fighter reciting poetry about his Hispanic roots, but could hold its own with some of the best Cubans in Miami. You can also order Edgar Allen Poe-tatoes, and you won't have to share with that unsavory Barbara Thorndike.
And what would a meal in the Golden Girls' kitchen be without cheesecake? The girls' favorite midnight snack comes in chocolate, strawberry, blueberry, and Oreo, with a vegan variety available as well. Desserts also include a clown sundae, presumably similar to the one Dorothy got on her birthday at Mr. Ha Ha's Hotdog Hacienda. And an order of Sperheoven Krispies, which you don't have to hold your nose to enjoy.
The cocktail menu is filled with small twists on traditional drinks with Golden Girls-inspired names. The Southern Belle Libation is basically an Old Fashioned that refuses to be called "old." And the Lenai Cooler is a Tequila Sunrise, a tribute to early mornings on the girls' back patio.
The Golden Girls Kitchen will also offer some special events, like Sunday drag brunches and Saturday Golden Girls After Dark, where your ticket to an '80s theme night includes two cocktails and a midnight snack of cheesecake is available for purchase.
While Sofia would never dream of charging you for her food like that crook Mama Celeste, Golden Girls Kitchen tickets are $34 per person and includes a main course and a slice of cheesecake. Sides, drinks, and salads are extra. Sarcasm is still completely free.
Matt Meltzer is a Miami-based contributor for Thrillist, a veteran of the United States Marine Corps, former pageant judge in the Miss Florida America system, and past contributor to Cosmopolitan magazine. Matt graduated with a BBA from University of Miami and holds a master's in journalism from the University of Florida. He currently lives in Miami with his Betta fish, Bob.