December 21st is the longest night of the year (that's the Winter solstice to all you non-Pagans), but it's also going to be the Best Night of Your Life, a Thrillist-created holiday that you'll spend enjoying the best nightlife the city has to offer, thanks to our awesome recommendations, which obviously include Miami's best late-night eats.
Check out the picks below, and make sure to map out the perfect evening with our itinerary builder.
La Sandwicherie
South Beach
Is there anything better at the end of the night than fresh baked bread filled with quality meats and cool, crispy vegetables served at an outdoor counter full of the same kind of distillate-fueled, hungry people you are? Well, maybe not all that plus having to deal with French people, but no place is perfect.
HuaHua's Taqueria
South Beach
If you wanna grab late night chow with your dog, there's no better spot than HuaHua's, where Todd Erickson and the team from Haven are delivering crazy taco combinations like fried chicken and pollo astor till 5a, and even crazier combinations like "water and a biscuit" to your pooch.

Charles Street 
South Beach
The average late-night slider is good and all, but if you want something a little more salmon-and-wasabi-mayo-y, then head here, where in addition to badass breakfast eats all day long (biscuits w/ sausage gravy, steak 'n eggs, etc.), they've also got a serious slider menu w/ mini crab cakes, brisket, buffalo chicken, and egg/chorizo mini-meatwiches.
Barezzito
South Beach
If you don't mind getting your late night grub in the middle of a full-on party, Barezzito's got a full menu of crazy sushi and Asian-Latin fusion going late: try the Honeymoon roll with crab salad, shrimp tempura, cream cheese, avocado, and scallions, which's topped with walnuts, coconut, and... youguessedit!... honey. 
Big Pink
South Beach
Anytime you can situate a restaurant with a menu bigger than your torso right between a major nightclub and a sticky-floored dive bar, your late-night traffic is gonna be thick. Add in food portions that could feed half of New Guinea (or Richie Incognito) for a night, and you've got a late-night face-stuffing landmark.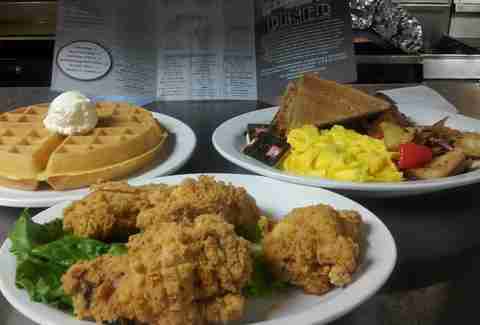 11th Street Diner
South Beach
This South Beach icon's made out of a dismantled-and-reconstructed art deco dining car from the '40s that lived in Wilkes-Barre, PA before it, like everyone else, retired to Florida, has a full bar so you can keep the party going, and eats like burgers, fried chicken, steaks and pastas with which to stuff yourself.
Pizza Rustica
South Beach
If you've tasted Pizza Rustica while sober you're either A) a tourist or B)….no, you're definitely a tourist, because even though their giant square slices (topped with pretty much the entire Publix produce aisle) are the quintessential South Beach end-of-the-night meal, having one at what some might consider a normal mealtime is a dead a giveaway you're not a local. So is asking where they filmed Miami Ink.
Tobacco Road
Brickell
The Road is open till 5a, which is great if you're wandering around Brickell and have a sudden urge for a flame-grilled Road Burger, any manner of 15hr smoked awesomeness like brisket or baby back ribs, or a giant basket of spicy Cajun tater tots. Or just a drink, since, in addition to all that, they've got  Miami's oldest liquor license.