WE the eaters of South Beach, in search of a more perfect brisket and slow-cooked ribs, do declare that it's time for Miami's second annual Meatopia. As its name implies, Meatopia is a carnivore's paradise, and this year is bigger and better than ever. Going down February 27th at the Delano hotel as part of the South Beach Wine & Food Festival® , this year's event features over 25 of the best barbecue chefs from across the country serving up signature dishes, so be sure to get your tickets here. (And get 30% off with the code ThrillistSOBE2016).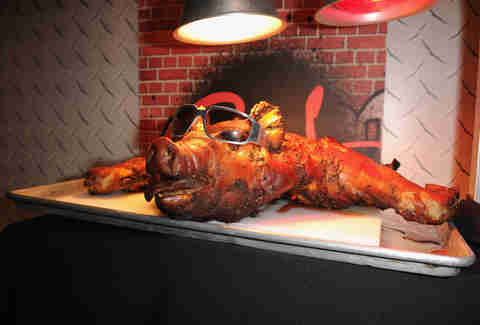 The organizers of this year's festivities have searched far and wide for their favorite chefs cooking the best ribs, steak, and whole hogs, and are bringing them together to slow cook over open fires, using only hardwoods and charcoals for the flames.
This year's lineup is insane, featuring some of our favorite places, like Sparky's Roadside BBQ and Uncle Tom's. Chefs will be serving up a variety of dishes like Asian honey-grilled tri-tip, Tennesse whole hog, and jalapeno corn bread, plus some off-menu creations you won't find anywhere else.
This year also features killer guests, with Food Network's Michael Symon hosting and a performance by Gregg Allman, founding member of the Allman Brothers Band.  Last year's festival even included an appearance by the mayor of Flavortown himself, Mr. Guy Fieri, so you never know who might show up.  What we do know is that tickets will be going fast, so get yours before they sell out.  Check the details and get tickets here.