The French prove once again they're good for more than just really cool kissing and Andre the Giant with the opening of FL Café in South Beach, for which brother and sister Nicolas Coussens and Elise Fable teamed with former Fontainebleau chef Jose Monier to create "diner classics with a French accent" in an historic Art Deco building. The inside has black leather booths and red chairs like your favorite diner, and 150yr-old lamps from La Samaritaine in Paris like your favorite French restaurant with 150yr-old lamps. The croque madame is piled as high as that wall in Les Miserables, with ham, cheese, and a fried egg. The tuna tartare is served with avocado and cucumber, and infused with a soy-ginger reduction. If your Zima-filled night requires something with less soy-ginger reduction and more grease, they grill half-pound burgers with white cheddar and bacon. The Chilean sea bass sits on a top a heaping pile of horseradish mashed potatoes, and itself gets topped with a mango dijon beurre blanc sauce and truffle oil. The beef tartare takes finely chopped raw beef, mixes it with onions, capers, and secret seasonings, then tops it off with a raw egg. Or if you're Andre the Giant, a raw keg.
Recommended Video
This Rosé-Filled Picnic Is the Perfect Summer Festival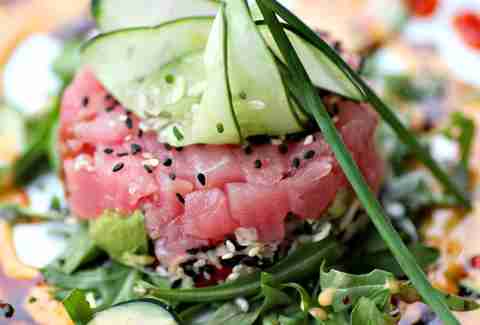 Previous Venue
Next Venue
Venue Description
1. FL Cafe
1360 Collins Ave, Miami Beach, FL 33139
If a diner and a cafe married and had a French child, it would be FL Cafe. Their croque madame topped with a fried egg puts and ordinary ham and cheese sandwich to shame, and the burgers and tartars are also deliciously French.