We tried Big Pink's entire new burger menu. Here's what's the best.
Miami Miami's got a ton of great late-night eating spots, so why is it so darn hard to find an open table at Big Pink? Oh right, it's because the SoFi hangover-food stalwarts do things like drop brand new burger menus featuring stuff like pulled pork, crab cakes, and even waffles. And we do things like eat all of 'em, and then rank them so you know what to order.
MATT MELTZER
8. Chief of Police: bacon and cheddar on brioche with peanut butter and mayo
The Verdict: Like a classic bacon burger, but the peanut butter at the end hits you like a Taser. Continue Reading
MATT MELTZER
7. Public Works: applewood-smoked bacon, fried egg, melted cheddar and hash browns
The Verdict: Nothing soaks up alcohol like grease, and there are local NBA General Managers who used less of it in their hair back in the '80s than you'll find in this baby.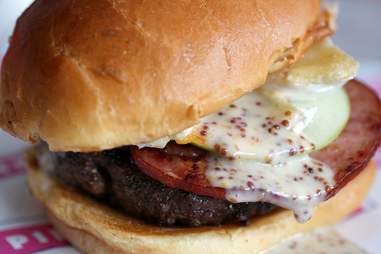 MATT MELTZER
6. Building Department: thick-cut grilled ham, Granny Smith apple slices, melted Brie, and honey mustard
The Verdict: It's like they built a fancy Sunday afternoon picnic on top of a burger, which is kinda like trying to build the South of France on top of Cleveland.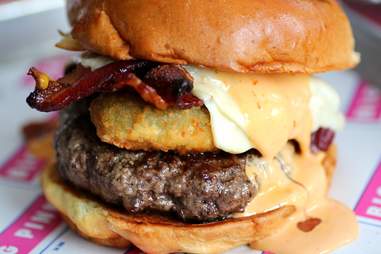 MATT MELTZER
5. Fire Rescue: jalapeño poppers, pepper jack, applewood-smoked bacon, and Sriracha mayo
The Verdict: Just like most of the girls you pick up on Saturday nights, it's not as hot as you think, and probably not that bad on Sunday morning either.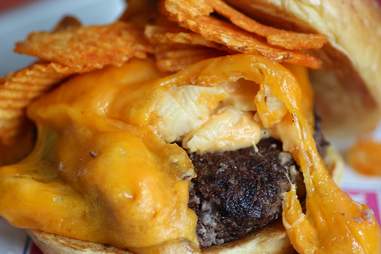 MATT MELTZER
4. Code Compliance: topped with mac 'n cheese, more cheddar cheese, and Ruffles Mesquite BBQ chips
The Verdict: The odds that this thing was thought up in a frat house kitchen at 4am are pretty good, but even the GDIs among us can appreciate mac 'n cheese AND chips AND a cheeseburger all in one.


MATT MELTZER
3. The Mayor: smoked pulled BBQ pork, Jack, coleslaw, BBQ sauce, and onion rings
The Verdict: You've got pulled pork AND a burger, plus a crunchy onion ring and coleslaw. We'd vote for this ahead of Xavier Suarez.
MATT MELTZER
2. Coast Guard: beef and a jumbo lump crab cake with applewood-smoked bacon, cheddar, and tartar
The Verdict: Never underestimate the potential of having three different dead animals between two pieces of bread. It could only be more badass if they'd named it after the Marines.
MATT MELTZER
1. Waffle Burger: bacon and cheddar topped with a fried egg between two waffles that're smothered in syrup
The Verdict: This sweet/salty combination means you don't have to spend any time Sunday morning choosing between breakfast or a burger, which also means your table at Big Pink will open up THAT much faster.

Burgers not your Sunday morning favorite? Here's 5 great new brunches.