A crazy Lincoln Road taco crawl
Creativity on Lincoln Rd usually means a guy painting himself to look like the Statue of Liberty, or someone performing uncomfortably intrusive magic tricks. But now, thanks to a certain lifestyle site that rhymes with "illest", and the food-ertainment experts over at Dishcrawl, it also means seeing what four of The Road's hottest restaurants are doing to make your regular expectations of the taco…… DISAPPEAR!
The Spot: Serendipity 3
The Taco: Mini Taco Salad
What they've done: Serendipity could just do what you'd expect and throw a gallon of ice cream in a fried corn tortilla, but instead they've put pulled seasoned chicken, garlic-avocado salsa, queso fresco and lettuce in a hot, awesomely greasy, fresh-fried mini-flour tortilla. Wisely leaving you room for dessert.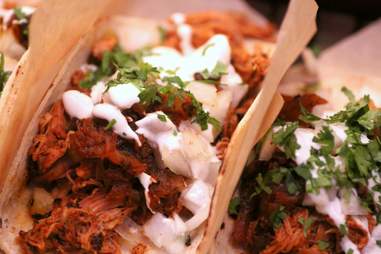 The Spot:HuaHuas
The Taco: Pollo al Pastor
What they've done: Todd Erickson's take on al pastor means he's slow roasting a 3hrs-marinated chicken thigh, then pulling it, putting it in a flour tortilla, and topping it with charred pineapple, raw and charred onions, and lime crema.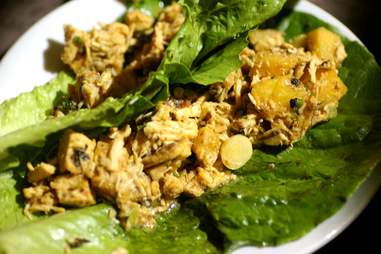 The Spot: Balans
The Taco: Baja Chicken Taco
What they've done: The Brits are always trying to prove they're better than Americans by adding extraneous U's to words (wourds?), and, in the case of Balans', topping blackened chicken w/ pineapple, onion & cilantro, and then wrapping it romaine.
The Spot:Yuca
The Taco: Guava Pulled-Pork Taco
What they've done: For their Cuban take on the taco, Yuca is slow-roasting baby back ribs mixed with guava and pineapple, then putting it in a flour tortilla with BBQ sauce, pickles, shallots, poblano and red peppers, cilantro aioli, and black beans.