The 7 new places in Miami you need to check out
When you talk about the biggest Summer openings in South Florida, you're typically referring to that giant hole your neighbor's house fell into. But you probably should be talking about these seven restaurants, bars, and clubs that hit the 305 this Summer, which we've helpfully assembled for your perusal. Check 'em out...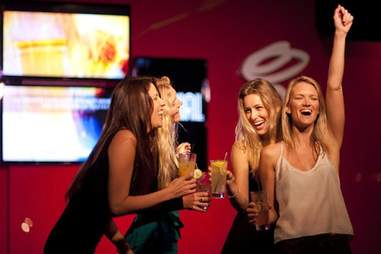 One Lounge at Barezzito
Miami Beach
The Mexican masters of the Latin-Asian fusion behind Barezzito figured the best way to fit in on Miami Beach was to open a swanky back room, start offering bottle service, and host live DJs all weekend. They were right!

Bar Crudo
Miami Beach
This new SoFi uncooked-food haven knows pretty much everything is better raw, so not only is their kitchen completely void of ovens, microwaves, grills, fire pits, or anything else that might be used to cook your pork belly, tuna, or octopus, but their bathroom is completely void of vending machines... but that might just be a coincidence.

Open Stage Club
Coral Gables
You know how you go to open mic nights and think, "This is great, but it could really use a good burrata salad and coconut sea bass"? Well…PROBLEM SOLVED. This new Gables spot has a full gourmet menu and live local performances you can watch while working up the nerve to perform your spoken-word version of the Perfect Strangers theme song.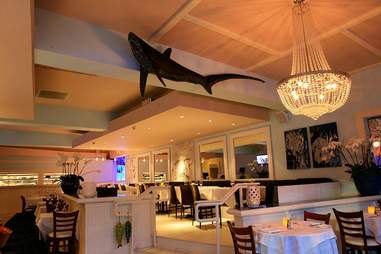 Fuor D'acqua
Miami Beach
Thanks to the thick foliage engulfing the outdoor patio, you can stuff your face with their authentic Italian eats like seafood-champagne risotto and salt-crusted branzino, while feeling like you're in a garden on the Italian countryside. Or go inside and get that same feeling but with air conditioning.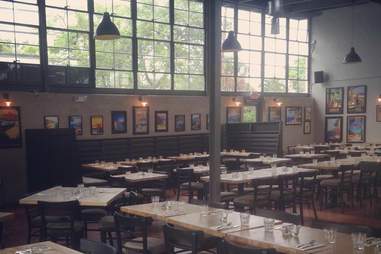 Mina's Mediterraneo
North Miami
In addition to giving you the chance to down $3 craft beers, $10 whole pies, and $5 slider plates during the best happy hour in the Upper East Side, Mina's is offering up all kinds of Mediterranean stuff like lasagna and a full pizza menu that's got a… get ready… NUTELLA PIZZA on it.
Urban Oxy
Miami Beach
Don't let those annoying little 5th graders have all the back-to-school chalk-drawing fun: Hit up Urban Oxy's new South Beach location where you can write, "I will not drink evil chain coffee" 100 times on their chalkboard walls... or just order a cup from Miami's own Panther, munch on pastries from Hialeah's Sweetness Bakery, and eat fresh pizza by the slice.

W xyz Bar
Brickell
Displeased after sponsoring a combined 653 episodes of Sesame Street and getting NOTHING, the last four letters of the alphabet decided to instead sponsor this neon-lit, brightly colored spot in Brickell's new Aloft hotel where you can knock back one….. two…. THREE! tequila cocktails on the breezy back patio or just belly up to the bar on an aluminum stool and drink until you think you see Mr. Hooper.