Even though they're not going to have to fight Rick Moranis, the same guys who brought you the SLS are now running the Raleigh Hotel and learning the power of The Schwartz, as the Miami mega-chef Michael has taken over the lobby and poolside with his eponymous Restaurant, finally giving South Beachers a chance to dig into his simple, delicious classics


You're looking at 120 seats by the pool and 60 inside (actually, at the moment you're just looking at, like, 18 or so), where you can gaze at pictures of "Raleigh personalities" like Sammy Davis Jr., Hugh Hefner, and Kate Moss, who loves eating


The bulk of the menu is spent introducing new items like this grilled octopus with crushed hazelnuts, green olives, kumquat, preserved lemon, and parsley


If you're hungry/Wade Boggs, you can order the whole apricot-glazed spatchcocked chicken, served with grilled apricots, onion, and arugula


These grilled chicken wings come with green papaya salad and crushed peanuts, who can't believe Lucy pulled that football out AGAIN! Oh brother..


Belvedere vodka, blackberry, basil, lemon, and soda make up the Belle Meade, although New Yorkers will still probably call it the Upper East Side

Beverage Director Ryan Goodspeed makes all his syrups in the Raleigh's martini bar, like the triple-hops simple syrup he mixes into the Hop Scotch Sour with Chivas 12yr, egg white, and lemon, so have fun quickly ramping up to Ludicrous Speed.
Recommended Video
Potato Skin-Breaded Queso Balls Will Make All Other Apps Obsolete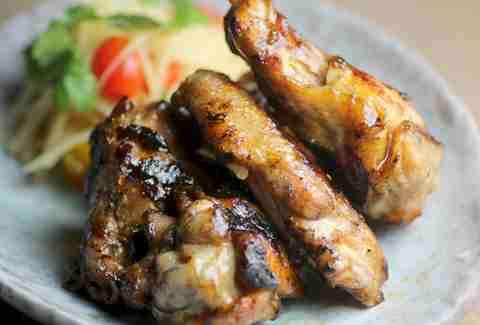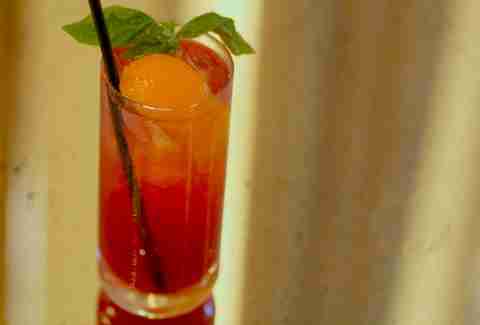 Previous Venue
Next Venue
Venue Description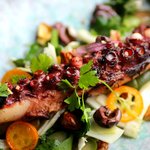 1. The Restaurant At The Raleigh
1775 Collins Ave, Miami Beach, FL 33139
Stepping into The Restaurant at The Raleigh is something like entering Narnia, sans wardrobe. The restaurant sits on its own terrace, with white-light-wrapped tree branches hanging over wicker chairs and tables like an untamed ceiling. In spite of the fact that it sits in the center of a Miami Beach hotel, this place feels like a genuine departure from the city motion waiting just outside. The menu focuses on modern American cuisine that is just as filling as it is tasty -- things like braised short rib with brussels sprouts, baked Maine lobster, and foie gras sliders. The place is armed with a raw bar and a martini bar, where patrons can gulp fresh oysters and Grey Goose, alike.