Even with viral video help from Jimmy McMillan, El Rancho Grande's rent was just too damn high on Lincoln Road, so they had to close their doors after almost 20yrs. Luckily, the Beach's Mexican stalwart has reopened in Sunset Harbor after being rebranded as TeQuiztlan, and is serving up the same spicy deliciousness alongside MORE tequila. And, presumably, more "sick" days from you. Just like "Taser", the brand name "El Rancho Grande" is actually held by some company in Arizona, so owner Jose Ortiz was forced to name his new spot something way more badass-sounding. Although still not as badass as Taser. Sadly, TeQuiztlan will not be hosting nightly Spanish-language performances of Sister Act 2: Back in the Habit. These are just old Mexican movie flyers and de-circulated pesos the Ortiz family hand-built into the tables. TeQuiztlan means "land of tequila", which is exactly where their premium flights like this one -- with Alacran Silver, Amor Mio Extra Anejo, and Casa Cofradia Reposado -- will take you. As if the tequilas weren't enough reason for you to bring your Mormon friend along to drive, the yard-long drafts of Modelo, Corona, and Pacifico pretty much ensure he's getting free Diet Cokes all night. The ERG up on 72nd St is actually owned by Ortiz's son and was for some complicated legal reason allowed to keep its name. The taco recipes here -- whether carne asada, seasoned pollo, carnitas, or al pastor with pineapple -- are also different. Here're the camarones en rajas: jumbo shrimp served on top of chile poblano onions and a sour cream sauce. Or, if you're just so excited that the place is back that you need to try half the menu, get the Plato Mexicano with conchinita pibil, chicken enchiladas in green sauce, and chile relleno with cheese and pollo en mole, all served with rice, beans, and tortillas. Oh, and yeah, they've still got margaritas. Tens of 'em made with their 50+ tequilas and whatever fresh fruit they get in that day. So start brushing up on your fake cough.
Recommended Video
Stay Classy This Winter With a Spiced Pear Tom Collins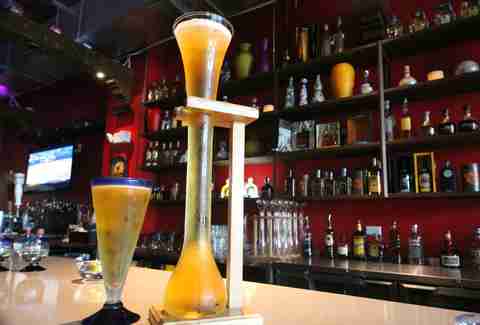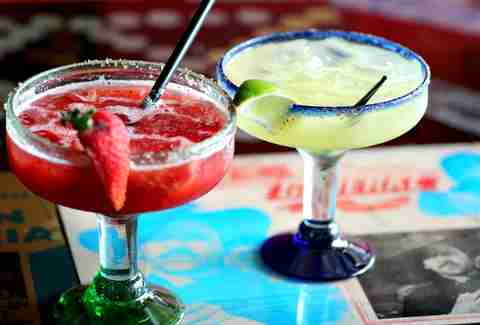 Previous Venue
Next Venue
Venue Description
1. Tequiztlan Mexican Restaurant and Tequila Bar
1884 Bay Rd, Miami Beach, FL 33139
The reincarnation of the former El Rancho Grande, Tequiztlan keeps all the culinary goodness of its predecessor and serves it in a ramped up, sleek space (the chrome vents of the exposed ceiling above go rather nicely with the industrial vibe and traditional brass chandeliers, making for a trendy ambience). It's still owned and operated by the Ortiz family, who have been providing South Beach with quality Mexican fare for the past 25 years, so there's no need to worry: all the tacos you so loved at the old digs are here and just as good -- if not better, when considered alongside a more extensive tequila and mezcal list.