If you love dogs AND tacos: congratulations, you're a person. And you'll want to be spending a lot of time at Huahua's Taqueria, where Todd Erickson and the team from Haven are delivering crazy taco combinations to you, and even crazier combinations like "water and a biscuit" to your pooch.
Recommended Video
The Mexican-Style Grasshopper Tacos You Have to Try When You're in South Beach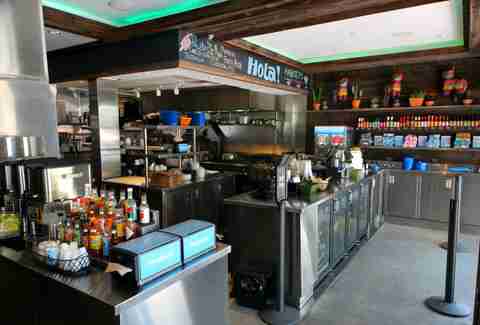 The place is named after the owner's Chihuahua Jalapena so, in addition to all sorts of doggy-related stuff, they're selling 21 different hot sauces at the front counter.
This is the elote, grilled Mexican sweet corn with spicy mayo, plus blanco and Cotija cheeses.
Here's the possible highlight: a massive fried chicken taco with jalapeno cornbread croutons and ancho ranch.
Hit up Huahua's late-night, and the crispy pescado taco with papaya pico, cabbage, and jalapeno tartar might actually have you convinced you're in San Diego. Luckily, it's much tougher to get to Tijuana from Miami.
Hit it up even later and it'll be time for breakfast. They've got you covered with this breakfast taco: cheesy eggs, carnitas, and pork green chili.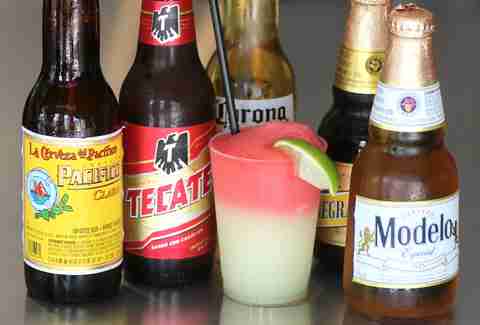 For you, they've got a big selection of Mexican beer, plus strawberry-passionfruit and lime margs. For your dog, they have water. Unless you like to give your dog beer.
Trying to lose weight and watching your carbs? Then you can take all those super-healthy ingredients in the tacos and put them on a salad, like this fried avocado, guacamole, grilled peppers, and tofu crema.
Can't be like everyone else and eat tacos? They've also got four enchiladas like braised short rib and this cheese & bean. Enjoy it while you root against the Heat.
Read this part to your dog: woof woof, arf, growl, woof woof woof arf, yip yip yip, slurp. Woof. Loosely translated, that means they've got water bowls outside, plus dog treats, jumping beans, and leashes inside, so Scraps is always welcome.
Previous Venue
Next Venue
Venue Description
1. Huahua's Taqueria
1211 Lincoln Rd, Miami Beach, FL 33139
This Mex-taurant's got you covered from morning to late-night, with breakfast tacos, enchiladas, and tacos. They've got a great beer selection, strawberry-passionfruit and lime margs, and even dog biscuits and outdoor water bowls if your pooch's along for the ride.