Best Southern: <a href="https://www.thrillist.com/venue/drink/miami/bar/yardbird-southern-table-bar" target="_blank">Yardbird Southern Table and Bar
1600 Lenox Ave
No huge surprise here as Yardbird's been cited as having some of the best fried chicken in the COUNTRY, so clearly it'll be tops in the Beach. But vegetarians can appreciate this place too, with its watermelon salad, biscuits, and mac & cheese. And even Instagram models who don't eat can appreciate Yardbird, and it's best-in-Miami selection of bourbons.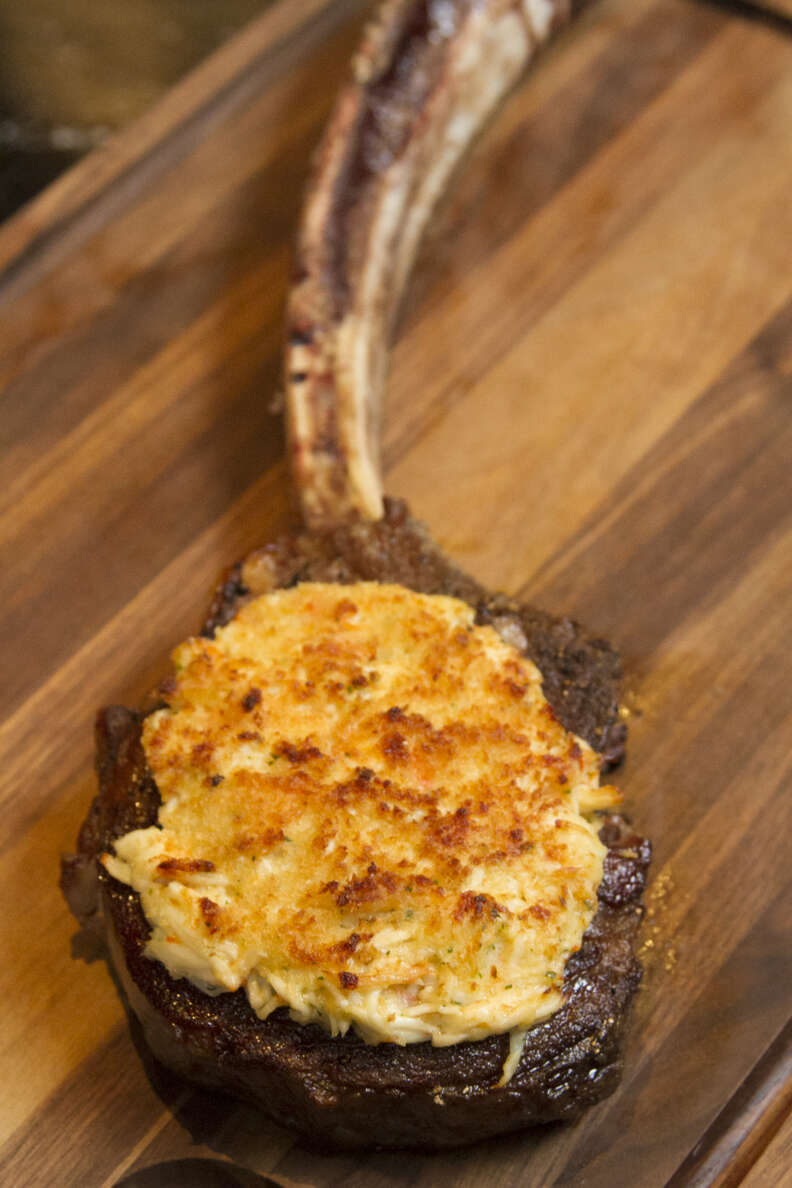 Best steak: <a href="https://www.thrillist.com/venue/eat/miami/restaurants/red-the-steakhouse" target="_blank">Red,&nbsp;the Steakhouse
119 Washington Ave
After naming Red the best steakhouse in Miami, citing it for great doughnuts, and adding that it also has some of the best tapas, we're running out of ways to tell you why this place is tops among South Beach's cadre of prime steakhouses. First, it is high-end food without high-end attitude; when you make a reservation for 8pm, you sit at 8pm. Second, even if you're not in the mood for steak, the rest of the menu can hold its own with any Italian restaurant in Miami. And third, the Angus steaks are some of the best meat on the planet, and the chef knows how to cook it to any temperature.
1854 Bay Rd
Chef Bee gave us his magical spicy southeast Asian curries at Khong River House. And then, just as fast as we were gifted them, they were gone. But nearly three years later, Chef Bee has finally opened his new spot in Sunset Harbour, where he's bacon-infusing whiskey for the cocktails before plating the most flavorful and spicy curry and noodle dishes in all of South Florida. Pro tip: if you like the spice, ask your server to have your chef make it the authentic way. They'll ask, "Are you sure?" That's all you need to know.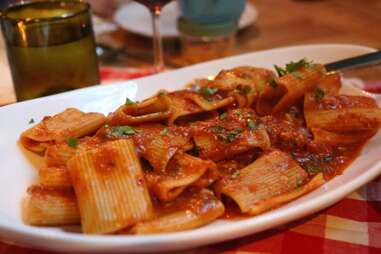 Best Italian (for Americans): <a href="https://www.thrillist.com/venue/eat/miami/restaurants/macchialina-taverna-rustica" target="_blank">Macchialina Taverna Rusitca
820 Alton Rd
We thought we'd settled this debate a while back when we ranked the 17 best Italian joints in Miami and Maccialina came out No. 1. For the American palate, there's simply nowhere in South Beach that does hearty red sauces, homemade pastas, and family-style dinners better than it does. The taverna-style interior makes this restaurant feel like you're in a small town in Italy, eating one of the best meals of your life.
Best Italian (for Italians): <a href="https://www.thrillist.com/venue/drink/miami/bar/sylvano-restaurant" target="_blank">Sylvano
1925 Liberty Ave
BUT... if you talk to your average guy in three-sizes-too-small pants sipping espresso at Segafredo and saying hello to every girl who walks by, he'll tell you to go to Sylvano. This is an Italian's Italian joint, Italian-run, and with phenomenal meats & seafoods, and possibly the best restaurant pizza in the Beach. The crowd is the most international you'll find at any restaurant in South Beach. So in the interest of global cooperation, we'll let the respective residents of US and Italy agree to disagree.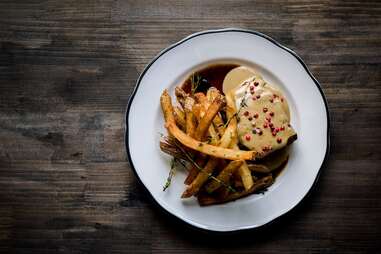 Best gastropub: <a href="https://www.thrillist.com/venue/eat/miami/restaurants/pubbelly" target="_blank">Pubbelly
1418 20th St
The guys behind this Sunset Harbour gastropub were way ahead of their time. They've been pairing rare imported and craft beers with inventive food since 2010. This spot was so good, it spawned multiple spinoffs -- Pubbelly Sushi and the late PB Steak -- which kept the same spirit of creativity and relaxed atmosphere as the original. And even though many imitators have opened up, these guys did it first, and still do it best.
1717 Collins Ave
You wouldn't think the nondescript awning in front of Surfcomber South Beach would be hiding one of the best menus in the city. Then again, you wouldn't think streets would flood when it hasn't rained for a week. This town is full of surprises, and one of them is the food at The Social Club. Chef Blair Wilson has whipped up some spectacular sauces to add to American classics like New York strips, burgers, and half chickens, all of which make a meal here one of the most surprisingly delicious ones in the Beach. Be sure to get an extra side of the aji amarillo, it's addictive.
Best Mediterranean: <a href="https://www.thrillist.com/venue/eat/miami/restaurants/cleo-south-beach" target="_blank">Cleo
1776 Collins Ave
Some Miami Beach restaurateurs like to use the word "Mediterranean" as a substitute for "we couldn't figure out what kind of food this is." And most of the time, those places fail. However, when you do like Cleo does and serve dishes unique to the Med -- like lamb tagine, and daily cooked pita bread -- you stand the test of time. Granted, in South Beach, that means it's lasted a year and a half, but the food is impressive and the prices are actually reasonable. If you want food that's from the region it's named after, Cleo can't be beat.
Best pizza: <a href="https://www.thrillist.com/venue/eat/miami/restaurants/giotto-maestro-della-pizza" target="_blank">Giotto Maestro Della Pizza
959 West Ave
The only thing there are more of in South Beach than slice spots is club promoters. And neither of them are the real deal. For authentic, just-like-Italy pizza (to the point where the person taking your order may not understand English, or Spanish), head to this spot on West Ave, where they're plating Neapolitan-style pies with every ingredient imported straight from the boot.
Best place for brunch: <a href="https://www.thrillist.com/venue/drink/miami/bar/olivers-bistro" target="_blank">Oliver's Bistro
959 West Ave
South Beach is filled with delicious boozy brunches where you can down mimosas until you almost forget you have work on Monday. But ask a beach local (or Roger Stone) where the best brunch in the Beach is served, and they'll almost unanimously say Oliver's. It's nothing fancy: eggs, popovers, Dutch apple pancakes, and other brunch staples. But the food at this little West Ave bistro is better than any of the booze-soaked spots further east, and there's no pounding house music or bottle girls to distract you from your plate.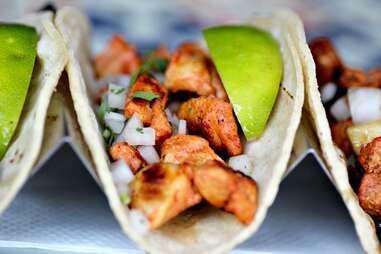 Best tacos: <a href="https://www.thrillist.com/venue/drink/miami/bar/tequiztlan-mexican-restaurant-and-tequila-bar" target="_blank">Tequiztlan Mexican Restaurant and Tequila Bar
1884 Bay Rd
Roughly 9 trillion taco shops have opened up in South Beach in the last year and a half, all of them chasing this SoBe stalwart that used to be known as Rancho Grande. But Lincoln Rd rents, and some restaurant in Iowa, forced a move and a name change, respectively, and the spot that was once Miami's only good Mexican restaurant now resides at Sunset Harbour under a new name. However, the tacos are still the same slow-marinated, flame-broiled brand of tasty they've always been. No matter how many trendy spots open up with speakeasies in the back, Tequiztlan will always be king.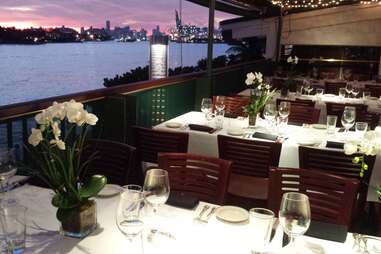 Best place with a view: <a href="https://www.thrillist.com/venue/drink/miami/bar/smith-wollensky-waterfront-patio" target="_blank">Smith &amp; Wollensky
1 Washington Ave
It's hard to survive as a chain steakhouse when you're literally a block from two of the top spots in town. But if you have out-of-town visitors and want to give them an only-in-Miami experience (that doesn't involve mayoral indictment), take them for dinner at Smith & Wollensky, where your waterside table will see half of you looking out to the Atlantic, and the other half looking back at the Miami skyline. It's the only restaurant in the city that offers this kind of two-for-one viewing experience, and is just as great a place to go for happy hour as it is for a steak dinner.
Best seafood: <a href="https://www.thrillist.com/venues/eat/miami/restaurants/izzys-fish-and-oysters-bar" target="_blank">Izzy's Fish and Oyster Bar
423 Washington Ave
It would be easy to give the title to Lure Fishbar or Prime Fish. While both of those spots are great, neither is a place you could go regularly without putting yourself in the poorhouse. So after closing Tongue & Cheek, Jamie DeRosa opened this spot next door, where the seafood is as good as either of those places. We'll forgive him the Boston-centric menu names, since he's bringing in the best oysters from all over America, and coming up with the great societal advancement that is lobster bacon poutine. And the wall has some pretty amazing art, too!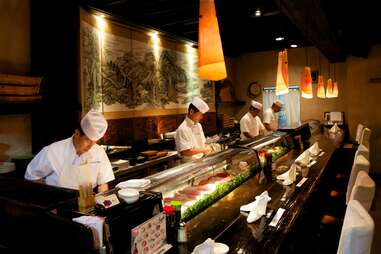 Best sushi: <a href="https://www.thrillist.com/venues/eat/miami/restaurants/tonis-sushi-bar" target="_blank">Toni's Sushi Bar
1208 Washington Ave
It has gotten to the point where even bodegas on South Beach are serving sushi. And while eating sushi that sits next to week-old fried chicken is a decision on par with taking the Palmetto during rush hour, opting for the authentic, no-flash sushi at Toni's is a great call. Any South Beach sushi aficionado will list of a bunch of fancy, hotel-based spots as the best raw fish in SoBe, but will immediately follow it with "... but you know who's just as good? Toni's." And if being seen isn't as important to you as great food, you can eat here for about half the price. Or eat it in your living room, because it also delivers.
Sign up here for our daily Miami email and be the first to get all the food/drink/fun in town.
Matt Meltzer is a staff writer for Thrillist who will actually cross the bridge -- and even the county line -- for a good meal. Follow his trans-Miami food adventures on Instagram @meltrez1.