The Bronx Burger
Earls Kitchen and Bar, Dadeland
It's no surprise that the only other places in America where you can get this behemoth burger -- a hand-smashed patty, beer-battered onion rings, roasted garlic aioli, red pepper relish, aged white cheddar & rocket greens on brioche -- are Colorado and Washington state. Two places that have really, really good (and hungry) pro football players.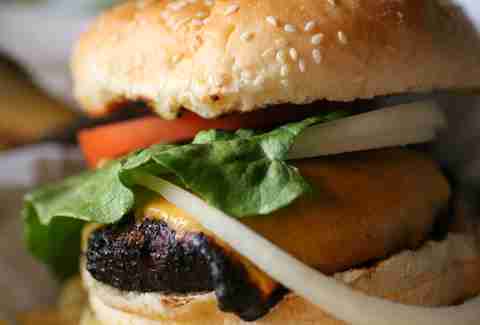 Keg Burger
Keg South, Pinecrest
There are two things a person born and raised in South Dade will always be able to talk about: Hurricane Andrew and the burgers at Keg South. They'll swear the 6ozs of flame-broiled perfection served at this South Dixie Highway spot is the city's best burger, no matter how many "gourmet" shops open up further North on US 1. Oh, and the one in Kendall serves up some of Miami's best wings.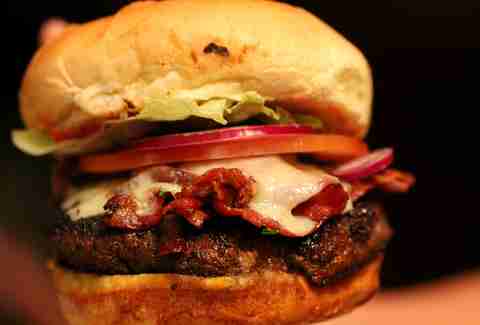 Blackened Pub Burger
John Martin's Irish Pub, Coral Gables
Mixing anything Cajun and Irish is usually a good way to wake up with a splitting headache on your neighbor's front lawn. But when you take half-a-pound of freshly ground sirloin, dredge it in Cajun spices, flame-broil it, then top it with smoked bacon and Irish cheddar... well, you'll still probably end up on your neighbor's front lawn. But at least you'll be full.
Nica Burger
A&G Burger Joint, Sweetwater
Surprisingly, there's more to Sweetwater than commuter students and flooding, as evidenced by this tiny craft beer and burger emporium tucked away on SW 106th Ave, where you can get a half-pound of Certified Angus Beef topped with chimichurri, fried sweet plantains, a Dominican-Nicaraguan blend cheese, Latin slaw & jalapeno cream on buttered brioche, then pair it with the suggested 10% ABV Holy Mackerel Panic Attack. But maybe just one, 'cause that's a loooong cab ride back down the Dolphin.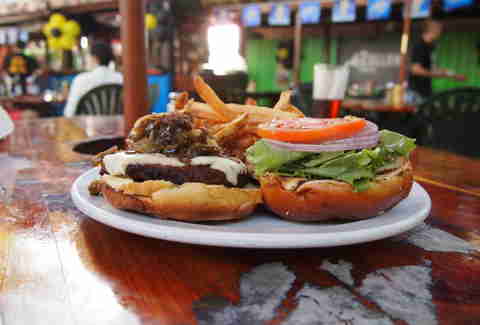 The Death Burger
Tobacco Road, Brickell
The good news is: the seven-foot chef at Miami's oldest bar will happily (okay, grudgingly) grill up this Angus Beef patty topped with also-grilled onions, Jack cheese, and jalapenos 'til almost 5am. The bad news is: if you find yourself eating it at almost-5am, the name is probably referring to how you're going to feel later in the morning.
Grand Corral
El Corral, Doral
Your Colombian friends have probably talked your ear off about this half-pound of Certified Angus Beef with BBQ sauce, mozzarella, crispy chopped bacon, lettuce, tomatoes, onions, ketchup, mustard, and mayo -- but you were too afraid of getting kidnapped to go to Colombia and try it. Or just didn't want to fly Spirit. Either way, now you only have to go Doral to stuff your face with this char-grilled awesomeness, and this Spring, you'll be able to get one right off the Metrorail stop in Brickell.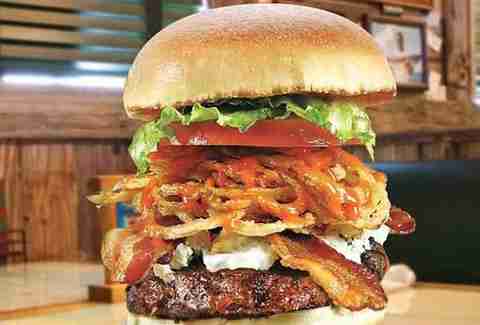 Texas Burger
Flanigan's, Multiple Locations
The only way you'd get any more "Old Dade" than eating at the Laughing Loggerhead would be having lunch at Janet Reno's house. But Janet's definitely not serving up 10ozs of flame-broiled beef topped with crumbled bleu cheese, two strips of bacon, a stack of tumbleweed onions, and wing sauce. Or really anything that might remind her of Texas.
Custom Burger
The Counter, Aventura
While there're more burger combinations to create at this place than there will be fans at Marlins Park this year, the one we created while doing a photo shoot for them -- half-a-pound of beef that's flame-broiled and topped with fresh mozzarella, basil pesto, roasted red pepper, grilled onion, black bean corn salsa, onion strings, and habanero salsa -- is the best one humanly possible. Look at that picture and tell us it's not true.