So here it is: week two of Miami Spice, and you've been so overwhelmed by the 275+ restaurants participating that you panicked and ate nothing but Chicken Kitchen all last weekend. Not that there's anything wrong with a steady diet of chop-chop, but this is the only two-month stretch of the year where the seemingly out-of-reach Miami culinary hotspots are actually places you can afford. Until the end of September, loads of places are offering three-course prix-fixe menus for $39. While at some spots that only saves you a few bucks, if you want to narrow down your choices and go the the places where you're getting the most for your money, well, these are the top 10.
Miami Beach
What it normally costs: $82
What you're saving: $43
That zany José Andrés is letting you pick like FIVE different things off the menu. The portions aren't large, per se, but you can get yourself bao con lechón, Cuban coffee-roasted churrasco, pollo al ajillo, Not Your Everyday Caprese, and s'mores chocolate cake at a great price.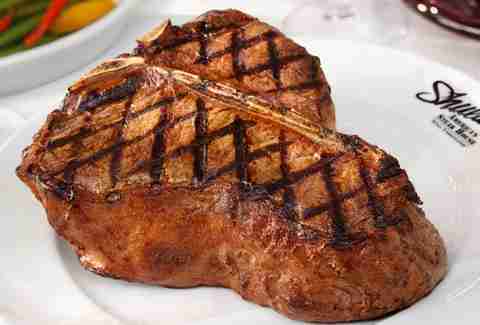 Miami Lakes
What it normally costs: $90
What you're saving: $45
No, you won't get your name on the wall or a special reception with coach Shula if you manage to complete the Spice menu. But it's a good warm-up for the 64oz challenge, especially if you take down the lobster bisque ($6 upgrade), 8oz Times Square strip steak with grilled jumbo shrimp, and a slice of cheesecake to wrap it up.
Miami Beach
What it normally costs: $84
What you're saving: $45
Use that big savings to valet your car and get a Diet Coke at Bleau Bar whilst dining on spicy hamachi tartare, wood-grilled 8oz filet mignon, and chocolate ganache cake.
Miami Beach
What it normally costs: $84
What you're saving: $45
Peter Vauthy is rotating the menu weekly, but if you head there during seafood week, you can try the most hipster tartare in history (whiskey Sriracha tuna tartare), created by your local Thrillist editor and a team of experts who are also dishing out petit filet mignon and chocolate silk pie.
Miami Beach
What it normally costs: $87
What you're saving: $48
Hey there, Romeo-on-a-budget, here's your chance to dine on cold terrine of foie gras, beef (which is the "favorite cut of the butcher"), chocolate tart morillo, and cherry sorbet in the cozy confines of one of America's most romantic restaurants without having to completely ruin the mood when the bill shows up.
SoFi
What it normally costs: $88
What you're saving: $49
You might think ordering the seafood that was on a boat in the Mediterranean literally YESTERDAY would be the move here. But if you want to maximize your value, go with the all-natural lamb chops; "the real Greek Yogurt" with thyme, honey, and seasonal fruit; or, you know, try the charcoal-grilled octopus. It's your life.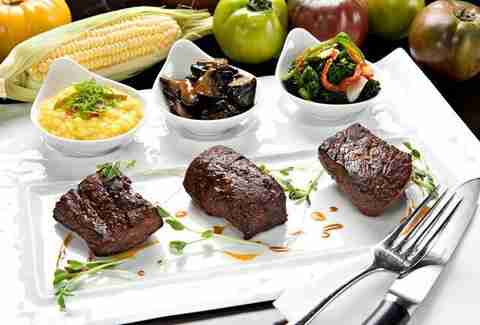 Aventura
What it normally costs: $90
What you're saving: $51
If you live in Broward, this is the absolute best place to do Miami Spice. If you don't live in Broward, well, sometimes it's worth going to Aventura for something other than visiting grandparents… especially when that something is charred octopus ceviche, Angus New York strip, and pastelito y cafe.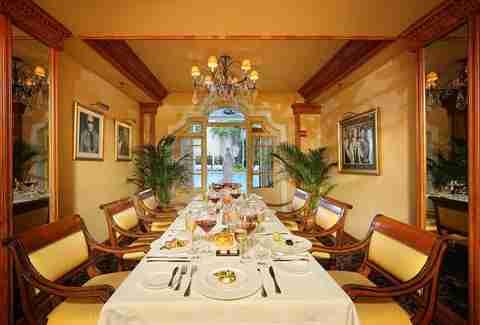 Coral Gables
What it normally costs: $90
What you're saving: $51
If you'd like to check out the nicest restaurant in the Biltmore, your cheapest option is the gut-busting $90 tasting menu. During Spice, you can feast on l'octopus et l'escargot, la piece de boeuf, and l'opera passion banana chocolat, all without destroying your waistline OR your wallet.
South Beach
What it normally costs: $101
What you're saving: $62
This one's easy… be sure to order the lamb ribs, vine-ripened tomato, wagyu flat iron, and couscous. See? We did the hard math for you.
Miami Beach
What it normally costs: $104
What you're saving: $65
This might be the only time 99% of the people could even afford to walk into Faena without having to apply for a new credit card. Take full advantage while you can and get the diver scallops, smoked short rib asadero, and champorado.

Sign up here for our daily Miami email and be the first to get all the food/drink/fun in town.