Miami, the Best Day of Your Life is almost here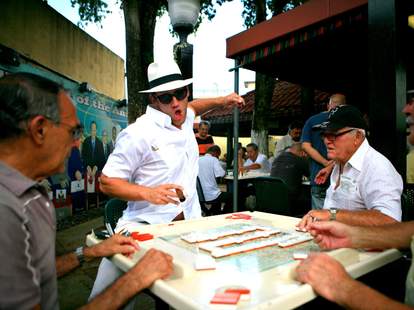 June 21st will not be a normal Friday. It will be the Best Day of Your Life, and you've got Thrillist to thank for it. Here's exactly how you need to navigate it.
What you need to do: 1) practice your fake cough and call in sick, 2) download the printable itinerary with a sexy map, 3) follow all the #BDOYL social action here, and 4) get ready to enjoy the longest day of the year with stuff like a shot at a $75 bar tab just for playing volleyball.

6:30 am: Watch the sun rise over South Beach. If you just got up, praise all that is good in the world. If you're still up from the night before, curse everything that is bad in the world and find something to keep yourself awake for the next 14hrs. Today is gonna be GREAT. Asscrack of Dawn: Head home for a shower and flip on Channel 7 to watch Vivian Gonzalez tell you to run to Publix and Home Depot because there's a tropical depression off the coast of Liberia. Ignore, put on mute, and continue to watch Vivian Gonzalez. Early Morning: Hit Versailles for some Cuban coffee and lengthy discussions of Cuban politics. If the abuelitas at the front of the line are taking a little too long discussing their grandkids with the cashier, head down the street to La Carreta. Breakfast: It's over to the Grove for breakfast at Green Street along with the best people-watching Coconut Grove has to offer. Humidity just a little too stifling? Swing by Berries for the best smoothies in the city
Late AM: Hit up the beach volleyball courts between 7th and 8th St in the Beach for our Thrillist BDOYL Beach Volleyball Tournament. We'll kick out the models and other questionably employed people and take over the courts. Winning team gets a free night at The Clevelander, second gets a $75 bar tab. Everyone gets drinks there after! It's Time for Lunch: Sit outside at La Sandwicherie and enjoy the only French food you'll ever get without attitude. Pass judgment on all the drunks going to Mac's Club Deuce across the street so early in the day. Or, if you hate the French THAT much, grab a taco at T-Mex Cantina down the street. Post-Lunch: Roll down to Little Havana and pick up some hand-rolled cigars and a guayabera. Smoke said cigar outside in the courtyard at Cuba Ocho and pretend you're Beyonce and Jay-Z causing an international incident. Or, if you prefer to NOT feel like you're breaking a major federal law, hang out on the leather couches at the Little Havana Cigar Factory across the street and savor the aroma of Cuba. Early Afternoon: Walk over to Maximo Gomez Park and get in a few games with the viejitos. Yell, "Domino!" repeatedly, even if you don't win. Because it's a good day. The Best Day of Your Life, in fact. If the viejitos are hatin', grab a seat at Cuba Ocho and stay across the street playing in their courtyard
Happy Hour: Take a short jaunt down 8th St for happy hour at Balan's at Mary Brickell Village. Watch the healthy people on their way to yoga and LA Fitness across the street and swear, after this Best Day of Your Life, you're gonna get back in there. Monday. For real this time. If that level of people-watching is too intimidating, hit up RedBar on 10th, where all you have to look at is art. Grill on the Beach: Bring some match-light charcoal and a cooler full of steaks out to Crandon Park on Key Biscayne, and grill 'em up right on the beach. Get in a game of volleyball after. So Miami. 8:15 pm: Sunset and drinks at Scotty's Landing. Sign the petition to make sure it too isn't turned into condos, then listen to the regulars talk about how awesome Miami USED to be. If their stories get old, walk over to Monty's. Guess what? You just had the Best Day of Your Life.