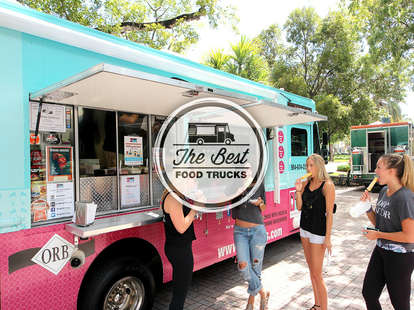 If you're the type of person who likes to sit in air-conditioned comfort and eat the latest in gourmet, quick-service food then… you're probably a wuss, and out of luck, since -- even though it's going to be absurdly humid and in the 90s for the next month -- South Florida's sweetest food trucks are the only place you can get that kind of crazy stuff. So, for the non-wusses out there, we've listed our top eight, alphabetically, below:
Dim Ssam a Go-Go (Sakaya)
Where To Find It:All over the city.
Dish To Get: The grilled chicken breast with ginger and garlic sauce, peanuts, and brown rice. Top it with hot sauce and by no means forget to get a chocolate chip cookie.
El Rey de Las Fritas
Where To Find It:Little Havana
Dish To Get: The Frita. For the unfamiliar, it's a patty of ground beef and chorizo with the King's special seasoning topped with crispy potato sticks on a Cuban roll.
gastroPod
Where To Find It: Typically Wynwood, but you can find out where else here
Dish To Get: Old Dirt Dawg, a smoky beef hot dog topped with aged cheddar fondue, mustard seeds, mustard, and something called stupid slaw, all on a potato bun.
Hip Pops
Where To Find It: Anywhere it's hot. So basically everywhere, but also here.
Dish To Get: Frozen hot chocolate. Which is just what it sounds like... and just as awesome. Not your thing? It's cool, you can always build your own.
Jefe's Original Fish Taco and Burger
Where To Find It: Store opening soon, rumored around Hialeah. For now, check 'em here.
Dish To Get: Ensenada-Style fish taco, which's beer-battered fish with cabbage, pico, crema, and lime in a fresh corn tortilla.
Latin Burger
Where To Find It: If there's an event in this city, Latin Burger is there. But you can follow its ubiquitousness here.
Dish To Get: The Macho Burger; a chorizo, chuck, and sirloin burger topped with caramelized onions, jalapenos, Oaxaca cheese & "avocadolicious" sauce.
Ms. Cheezious
Where To Find It: They're opening a store on 79th and Biscayne in December, but, until then, follow them here.
Dish To Get: Grilled Blue and Bacon. This crispy bacon, blue cheese, and green onion sandwich on sourdough is definitely worth spending some... waitforit!... dough on.
Slow Food Truck
Where To Find It: This bright yellow truck's hard to miss, but track it here.
Dish To Get: The Beef Shortrib Sandwich is slow-braised shortrib topped with fried crispy shallots, watercress, cheese, and au jus, which is a light beef sauce that, surprisingly, isn't pronounced like what you are for insisting on air-conditioning: a wuss.