The 8 best new places to eat and drink in Miami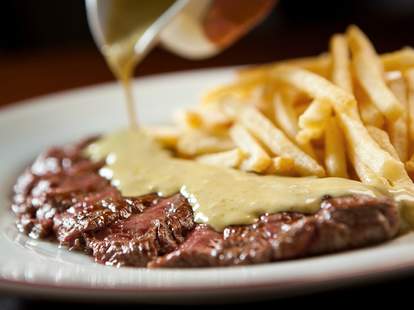 Around this time every year, the weather drops below, like, 84 degrees, and the Dolphins drop below .500, which means you've got nothing better to do than go out and try all the new places that've opened up since the last time we did this. And this time, we're making things even easier for you and breaking our list down by the best of everything -- from date spots, to steak, to Michelin star'd chef-staurants.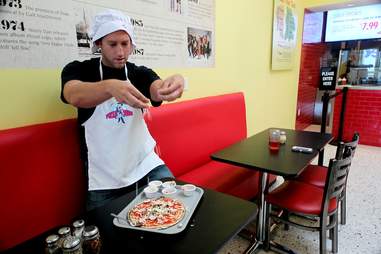 Best New Pizza
Pizza Dude, Miami Beach
Father-and-son team Justin and Ronald Gould might as well go by Peterman, 'cause they're ripping off Kramer's idea to let you make your OWN pizza. There's a choice of five gourmet sauces, eleven meats, eight cheeses, and loads of veggies, all on housemade thin-crust dough that bakes up lightning-fast in just five minutes.
Best New Burger
Pincho Factory Coral Gables, Coral Gables
Though the burger itself isn't technically new, the location is, and it's a far less painful drive than getting to the original location on the corner of Bird Road and... uh, somewhere-in-the-Everglades? Anyway, Nedal Ahmad's Toston Burger still boasts slow-marinated grilled meat between two fried plantains, w/ jack cheese, lettuce, tomato, and cilantro sauce. But now it also comes flavored with something even better... convenience.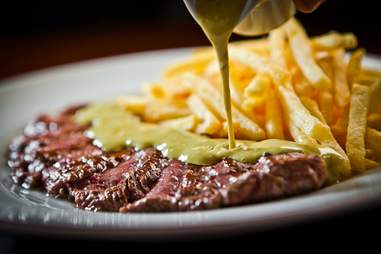 Best New Steak
L'Entrecote, Brickell
You want Choices? Go hit that vegan place in The Roads. You want a big, juicy steak covered in a savory, spicy pepper gravy and served with the kind of fries that people in Paris wait hours in line while chain-smoking for? Stop into L'Entrecote, where the menu consists of…steak frites. That's it. And thankfully, unlike customer service or war, this is one thing the French do very, very well.
Best New Date Spot
Semilla Eatery and Bar, South Beach
Usually, dimly lit restaurants with plants on the wall and a Michelin-starred chef named Frederic Joulin are not places you'd go to try the best in South Florida craft beers. But then again, your girlfriend doesn't need to know that this South Beach eatery features Due South, Funky Buddha and more on draft. All she needs to know is that it has super-comfy booths with a French-inspired sharing menu featuring innovative stuff like Buffalo chicken potstickers, grilled chicken anticuchos, and ice cream sliders.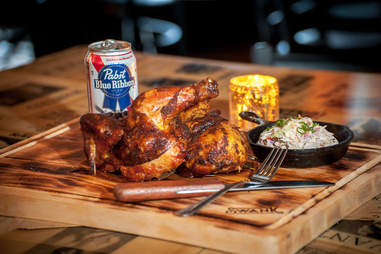 Best New Southern Restaurant
Southern Swank Kitchen, Davie
Proving that too many chefs in the kitchen don't spoil... well, anything, the folks behind Soi Chinese Kitchen are putting THREE executive chefs behind the counter, where they'll start you off with a spicy Gator Chili, or crab hush puppies, before going to work on chicken & waffles with a marshmallow sage sauce, or Beer Can Chicken slow braised in PBR gravy. Best of all, there's The Duke's Challenge: a seven layer burger with two patties, two chicken thighs, pulled pork, and a waffle, served with a bucket of handcut fries and fiery-hot chili that definitely woulda made this list if it'd been around in August.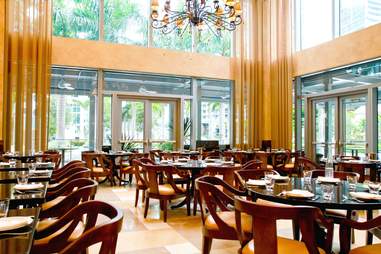 Best New Fine Dining
Lippi, Brickell
You've heard the food at Zuma is pretty good, but given that you don't like to wait even 10 minutes for a chalupa, you're probably not willing to wait the three months it takes to get a table there. Good thing Lippi – the new Brickell venture from the team behind Zuma – opened up so you can dine in marble-floored and oversized-chandelier'd splendor on fresh Med-American stuff, like truffled scrambled eggs, and a 26oz bone-in rib eye, while sipping their massive selection of single malts and 350+ wines.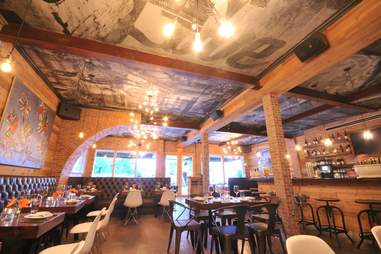 Best New Neighborhood Restaurant
The District Miami, Buena Vista
While the airline Pan American is pretty much dead except for that short-lived TV show, the cuisine Pan American is taking off in Miami, especially 'cause of Food and Wine's Best New Chef in the Gulf Region, Horacio Rivadero. His creations -- like the Prime Angus brie & chipotle mayo burger, and the tuna crudo tacos -- are all served while you lounge on cushy leather couches under a Juan Rozas-painted ceiling.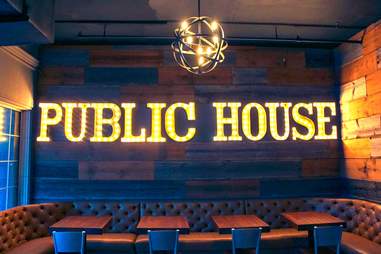 SARA SHAKE
Best New Bar
Himmarshee Public House, Ft. Lauderdale
The dudes behind Rok:Brgr and its ridiculous food creations are doing the same thing with things other than burgers at this new Himmarshee mega bar with 50 craft beers on draft and eats, like lobster nachos, that're so good, you won't even realize the 10ft LED screen, 30 large plasma TVs are showing the Dolphins.