Eat Here Now: The Most Underrated Restaurants in Miami
Courtesy of Buns & Buns
From the delicacies of the Tequesta Indians to the Jewish delis of the '50s, the Cuban explosion of the '60s and '70s, and the Mango Gang in the '80s, what it means to eat in Miami has changed with every new decade and influx of immigrants. But there's one thing that never changes in such an exciting food city: some sweet restaurants will inevitably get overlooked, which is why we've rounded up the 20 most underrated eat spots in the 305...
You could easily drive by this tiny spot next to Ms. Cheezious on Biscayne Blvd and 75th St, and then drive by it again on your way back trying to find it. But once inside, you'll find wood-covered walls and bookshelves surrounding just over 40 seats, where native Miamian Jessica Sanchez is plating up authentic Latin dishes that, unlike many "authentic" Latin-American restaurants in Miami, don't taste like they were cooked with a box of lard. The skillful takes on traditional favorites are courtesy of Sanchez and her mother -- who works in the kitchen -- and are as close to getting family dinner at a native Miamian's house as you can get without being surrounded by pictures of their entire extended family.
Italian restaurants wedged in the back of South Florida strip malls are usually places your grandparents would rush you to at 5pm for dinner so they didn't miss the early bird. But while this spot on the JFK Causeway has the red-seated look of a traditional old-style spot, the flavors are as trendy as anything you'll find in South Beach. Fresh-baked Neapolitan-style pizzas are authentically Italian, daily made-in-house pastas are rich and meaty, and most importantly, all under $17. And if you want to avoid carbs, it has the best Japanese tuna tartare you will ever have at an Italian restaurant.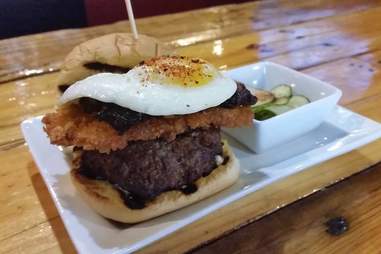 Tony Espinoza/Courtesy of 180 Degrees
You may walk/drive/Metromover by this spot on NW 5th St by the College North station and think "Hmm. Beer bar by a college? It probably smells like the Orange Bowl bathrooms and has nothing to eat but peanuts." But you'd be dead wrong. This former beer palace has actually been a gastronomic lab for about a year, and its 50/50 burger (chorizo and prime beef topped with maduros and fried egg) has gotten some serious love in the local media. If that's not enough to convince you, we've got six words: deep-fried Twix bacon ice cream dessert. Much better than peanuts.
Courtesy of Rusty Hook Tavern
The name might make this sound like the kind of place where dudes who spend all day on a boat, and reek of sturgeon, go to knock a few back after work. But this spot on the Intracoastal actually boasts an extensive selection of local craft beers, and is the best new waterfront spot to open in Broward in the last year, with very un-tavern-like food like mozzarella-stuffed meatballs, wicked ahi tuna with mango salsa, and a five-spice pork chop with apple and date puree. All of which makes this one of South Florida's best boat-up restaurants.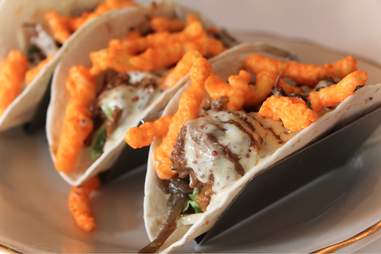 Courtesy of Chat Chow TV
This neighborhood test kitchen has become a go-to for its crazy mash-up of Chinese, Cuban, French, Southeast Asian, and Sardinian, because, somehow, it totally works. It's best known for braised short rib, Brussels sprouts & Cheetos tacos, and duck n' foie rillettes, but come fall, it's introducing a whole bunch of new menu items like Death Row ribeye (foie gras Cognac butter, black truffle salt, roasted garlic mash, short rib gravy), Singapore chili prawns, and vegan Thai green curry quinoa salad. Don't worry; the Pop's Porter Float isn't going anywhere.
You might say that the South Florida offshoot of a popular New York restaurant that's got multiple cookbooks published isn't "underrated." But you probably also complain about how there's no good Mexican food in South Florida. It's because few people know that this spot -- helmed by Chef Ivy Stark -- is stuck way in the back of the B Ocean hotel in Lauderdale Beach. And if you haven't been before, go. Now. It just launched a new menu that includes a chipotle guacamole with chapulines, easily the most delicious way to eat grasshoppers, AND a goat barbacoa with chili-lime yogurt that's unlike anything on a Mexican menu in Florida.
Courtesy of The Mightly
Hipster style meets beer hall in the former Jada Coles space. Like its predecessor, don't judge a book by its cover or location. Well, that's probably why it made this list in the first place. Once inside, this cool local spot offers a rotating list of craft taps and interesting large-format bottles (the stuff highly sought after by the beer connoisseurs) along with a whole section of sausages, all made in-house, of course. The specialties are the chicken Gorgonzola and mango & duck with orange zest.
Our apologies to all the Hollywood Beach locals who are going to be SERIOUSLY pissed we're giving away their boardwalk secret. But with the rash of trendy taco shops/speakeasies/places where you drop $9 for a couple of tortillas, you'll be pleased to know this place has them ALL beat (even the authentic taquerias in Little Havana and those fast-casual national chains where some Thrillist staffers like to go pick up girls) with the best fresh and light ingredients and real tortillas.
Not only does it have sweet beer flights, innovative cocktails, and a low-key locale for late-late-night situations, but it also bangs some yummy snacks like smokey weenies, chips & dip, and deviled eggs out of one of the tiniest kitchens you've ever seen. It only gets infinitely better with a side of live jazz.
Don't be fooled by the regional airport bar décor that makes this place look like a highly forgettable hotel restaurant. Yes, it's on the eighth floor of a Sonesta hotel, but the food is more reminiscent of what you'd find at the Mandarin Oriental than anything you'd find in a mid-range chain. The small selection of ceviches are as fresh and tropical as anywhere in Miami, especially the... duh, Tropical with corvina and fruit. Then, move on to the hearty New York sirloin with merlot demi-glace and fingerling potatoes, all while enjoying sweeping views of Coconut Grove and Biscayne Bay.
From the same guys that brought you Coconut Grove's highly popular Peacock Café and Jaguar restaurants, don't let this Mexican eatery's upscale digs, which are outfitted in head-to-toe Talavera décor, fool you. The food's as authentic as it comes and the best time to go is during happy hour when the margs are discounted, and best accompanied by fresh-made guac served with chicharrones.
Before you jump down our throats and fill up the comments section with "You put a CHAIN restaurant on this list? Thrillist has jumped the shark. Unsubscribe," just hear us out: Oceanaire, unlike most chains, actually doesn't pride itself on uniformity, and instead employs creative chefs who get A LOT of leeway with the menu. Enter Chef Kareem Anguin, who incorporates his Caribbean roots on the menu here, offering up stuff like jerk chicken pizza and mango salsas to top the fresh seafood that's usually on the menu. So even if you're from Orlando and have tried every chain restaurant on Earth, you've still never had anything like this.
Courtesy of Buns & Buns
Sure, we named this spot one of the best new restaurants in 2014 and it repped Miami on Bravo's hit show Best New Restaurant, so it's surprising that its deliciously gluttonous plates like the Fork & Knife burger and pork belly, strong emphasis on a variety of fresh-baked breads, infused teas, and fun, young staff don't make it on more "best of" lists. There are good things coming out of places not in Brickell/Wynwood/Midtown...
We've already told you this is one of the most underrated steakhouses in South Florida, but this spot hidden at the bottom of the escalators that lead from the parking garage to the casino is still one of the area's best-kept secrets. The butcher's window in the waiting area allows you to pick your own prime cuts of steak, which are on par with nearly every high-end steakhouse in South Beach. And while this place was once only the realm of gamblers, it's been open to the public for a few years now, and may well be the best steakhouse in Broward.
Coral Gables is one of the most popular dining neighborhoods in Miami, so finding affordable AND delicious food without an 1.5-hour wait is naturally difficult. This diner-meets-bistro is comfortably cozy, with wooden tables and a slew knickknacks spread about it, and ticks all three of those boxes, while serving solid French eats like moules frites, duck confit (that's it in the sandwich above), steak tartare, and croques galore. Become a regular before everyone else figures out just how good it is.
You know you've chosen the right Asian place when most every person in there is ACTUALLY Asian, staff included, most of whom are probably there because of Maido's traditional Japanese fare of natto (fermented soybeans with scallions), kawahagi (fish jerky), kabocha tem (fried Japanese pumpkin), reasonably priced ramen, and fresh-to-death sushi. Or 'cause they're, you know, being paid to serve those things.
Courtesy of Salsa Fiesta
Okay, we lied. Here's another chain. But, don't hate us just yet. This LOCAL chain has redefined what you can do with chains by actually using real and fresh ingredients for food that is simple, yet boldly flavorful. The bowls in flavors like Mexicano and Santa Fe are addictive, but if you want to go a bit crazy, you can order the tostones nachos with fried plantains in place of tortilla chips. They work with the fast-casual model that is so popular right now, but offer table service during less-busy hours.
Located next to another underrated old-school spot (Whip'n Dip Ice Cream Shop), this tiny strictly cupcake, tea, and coffee shop tends to be overshadowed by local cake queen, Mischa, but holds its own with classic and not-so-classic flavors like vanilla, lime, red velvet, and chocolate Oreo. Not only will you find chunks of real ingredients in each treat, but they are not overpoweringly sweet, so you could easily eat four or five of 'em. Not that WE do that every time we go there or anything.
As a... um, proper butcher shop, the range of meaty offerings changes on the regular, but look out for items like fig & blue cheese and lamb & date sausages, home-cured bacon, and shelves on shelves of accoutrements. But, better than that are the to-go burgers and sandwiches on Portuguese muffins. Get one immediately.
Located on the ninth floor of the Venetia condominiums, right off of the Venetian Causeway, this sorta-secret poolside pub features pizza, zingers, and Downtown views, all of which make it a seriously underrated spot to view Fins games on its myriad screens. Don't worry, there is a full bar, in case you were wondering.

Sign up here for our daily Miami email and be the first to get all the food/drink/fun in town.
Miami native and freelance writer, Mandy Baca (@mandybaca on Twitter) loves underrated restaurants... and cupcakes, obviously.