A super-secret supper club in Midtown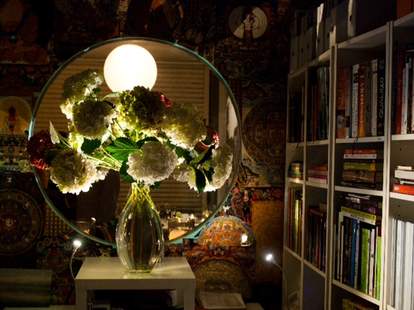 Since Mr. Body won't be inviting you to his mansion to join Miss Scarlett for dinner any time soon, your best bet for the "fancy food with random well-dressed people" experience is Copperbox Culinary Atelier. Twice a week, the formerly invite-only supper club cooks up stuff like lobster in coconut-water beurre-blanc and pork belly & shrimp gnocchi for 22 almost-strangers, who'll mingle at communal tables and presumably not plot to kill the host
Though it's still private dining-only most nights, Copperbox accepts reservations via email for Thursdays and Saturdays. When your day comes, just look for an orange stucco building with a black-suited doorman holding The List

Of course, since this is Miami and lots of random orange stucco buildings have doormen with The List, you might also want to look for this plaque

Once inside, Venezuelan chef Gabriela Machado and her team of "culinarians" will create a seven-course meal that you're not allowed to photograph, tweet, Instagram, or text. They didn't say anything about Geocities

The menu changes every week, but, if you're lucky, you might find this sous vide pork belly with Borek Farm carrots, Brussels sprouts, and pork jus on your plate

The crème of Granny Smith apple soup gets some help from mousse of ricotta, confit of sugar pear, and scallions

This foie gras crème brulee is made with Grand Marnier, topped with gold leaf, and totally illegal.