If there are two complaints pretty much everyone in Miami has, they're the general unfamiliarity with the concept of a turn signal, and the complete lack of good Chinese food delivery. Consider one of those problems solved, since Soi Chinese Kitchen's doing a modern twist on Chinese with high-quality meats and home-cooked sauces to a delivery area so big, you can totally avoid those signal-less drivers while sitting on your couch and enjoying it.
Recommended Video
Tuna Eyeball with Timothy DeLaGhetto and Ben Sinclair
1. The massive delivery area: The food is undeniably fantastic, but that doesn't matter if you can't get it. If you live between Morningside and South Brickell and West to 12th Ave, they'll bring your food to you. If not, you can always pretend you live in a janitor's closet. Or just walk up and order here.
2. The ribs: In a tribute to the local Overtown cuisine, they're grilling up these St. Louis-style babies with a Chinese BBQ glaze and coleslaw.
3. The wings: You love those double-fried Korean wings at Sakaya? Why don't you marry them? Or just get these fried, cooled, then fried again cluckers tossed in a special Cuban Sriracha sauce, and realize wing monogamy's just not your thing.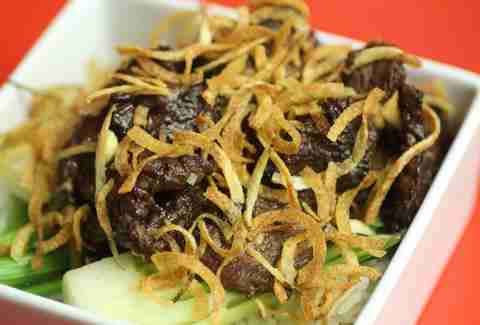 4. The meat, in general: Soi's using only high-quality meats like this special hanger tenderloin in their Szechuan beef with a spicy sake-soy glaze and fresh kale.
Same with the Mongolian beef chow fun with baby bok choy and fresh mushrooms.
5. The Krave mural: Graffiti is nothing new to Overtown. But legit street art from Krave? Almost makes taggers feel guilty. Almost.
6. The buns: They take warm, fresh-baked fluffy bread and fill it with mushrooms and black truffle butter, Mongolian beef, or these pork bellies with apple-spiced jam and pickled cucumbers.
7. The Rickshaw: Don't wanna venture to Overtown? Can't get it delivered? You can still get the goods at their badass food truck outside Gramps, or other locations around the city, and you can follow it at @soichinese.