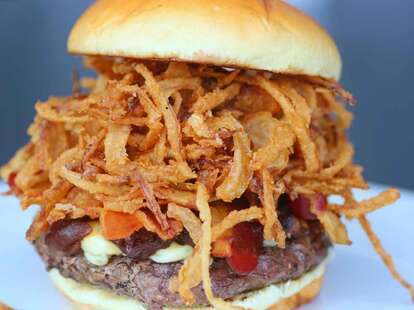 Because reading a retrospective on the most sensible salads that Miami ate in 2013 would be about as much fun as eating a sensible salad, here is an epic look back at all the glorious fatness that graced our plates/palates this year. Hopefully, 2014 will be even bigger... if we survive until the end of it.
Pulled Pork Breakfast Sandwich
Brother Jimmy's, Brickell
Approximate Calorie Count: 570
If Bill Clinton was lounging around Mary Brickell Village, he'd likely be lured out to 9th St by a chalk sign promising "BJs in the back". And while he'd also likely be disappointed to find that it was a clever promotion for Brother Jimmy's Back Door Café, he (and you) would be delighted to have one of these grab-and-go breakfast window's sandwiches, like this one filled with pork, baked beans & a sunny-side-up egg.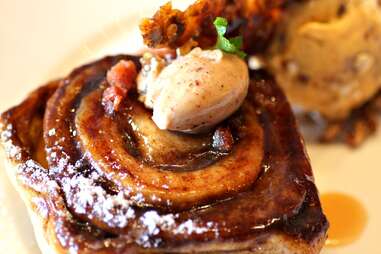 Sticky Bun
Swine Southern Table and Bar,Coral Gables
Approximate Calorie Count: 688
Sure, this Gables BBQ joint (in a two-story space made out of an old barn) is serving smoked meats, and kegged cocktails, etc. but the highlight is this way to end your meal/life: a giant sticky bun with sweet potato ice cream, caramelized pecans, housemade pecan butter, and candied bacon.
Deep-Fried Gator
Box Park, Brickell
Approximate Calorie Count: 760
If you've ever thought it would be cool to live in the Everglades and survive on nothing but alligator, wild boar, antelope, and jackrabbit, but those whole "mosquitoes the size of Joe Mantegna" and "severe lack of a craft cocktail menu" things were deal breakers, then you'll want to hit this Brickell joint serving gator even ESPN couldn't overrate -- it's marinated in hot sauce and buttermilk, breaded, deep-fried, and served with a spicy Datil pepper sauce.
Chilaquiles
Mercadito, Midtown
Approximate Calorie Count: 766
After two years of slinging a taco and ceviche-heavy brunch, Mercadito has eggs-ponentially (heyooo!!) upped its game by adding a lineup of hangover-curing plates, like this heap of fried tortillas smothered in crema fresca and a creamy tomatillo sauce.
Baked Green Tagliolini
Cipriani Downtown, Brickell
Approximate Calorie Count: 780
If the Kentucky Derby didn't quite pan out how you'd hoped, or Powerball still somehow eludes you, or you're Wesley Snipes, your best bet for the luxury-yacht dining experience is Cipriani Downtown, New York's gourmet Italian power-dining powerhouse on the Miami River, where, in addition to more gussied up eats, is plating huge servings of baked green tagliolini and Praga ham.
Banana Split with Homemade Ice Cream
Box Park, Brickell
Approximate Calorie Count: 810
Oh, and when you're finished with the gator, you should know that the homemade ice cream in this Ten-Fidy banana split is made with Oskar Blues' 10.5% porter, and will melt in about a minute because the alcohol content is so high.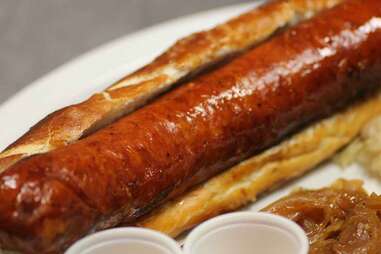 Cured Hungarian Mettwurst
The Butcher Shop Beer Garden and Grill, Wynwood
Approximate Calorie Count: 840
Since "The Butcher of Wynwood" sounds kind of like what they'll call the inevitable Broadway version of Dexter, the father-son team behind Palm Beach Gardens' fave Charlie's Old Fashioned decided to simply call their Miami meat-cutting emporium "The Butcher Shop", and serve glorious protein-based eats, like this huge housemade sausage grilled up and topped with 'kraut and caramelized onions.
The Heatburger
Bulldog BBQ, North Miami
Approximate Calorie Count: 907
Need more Miami-repping burgers? Bulldog also did one made with Angus, bacon, jalapeno marmalade, fried & pickled jalapeños, pepper jack, and a house sauce, that -- unlike its namesake basketball team -- definitely won't be hated by everybody outside of South Florida.
The Luther
Bulldog BBQ, North Miami
Approximate Calorie Count: 1067
Top Chef alum Howie "The Bulldog" Kleinberg has a unique approach to letting everyone know what area code his food reps -- by crafting some insane food combinations, putting them on a bun, and giving them Miami-centric names, like The Luther, which is named after 2 Live Crew founder and former mayoral candidate Luther Campbell, and is so nasty good (100% certified Angus, crispy bacon, caramelized onions, cheese, and house sauce on a "Krispy Kreme-inspired" homemade sticky bun) they're thinking of banning it in Broward County.
Bucket of Bones
Barton G, South Beach
Approximate Calorie Count: 1470
Part of this South Beach eatery's massive, theatrical menu overhaul, "Boarnie" Madoff's Bucket of Bones not only featured a mix of beef & pork ribs, lamb chops, and apple BBQ chicken, it also came with a caged/cuffed hog statue.