When selecting an all-star team, "booziest" doesn't always mean "best", otherwise David Wells would have started every All-Star Game ever. So, even though we've already told you about Miami's Booziest Brunches, we decided to pick the city's best dish in every important AM(-ish)-eats category for our list of Miami's 10 most essential brunch items. A list that includes everything from chicken and waffles to shrimp and grits. And maybe, one Bloody Mary...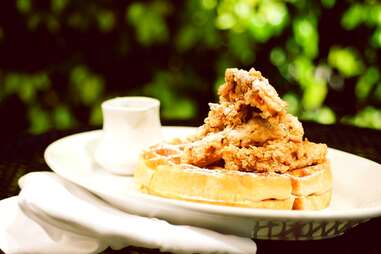 Essential Chicken and Waffles
Chicken and waffles, Morgans Restaurant
While people are putting everything from fried rice to garbanzo beans on top of chicken and waffles these days, this Miami brunch stalwart hasn't started doing anything crazy since the craze started. They just top hot, crispy waffles with even hotter, crispier fried chicken, serve it with syrup, and get tons of hungover Miamians to wait outside in the humidity, on a weekend, to eat some.
Essential French Toast
Cookies and cream French toast, The Federal
Nabisco told us a long time ago that the Oreo was milk's favorite cookie. They failed to inform us, however, that it was also the favorite cookie of ricotta whipped cream, chocolate sauce, and maple syrup sitting on top of fresh-battered French toast. That's kind of a mouthful though, and might not actually fit on a box of cookies, so, Nabisco, we good.
Essential Bloody Mary
Kimchi Bloody Mary, Michael's Genuine
If you're the type who believes brunch is better consumed in liquid form, which, admit it, is pretty much everyone, there's nothing better than this Michael Schwartz classic that starts with Absolut Elyx, then adds Michael's Bloody Mary mix, and tops it off with house-made kimchi and a Florida rock shrimp. Which means, technically, yes, you ate SOMETHING.
Essential Mexican Brunch
Chilaquiles, OTC
Nothing says "Mexican brunch" like washing it down with a craft beer on draft, right? Of course right. And really the only place you're gonna be able to do that is at OTC, where they're serving up this pile of corn chips, Mexican chorizo, chipotle-braised chicken thigh, Cotija cheese, avocado, ranchero sauce, and a sunny-side up egg.
Essential Caja China
Caja china,EDGE Steak and Bar
Sure, you COULD drive all the way out to Hialeah at the ass-crack of dawn Sunday morning, help your relatives carry that box that probably weighs more than an atomic bomb out to the back yard, bury it, then wait, like ALL DAY to actually eat a giant pig. OR you could just stop by the patio at the Four Seasons in Brickell, grab some pork off the whole hog they roast every week, and use Sunday to do something useful, like catch up on Game of Thrones.
Essential Shrimp and Grits
Shrimp and grits,Blue Collar
In his never-ending quest to make the best un-Kosher food humanly possibly, Danny Serfer takes traditional shrimp and grits, adds trugole cheese and New Orleans-style BBQ sauce, then throws in Nueske bacon to ensure he'll never be able to open a restaurant on 41st St.
Essential Eggs Benedict
Crab Eggs Benedict, Local House
Read that carefully so you don't think you're getting a plate full of crab eggs (do crabs even have eggs?) topped with Hollandaise sauce. What you are getting is a fresh, house-made crab cake topped with a poached egg, tomatoes, garlic-sauteed spinach & Hollandaise served across the street from the ocean. Convenient if, ya know, you were really hung up on getting crab eggs.
Essential Donuts
Donut holes, Tongue and Cheek
In a city where gourmet donuts are rarer than English-speaking cab drivers, it's just a shame that Jamie DeRosa only offers these made-fresh, from-scratch donut holes filled with chocolate, jelly, or Bavarian cream -- that're some of Miami's best donuts -- at brunch. The free coffee helps make up for it, though.
Essential Pancakes
Cap'n Crunch pancakes, Eating House
Sadly, you will not find any free plastic scuba men when you get to the bottom of Giorgio Rapicavoli's signature Wakin' and Bacon brunch dish. What you will find after finishing these cakes topped with condensed milk syrup, vanilla butter & candied Cap'n Crunch is a reason to call your mom and tell her she was totally wrong when she said those sugar cereals were a waste of money and forced you to eat Malt-O's.