Because picking the wrong restaurant could get you the wrong kind of screwed on date night, and because Valentine's Day is only weeks away, we've assembled a list of the 14 most romantic restaurants in Miami, including strip clubs (just kidding!); it includes traditional white-table-clothed destinations, sweet waterside spots, and everything else in between...
Kendall
Yeah, you have to drive to Kendall, but once you're inside the dim, all-wood restaurant you'll be stuck on the pork belly and chocolate-Nutella bread pudding, and because there's nothing else to do in the area, you'll also be stuck making out in the car like high schoolers after dinner.
South Beach
Located atop the artistic 1111 Lincoln Rd parking garage, the restaurant has one of the city's best views in a tropical chic setting, plus it offers small plates that are a mix of French, Peruvian, and Japanese. Besides if you're still hungry afterwards, there's a Shake Shack downstairs where you can get something sweet for your sweetie.
Coral Way
Have a hard-to-please date? Bring her here. There is no menu as Chef Romeo Majano prepares a custom dinner based on your preferences (which you provide upon sitting down) and the day's available ingredients. While the restaurant's décor is a bit reminiscent of your parent's home, the restaurant offers an intimate environment with only 28 seats.
Design District
A remodeled cottage house, this romantic restaurant is a little bit Greek and little bit Turkish. The vast tree-lined and candlelit outdoor area will transport you to a small town in Greece without the big price tag and trip, 'cause you're not in that stage of your relationship yet.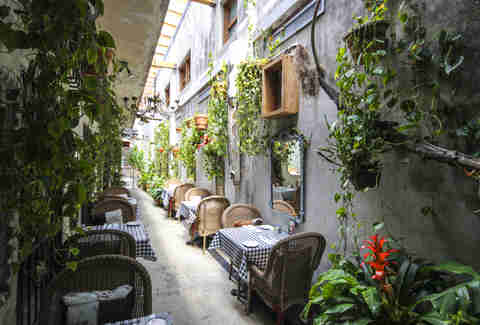 MiMo
When making your reservation at this "American bistro," make sure to ask for outdoor seating. Looking in, that narrow section looks like a restaurant within a restaurant. With Old World chandeliers and lavish greenery separating each table, it's like that Secret Garden movie your girlfriend's always going on and on about.
Downtown Miami
Housed inside the lobby of an old Miami bank (if walls could talk), it's a trip to Italy complete with romantic lighting, mismatched furniture, Italian servers, and homemade pasta. Did we mention it's actually run by Italians? Dining is al fresco and spills onto the streets of Downtown Miami.
Cutler Bay
Located waterfront on Matheson Hammock Park, the restaurant is housed in a historic stone building that was once the Matheson Hammock Pavilion; it is also accessible by boat for those who want to access the mostly seafood menu by sea. And... um, own boats, obviously.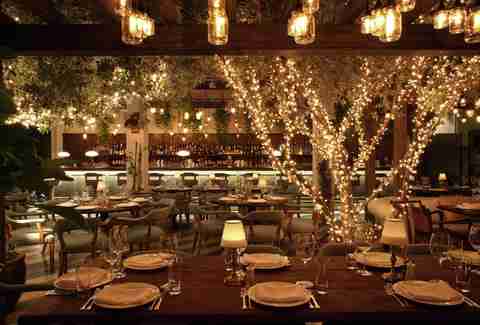 Miami Beach
An outdoor courtyard is lined with lit Silver Buttonwood trees, a green and white tile floor, colorful and comfortable sofas and chairs, and has a retractable roof to save hairstyles from going frizzy. This is every girl's Pinterest dream come true. Inspired by the original Cipriani restaurant in Italy, the concept is perfected at the Soho Beach House adding a twist of Miami cool.
Key Biscayne
This old-school boy still has charm and offers the best view of Downtown Miami, plus now that it's undergone an extensive reno a few years back (we know it's been awhile), the restaurant features less carpet, more wood, and a layout where every seat in the house has a view. Pro-tip: if there's a wedding going on upstairs, try to sneak in. It'll be a romantic adventure, and if anyone asks, you came with Carlos.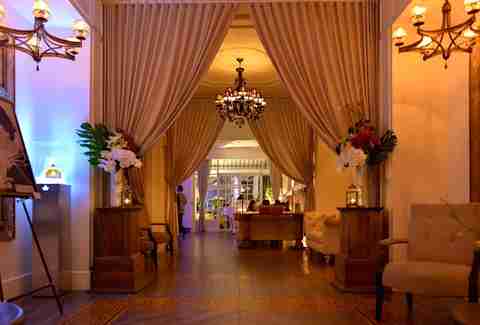 Miami Beach
This place may be known for its crazy Thursday night parties, beautiful women, and sparklers, but it also does good wining and dining by mixing the delicacies of France and Italy. We see you foie gras. Check out the outdoor area, where a Cirque du Soleil-esque clear tent is draped in linens, chandeliers, and more of that Secret Garden greenery.
Brickell
Use Valentine's Day as an excuse to try one of Miami's best new restaurants. Chef Gastón Acurio, is best-known for putting Peruvian cuisine on the map, and his restaurant, Astrid y Gastón, has been recognized time and time again as being one of the best in the world. Now his Executive Chef Diego Oka, an Acurio protégé, is executing ceviches, anticuchos, and piqueos at the Mandarin Oriental. Grab a seat outside under the palm trees.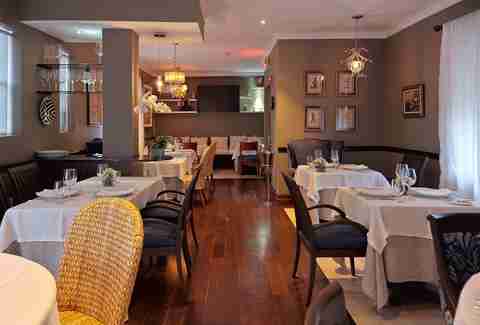 Miami Beach
The sophisticated and elegant 40-seat restaurant recently premiered a new menu featuring the flavors of Alsace. If things go well during dinner, you can rent a room upstairs at the Cadet Hotel, and there are people at Thrillist who have experienced this place's date-night prowess personally. Need we say more? Let's not and remain decent.
Brickell
Perched 15 floors above Biscayne Bay, 15th & Vine boasts commanding views of the Miami skyline, a stunning marble-floored interior (the best table, number 105, even has its own tree), and a menu with a whole section of sharable eats like bacon-wrapped dates and a cassoulet of duck confit, but don't worry, if you're feeling selfish -- you probably shouldn't be, it's a date remember -- there are regular-sized portions too.
Miami Beach
Open since 1968, this vintage restaurant has reinvented itself more times than Madonna. In 2014, they brought on Michelin-starred chef Christopher Lee and we are still raving about the Jamaican Jerk Bacon and the Chocolate Hazelnut Fondue. Pro-tip: ask for a tour of the ridiculous wine cellar, then confidently order a bottle for dinner. It's the perfect way to... sorryboutthis!... forge an instant connection.
Sign up here for our daily Miami email and be the first to get all the food/drink/fun in town.