Because you live in Miami, you A) don't need Mister Rogers to remind you that every day is, in fact, a beautiful day in your neighborhood, and B) probably do need someone to remind you which restaurants in your neighborhood aren't from New York/an Applebee's. So we've assembled a list of our favorite neighborhood restaurants in a dozen Miami 'hoods, which hopefully people can like just the way they are... or tell us why not in the comments section below.
Recommended Video
Thrillist's Best (and the Rest): The Truth Behind the Saddest Cookbook Ever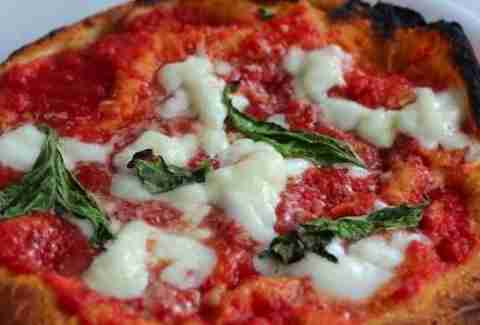 Brickell
Stanzione 87
When you're living in the most densely populated 'hood south of Manhattan, you A) probably pay $2,500 a month for a view of somebody else's balcony, and B) don't consider anywhere you'd go a "neighborhood" restaurant... until you walk into Stanzione 87, where you're typically greeted by baby-faced owner Franco Stanzione, who'll totally urge you to watch his much-more-maturely-faced chef hand-make pies with ingredients direct form Naples in less than a minute.
Coconut Grove
Lokal
Still have the Mister Rogers theme song in your head, don't you? Well you COULD listen to your cassette single of "Humpin' Around" IF your mom hadn't thrown it out. And if it wasn't now lining the bar at this Coconut Grove burger and beer hall, where they're keeping true to their name by grilling burgers made with Florida grass-fed beef, topping them with Sunshine State produce, and serving it all with craft beers from the state that – at the time of publication – was the last to arrest Justin Bieber.
Coral Gables
Eating House
Two reasons we love EH: their viral Christmas card featured the entire staff in nothing but Santa hats, and the "Wakin-N-Bacon" brunch menu with stuff like Cap'n Crunch pancakes, which keep Gablers lining up outside Giorgio Rapicavoli's former pop-up, even in our brutally cold Christmas months when the wind chill gets down to 62.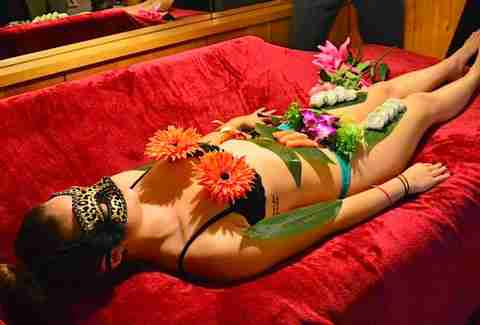 Doral
Miyako Japanese Restaurant
Tiny restaurants in Doral are popping up faster than the bottom half of the Marlins lineup, but this Japanese power-lunch spot has kept itself alive with the best sushi west of 95, a special menu only available to regular customers, body sushi events, and the most, um, entertaining Thai doughnut presentation your inner 12yr-old could imagine.
Little Haiti
Fiorito
When you see a brick house in a place like Little Haiti, you probably think one thing: meth lab. But you should be thinking about this warm, welcoming, Maradona poster-lined restaurant where brothers Cristian and Maximiliano Alvarez cook Argentine grub like octopus tentacle appetizers, and fried sweetbreads that're even more addictive than what you must be smoking to miss this place.
Miami Shores
The Federal
This overwhelmingly homey spot on Biscayne is basically a cross between a country attic and a backyard, if that backyard had potato sack-lined booths, picnic tables, a gazebo-style bar, and a massive mirror lined with reclaimed wood. And served pig wings, Jar-o-Duck, and a bacon-onion marmalade-/duck butter-covered porterhouse. Which would pretty much make it the best backyard ever.
Midtown
La Latina
Tucked between a head shop and a barber shop is this Venezuelan joint decked out in knick-knacks from owner Carlos Matheus' abuela's house, making even lunch on a Tuesday feel like Saturday dinner. Except instead of "Sabado Gigante" playing at ungodly loud volumes, you'll hear Carlos explaining to you the origins of every item on his menu, from the Venezuelan national dish Pabellon to the Miss World-namesake Reina Pepiada.
North Bay Village/North Beach
Sushi Deli at Japanese Market
Who's got the best sushi in Miami? Zuma? More like Who?-ma. Naoe? More like No-way. Toni's? More like Phoni's. Ok we could do this forever….ask a local and they'll tell you straight up the best sushi in the Magic City is at the tiny deli counter in this almost-unmarked storefront on the 79th Street causeway. Just belly up to the bar and ask Chef Michio Kushi to make you something special.
Pinecrest
Guadalajara Mexican Restaurant
The family behind Guadalajara knows how to keep Pinecresters happy: by offering top-notch Mexican food like smooth, spicy homemade salsa and char-grilled meats for prices that don't make you say, "They're charging HOW MUCH for a plate of tacos?".
SoFi
Café Mistral
Decked out to look like a Parisian hole-in-the-wall (minus the chain-smoking and cold weather), this SoFi sidewalk café run by a Euro/Latin-fusion family keeps their cuisine simpler than a Metrorail map (like that's hard!) with stuff like short ribs, garlic grilled shrimp, and a gluten-free veggie lasagna that actually tastes like a lasagna.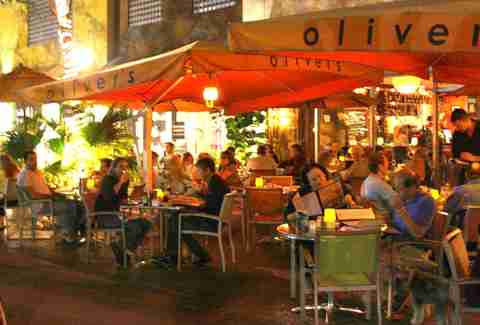 South Beach
Oliver's Bistro
Service in South Beach is typically only slightly better than the DMV in Hialeah, except at Oliver's, where most of the people enjoying some truly epic breakfasts are West Ave locals, so they actually have to do stuff, like... um, be NICE to their customers.
Westchester
Pincho Factory
Even though Nedal Ahmad has opened a new Gables location, his original shop in a Bird Road strip mall maintains its Weh-cheh-tuh character, while churning out some of the city's best burgers, flame-grilled pinchos, and a brunch that'll guarantee the rest of your day is beautiful... except for all the Spanish-language signage and travel agencies you've got to drive by to get there.