8 new fall menus to try in Miami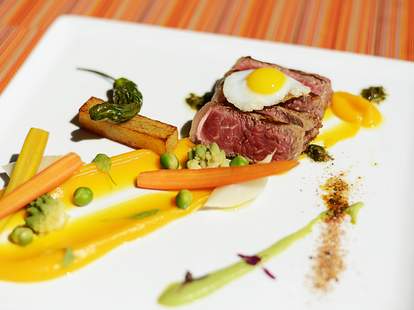 There's never a shortage of great new restaurants, like these 12, opening in Miami, but sometimes you want to go somewhere familiar, some place where everybody knows your name (but, because this is the 305 no one's nearly as fat as Norm... or even Cliff), so we've rounded up eight of your favorite South Florida food spots with sweet new menus you can try...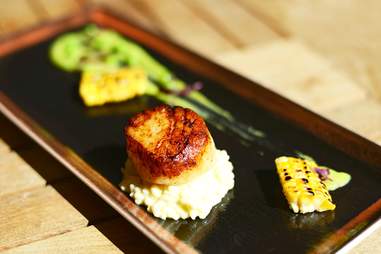 SUN MOON PHOTOGRAPHY
Ft. Lauderdale
During the day, the poolside restaurant at the Marriott Harbor Beach in Ft. Lauderdale slings burgers by the dozen. At night, however, Chef Jason Connelly is putting together highly inventive seafood specials on a giant chalkboard.
What you're getting: The chalkboard specials rotate daily, but if you can get the Day Boat Scallops w/ corn risotto
Brickell
While the food at this craft-cocktail-tap-at-your-table spot seems best when ordered between 1-3am, now you've got a reason to come in BEFORE you've started your night, thanks to a new fall menu that's long on Southern influences like a wild boar shank that's caught by guys on a ranch in Texas shooting guns out of the back of a pickup truck.
What you're getting: Southwest Chicken Eggrolls w/ chipotle BBQ sauce; or Vanilla Bean & Espresso Braised Short Rib
ORANGE BLOSSOM
Miami Beach
In case you didn't learn enough Florida history the first time you went to Orange Blossom, come back to try their new menu, and so you can finally figure out who the people in the funny pictures on the wall are.
What you're getting: Salmon tartare; pork tenderloin w/ a sweet pepper crust & tomatillo; or Florida grouper w/ parmesan risotto
Olympia Heights
Lest he become a one-trick pony due to the runaway success of his Toston Burger, Nedal Ahmad's just revamped his whole menu, including a new style of Chipotle you can get on any bowl, wrap, or sub.
What you're getting: Cajun tostones w/ grilled onions; or a Latin bowl w/ diced tomatoes, cucumbers, black beans & lettuce. Add tzaziki sauce for an extra-authentic kick.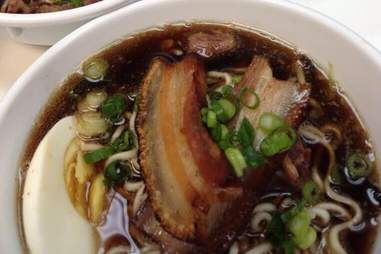 BC CAFE
Davie
Since they've already mastered the gringo-fication of tacos, the B.C. crew has moved on to Asian food and launched a new Friday night ramen menu that boasts things like pork belly & oxtail, as well as beef & kimchee ramen.
What you're getting: Chicken katsu ramen w/ buttermilk marinated fried chicken, egg, leeks, corn & bean sprouts
EDGE
Brickell
Not satisfied with having the best burger in Brickell, well they've just rolled out a generous new menu of meaty creations starting with a pork & duck terrine and moving on to some new cuts of steak like a 5oz Boston-cut stip and the just-in-time-for-Halloween saw-cut bone-in ribeye.
What you're getting: The terrine; or a 24oz saw-cut bone-in ribeye
TORO TORO
Brickell
You might not like a stake through the heart if you're a vampire, but you will if you're eating Antichucho de Corazón -- beef hearts grilled on spikes w/ huancaina sauce. Toro Toro's new menu also has less heartbreaking stuff like a glass noodle salad and Korean short ribs.
What you're getting: The Antichucho de Corazón; Wagyu Flat Iron Steak; and the white cheddar and manchego mac & cheese
SWINE
Coral Gables
Usually when you're talking about pigs in Hialeah you're either discussing a horse you bet on or somebody you met at Westland Mall. But thanks to Swine's new menu, you'll be raving about the hogs they're cutting three different ways and serving on a king-sized platter with veggies and pork sauce. The new menu also has 14-hour smoked brisket, wood-grilled wings, and wood-fired octopus.
What you're getting: Heritage Breed Pig and the Triple Chocolate Texas Toast Bread Puddin'
Sign up here for our daily Miami email and be the first to get all the food/drink/fun in town.