If there's one thing that could make the rest of the country hate Miami more than our "Winter" weather it's... um, probably the fact their Winter weather is preventing them from getting down here. But if there's another thing, it's that some sweet new restaurants (a burger joint from Bobby Flay, a spot above a strip club with a super-sexy chef, etc.) mean our food scene is hotter than a guy who's flight to South Florida just got cancelled anyplace else too.
Name: Verde
Open Now
Why You Should Care: If your idea of modern art is pretty much limited to that Kramer portrait you've had since college, then this eatery inside the new Perez Art Museum is for you, because while other people are checking out the exhibitions, you can munch on roasted New York Strip w/ chimichurri butter, a "squash blossom" pizza, or sugary doughnut holes made w/ Cuban coffee, confident you've learned the same thing that the show Kramer was on is about: nothing.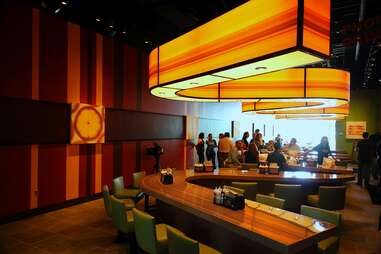 Name: Bobby's Burger Palace
Open Now
Why You Should Care: Bobby Flay's making his flavors available to the masses (except, presumably, Ari Gold) in Dadeland's new wing at this first-in-Florida branch of his quick service burger joint, where he's prepping enough city-inspired Certified Angus burgers (the Dallas w/ coleslaw, BBQ & Monterey Jack, the Miami w/ with ham, Swiss, pickles, mustard & mayo, etc.) to feed everyone in your... waitforit!... Entourage.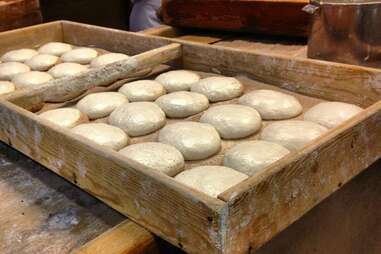 Name: Buns & Buns
Opening: January 2014
Why You Should Care: If we told you some people scoured the whole world to bring the best buns they could find from every country to a small space on Sunset Drive, then cover all the windows so nobody could see in, you'd probably expect something a little more like what you find at BT's across the street from this South Miami spot. But what you're gonna find when it opens in January is a collection of stuff like flame-grilled steak, purple potatoes, and lamb short ribs on fresh-baked brioche and other amazing buns you really don't want to stick a dollar bill on.

Name: Rhino Doughnuts & Coffee
Opening: January 2014
Why You Should Care: Remember that time we ran a story on the coolest donuts in South Florida and three of 'em... um, weren't actually donuts? Presumably, Tom Prakas saw it and thought, "Hey, a region of 4 million people should probably have more than two legit doughnut shops. And maybe said shops should bake up crazy flavors, like maple-bacon, pistachio, or strawberry shortcake. And oh yeah, the first one should open on Las Olas in January, with three more to follow in the Tri-County area". You're welcome.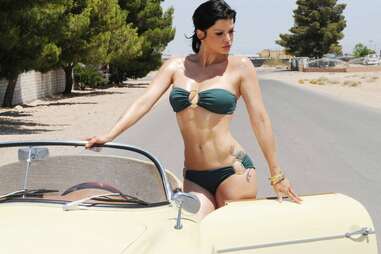 Name: Touche Restaurant & Lounge
Opening: February 2014
Why You Should Care: We know you're thinking it…but NO, Chef Carla Pellegrino will NOT be performing downstairs at cabaret dayclub/nightclub/definitely-NOT-a-strip-club E11even when it opens in February. Instead, she's helming the 6950sqft rooftop restaurant with a top-secret menu created entirely by the sexy Top Chef alum. An added bonus: if your date is a little sketchy about going to a restaurant over a club full of naked dancers, Touche will be accessible by an entirely different entrance. And if she's NOT sketchy about it, well…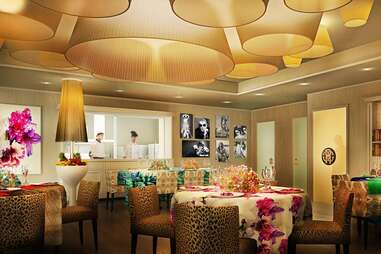 Name: Cavalli Miami Restaurant and Lounge
Opening: February 2014
Why You Should Care: Roberto Cavalli clearly believes the third time is the charm, 'cause he's taking over the space at 150 Ocean Drive, that neither Vic & Angelo's or DeVito (or Danny DeVito, presumably) could make a hit, and stuffing it with his own Cavalli Home Design decorations like zebra and jaguar printed chairs, building a swanky top-floor lounge and bigger-than-anyone-in-South-Beach patio, and a Tuscan-inspired menu from Chef Stefano Mazzi.

Name: Earls Kitchen and Bar
Opening: March 2014
Why You Should Care: Possibly to makeup for Canada getting passed by Brazil as the country that sends us the most tourists, North-of-the-Border burger-and-steak stalwart Earl's is bringing their handmade meatwiches, thick steaks, and local seafood to their third US city... so, take THAT (in addition to the fact that your weather sucks) Denver and Seattle.