Miami's 7 new Summer menu items to try right now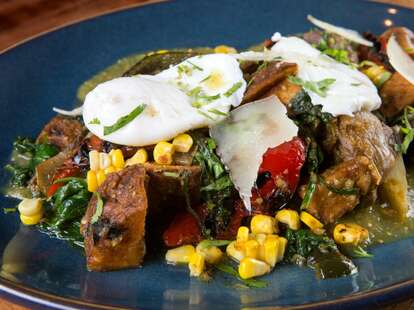 Miami June might be the most predictable month of the year in Miami: daily thundershowers at 4pm, the Heat playing San Antonio in the NBA Finalsagain. Fortunately though, there is some variety, thanks to a slew of sweet restaurants that're serving brand-new Summer menu items, including seven you should try right this minute.
Bacon Taco
BC Café, Davie
BC Café's taco titan Brett Chiavari clearly hates your arteries or owns stock in Lipitor, because those are the only reasons he'd create a SHELL MADE OUT OF BACON, then fill it with seared scallops, white bean purée, arugula, tomato & gremolata. Besides the fact it's delicious, obviously. Continue Reading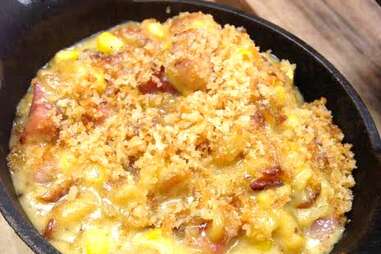 Cheesy Spaetzle
EDGE Steakhouse and Bar, Brickell
By now, you've already run through our picks for Miami's best mac and cheese, right? Of course you have, which is probably why Aaron Brooks has created this one -- made w/ house-made bacon, sweet corn & breadcrumbs -- which totally would've made the list if it'd been around the first time.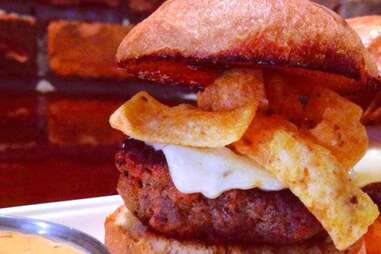 Spicy Crunch Burger
Rok:Brgr, South Miami
In May, it seemed like even sushi joints were coming out with special burgers for National Burger Month, and lucky for you, one of the best new creations -- topped w/ Fritos, chipotle ketchup & chipotle gouda -- is still around.
Jamaican Bacon
The Forge, Miami Beach
Aside from giving it a really cool name that may or may not sound like a cholesterol-laden strain of marijuana, Forge's new Chef Christopher Lee has taken thick-cut bacon and crusted it with Jamaican jerk spices, then topped it with fresh mango salsa.
Fricadelles
El'Eat, North Miami
While eating Swedish meatballs is usually associated with furnishing your first apartment and spending the rest of the day assembling plasterboard, you can now associate the Danish variety w/ caramelized onions, mushroom gravy & Gruyere, as well as the massive selection of Funky Buddha and other local craft beers this North Miami newcomer has to pair with it.


Huevos Ahoghada con Shortribs
Rocco's Tacos, Ft. Lauderdale
Since sitting on the side of Las Olas and pounding pitchers of margaritas is really just as fun on Sunday as it is on Taco Tuesday, Rocco's has started a new brunch, highlighted by these: poached eggs on shortribs and poblano hash, salsa verde, corn, spinach & manchego.