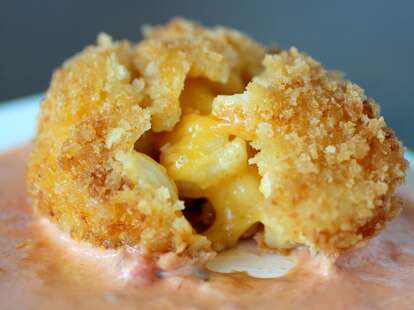 FOOTBALL IS BACK! No, Miami, our new MLS team isn't finally showing up... the Dolphins are taking on Tom Brady and the Patriots this Sunday, and because the team probably won't be any better this year, the Fins have upped their concourse-eats game, supplementing the traditional popcorn, beer, and Papa John's with sushi, mac & cheese balls, a new spot from Michelle Bernstein, and other stuff that'll make going to December home games worth it.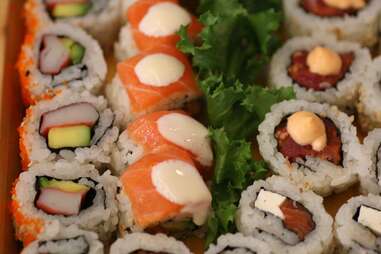 Fins roll
While Ray Nitschke might be rolling over in his grave at the thought of sushi being served at a football game, he'd probably roll a little less if he tried this spicy salmon, avocado, and tempura flake that's topped with sweet mayo. The popular airport resto is also plating a California roll, a U roll, and all sorts of sashimi.
Where to get it: Sushi Maki, section 241
BurgerFi cheeseburger
One of America's next big franchises is getting into the stadium game with this 6.6oz-er on a BurgerFi potato roll with American, lettuce, and tomato.
Where to get it: BurgerFi, section 130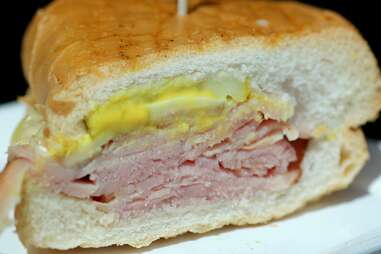 Cuban sandwich
Although it didn't make our list of the Top 8 Cuban Sandwiches, this is absolutely the best Cuban sandwich you can get inside Sun Life Stadium, thanks to sweet cured ham, mojo-seasoned roasted pork, Swiss, pickles, and mustard on Cuban bread.
Where to get it: Cuban Guys, section 425
Kale and quinoa salad
Because nothing says "brutal, violent contact sport" like a nice salad, Michelle Bernstein is bringing Crumb on Parchment to football fans with this kale salad with mangos, chayote, and peanuts in a chili lime vinaigrette. Also worth a try: the turkey sandwich on a pretzel roll and the vegetarian on whole grain.
Where to get it: Crumb on Parchment, section 213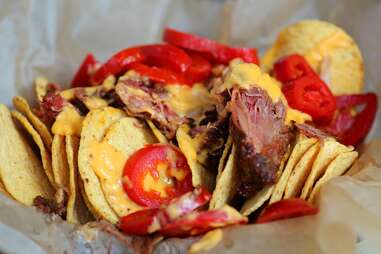 BBQ pulled pork nachos
In what is the closest thing to fusion cuisine you'll ever find at a football game, this BBQ spot is putting slow-smoked pork on top of tri-color chips with red jalapeños, cheese, and BBQ sauce.
Where to get it: Everglades BBQ, gate E plaza, gate G plaza, sections 156, 241, 256, and 443
Footlong New Yorker
The only New Yorker that won't get booed at Sun Life this season? A foot-long, one-third pound hot dog with sauerkraut and spicy brown mustard. Although if the thought of enjoying anything with the words "New York" during a Dolphins game is too much, try the chili cheese variety.
Where to get it: sections 110, 125, 128, 131, 141, 153, 156, 210, 218, 227, 229, 238, 246, 404, 419, 432, and 451
Homemade mac & cheese balls
Because the A/C in the Club Level can seriously make South Florida feel like Green Bay, the Dolphins' great Kim Bokamper is serving Wisconsin comfort food that's deep-fried and dusted in panko crumbs atop Italian dressing.
Where to get it: Bokamper's, section 328
Build-your-own pasta bowl
Even if it's taken a few years for the Dolphins to build another perfect team, it'll take, like, two minutes for you to build the perfect pasta bowl with a selection of fresh meats, veggies, herbs, and sauces that they'll put in a pan and cook right in front of you.
Where to get it: section 217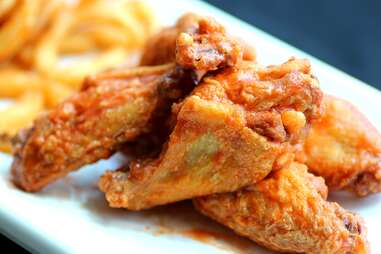 Bru's Wings
As of right now, this is the only place in Dade County where you can get these crispy wings that're covered in Bru's spicy hot or tangy BBQ sauces. They're already legends in Broward and PBC.
Where to get it: Bru's Room Sports Grill, section 154
Taste of the NFL
Each week the item will rotate to honor the visiting team. This weekend, get the lobster roll to honor our rivals from New England. You can look forward to Pack and Cheese for Green Bay's visit, fish tacos for San Diego, and cold, stale pretzels when the Jets are here in December, presumably.
Where to get it: Sabor, sections 210 and 238
Sign up here for our daily Miami email and be the first to get all the food/drink/fun in town.