Bulldog BBQ made a Rick Ross hot dog, plus a handful of burgers to honor Miami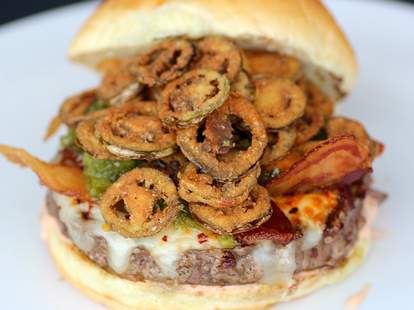 Because it's pretty hard to tattoo "305" on a hamburger, Top Chef alum Howie "The Bulldog" Kleinberg is taking a unique approach to letting everyone know what area code his food reps -- by crafting some insane food combinations, putting them on a bun, and giving them a Miami-centric name for Bulldog BBQ's new line of 305-themed burgers and dogs.
The Luther -- named after 2 Live Crew founder and former mayoral candidate Luther Campbell -- is so nasty good with 100% certified Angus, crispy bacon, caramelized onions, cheese, and house sauce on a "Krispy Kreme-inspired" homemade sticky bun, they're thinking of banning it in Broward County.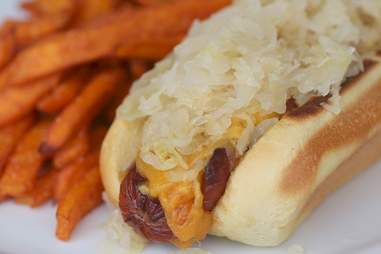 In a move you'll probably never see at The Floridian, Bulldog named a hot dog after Rick Ross. The Big Daddy Dog is a giant kosher beef frank with cheddar, 'kraut, and deli mustard. Like a Bawse.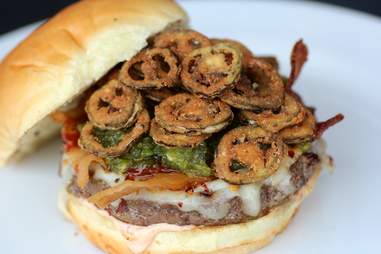 Unlike its namesake basketball team, The Heat burger -- Angus, bacon, jalapeno marmalade, fried pickled jalapenos, pepper Jack, and house sauce -- definitely won't be hated by everybody outside of South Florida.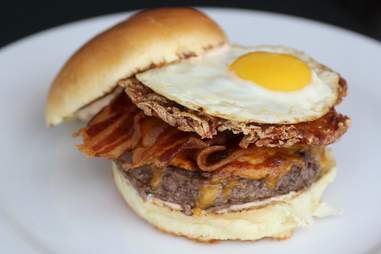 Here's the Morning Glory, a breakfast-on-a-bun tribute to tired TSA agents getting off the overnight shift at MIA. To get the full effect, take out the Angus, fried egg, bacon, hash browns, cheddar, and chipotle mayo, then randomly stuff all the ingredients back into the bun, even if they don't fit right anymore.
And here's the one that honors every single person in Miami on a Saturday morning: A Hot Mess, with Angus, bacon candy, caramelized & crisp onions, roasted mushrooms, blue cheese, and horseradish mayonnaise.