Drink beers and sit in the sand... AT SONIC?????
Not since Gary Payton signed that one-year deal back in '05-'06 has a Sonic's arrival in Miami been such a cause for celebration. And while the new Sonic Beach probably won't hit any NBA Finals-saving shots, they do have everything you love about their other drive-ins (car-hops in roller skates, Chili Cheese Coneys(!), etc.), plus they built a beach right in the middle of Miami Gardens, where you can post up under a palm tree and drink giant 100oz pitchers of beer... or just, like, a Corona.
In an obvious nod to Miami Beach founder and developer Carl Fisher, Sonic's trucking in tons of imported sand and creating a beach where there naturally wouldn't be one. No word on if they'll allow topless sunbathing.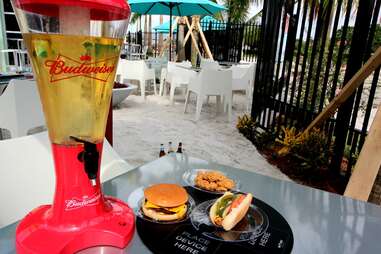 The best way to enjoy your classic Sonic eats (bacon cheese burgers, popcorn chicken, hot dogs, etc.) is to sit on the aforementioned white sand beach, and wash it all down with the aforementioned 100oz of ice cold draft beer, obviously.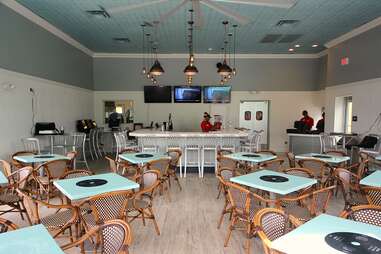 Or go inside to the air-conditioned bar/dining room where 28 kinds of bottled and draft beer, plus red and white wine, await. In the Winter, the walls roll up to create a giant indoor/outdoor patio.
It's still a Sonic, so you can also park your leased GT at the traditional drive-in and get the waitresses on roller skates to hook you up.
Date night? No problem. Just grab a table on the sand right under a palm, a bottle of wine, and some... uh, tater tots. Just make sure that, after such a romantic night, you don't forget your Glove.