Miami So maybe it was a liiiiittle bit humid this summer. Just a touch. But, at least you have nights to look forward to, when things cool off a little, and you can hit one of Miami's five best places to eat outside...
Vintro Kitchen
The Vintro Hotel's Mediterranean restaurant, Vintro Kitchen, finally opens TONIGHT. This means you can sit out and enjoy the view of the Collins Canal while scarfing down stuff like fresh hamachi crudo from their 26ft cold bar and hot plates like caramelized sea scallops and the lamb burger, which is served with goat cheese, caramelized onions, and thyme. Continue Reading
My Ceviche
The creators of one of America's best burritos are opening their third location in South Miami just in time for all the UM kids to come back, try said burrito, see the expansive outdoor seating, and start planning their "I'm eating a burrito outside in November" Instagram pictures that'll make their friends back in Long Island jealous come Fall.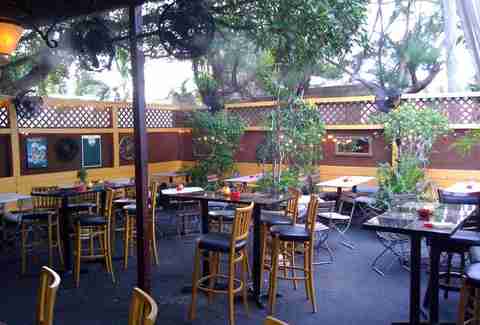 Schnitzel Haus
For years, German beer guzzling and schnitzel scarfing had to be put on hold at this legendary North Miami beer garden when the 4pm thunderstorms rolled in. But now, thanks to a new retractable awning, you can stay outside and keep stuffing your face with Miami's best German food -- like Jaeger Schnitzel, giant pretzels, and potato pancakes -- through the torrential downpour, then enjoy the sun again once it passes.
Cantina La Veinte
This high-end Mexican joint right next to the Miami River in Brickell's Icon is letting you make your own tacos with stuff like pork shank confit, grilled octopus, grilled bone marrow, and beef tongue. For the not-so-adventurous, they're serving sugar cane-crusted ribeye with a three chili sauce. Plus, they're giving you 260 tequilas and mezcals to wash it down with.


(petit) Miami
Milan. The middle of the Sunset Harbour retail complex. Same difference. Or so say the proprietors of one of Milan's favorite Italian eateries. They've recreated their original spot almost piece-for-piece, complete with a sprawling outdoor patio where you can chow down on pistachio-crusted tuna cubes, fresh-made lasagna bolognese, or any of their seafood specialties. You'll swear you're in Italy. Until you remember it's humid. Or, if you'd rather drink your calories, here're some great outdoor drinking spots