Miami Restaurants That Have Thanksgiving Dinner Covered
Give your smoke alarm a break and leave meal prep to the pros this year.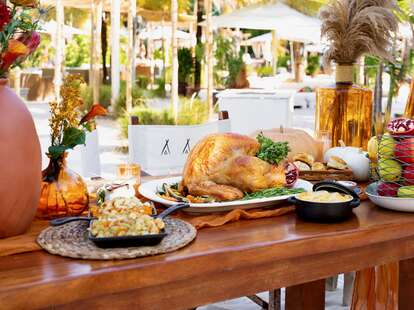 Photo Courtesy of Nikki Beach
Photo Courtesy of Nikki Beach
You can always tell we're getting towards Thanksgiving in South Florida, when restaurants outside Boca start advertising dinner before 6 pm. The question then becomes which restaurant to choose for Thanksgiving dinner if cooking for your entire family isn't on the agenda. Around Miami, we've got plenty of places open and taking reservations, whether you're looking for a traditional dinner or turkey ramen.
Marcus Samuelsson's Overtown hotspot puts a new twist on Thanksgiving dinner, offering its take on some traditional classics. Guests will get a prix fixe menu starting with a Caesar salad or deviled egg toast. Main courses will include a Cajun spiced smoked turkey breast and BBQ pulled smoked turkey legs, served alongside sweet potato casserole filled with spiced pecan granola marshmallow gratin and cayenne cane syrup. It also includes smoked gouda mac 'n cheese on the side and chocolate bourbon pecan pie or apple cobbler pie ice cream for dessert.
Cost: $75 per adult, $20 per child under 12.
Not to besmirch the good people at Cracker Barrel, but if you want southern-style Thanksgiving dinner you're not limited to places with gift shops. Root & Bone is serving fried turkey breast, Grandma Daisy's angel biscuits and loaded mashed potatoes, autumn salad, and sweet chocolate pecan pie. Of course, because we have to go north to get to the South, you can also opt to finish with Coconut Key Lime Pie.
Cost: $65 per adult, kids under 12 are $18.
It's hard not to feel thankful when you're enjoying turkey under warm sun with your toes in the sand. Lacking a beach house, your best bet to make this dream a reality is at Nikki Beach, where staff will be dishing up Thanksgiving dinner from noon to 6 pm. The seaside staple will have a special menu served al fresco, highlighted by turkey with rosemary, thyme, and sage. You can also opt for a Virginia honey baked ham, then move on to green bean casserole, gruyere mac 'n cheese, rosemary sweet potato mash, and parsley smashed potatoes. Grab a coffee with your Bebito's Cafe caramel apple pie and you just might stay up until the end of the football games.
Cost: A la carte menu prices vary.
Your family from out of town probably imagines Thanksgiving dinner in Miami involves rolling up to a neon-strewn valet, walking down into a palm-and-brass bar, then eating in a restaurant ripped from the set of Scarface. They'd be pretty close if you took them to Dirty French for Thanksgiving dinner. It's one of Miami's best places for groups and the special menu will include a roasted heritage turkey, prime rib, and four sides, plus pecan pie a la mode and crème brulee for dessert.
Cost: $150 per person.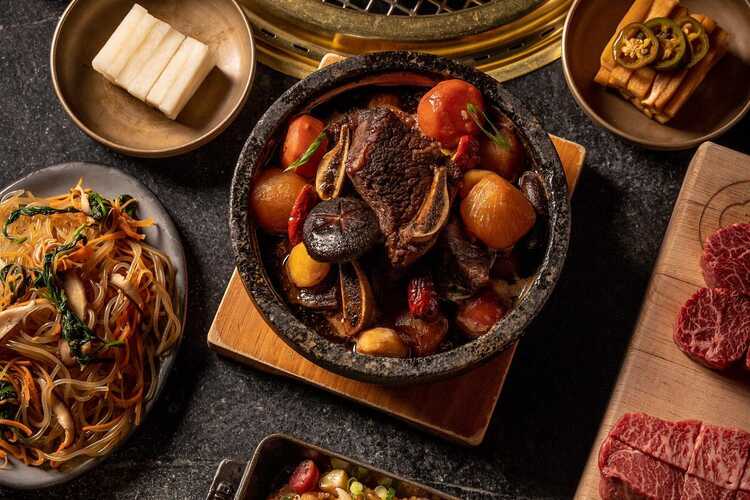 Cote Miami

| Cote Miami
When was the last time you had Thanksgiving dinner at a Michelin starred restaurant? Never, you say? Well, 2022 is your year as the Korean steakhouse is offering a spectacular—albeit beefy—Thanksgiving meal of American Wagyu and USDA Prime Steaks. The usual Korean sides get a T-Day twist, as your table-grilled meats will be accompanied by savory egg soufflé, sticky rice stuffing, and turkey mandoo dumplings.
Cost: $125 per person.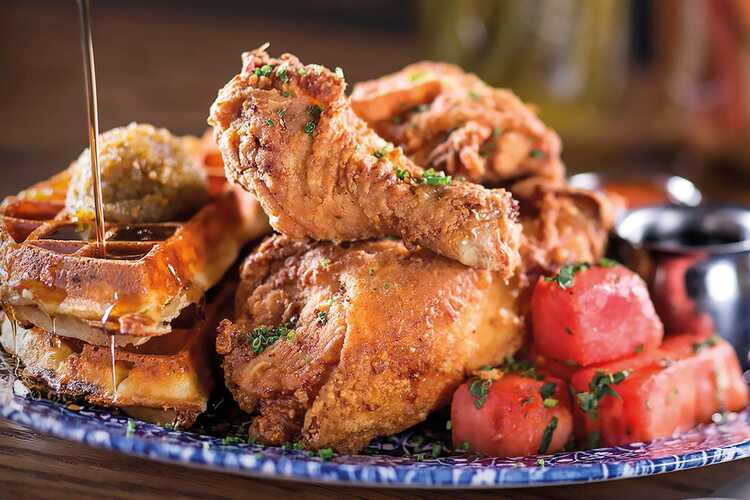 Yardbird Miami

| Yardbird Miami
Hard to ignore a place with the word "bird" literally in its name at Thanksgiving. It doesn't hurt that this South Beach stalwart has been putting out the best fried chicken in the city for over a decade. You can still order it on Turkey Day, but if you're leaning more traditional the a la carte menu will also offer an herb roasted turkey dinner, served with mashed potatoes, green bean casserole, and cranberry compote. Sides consist of biscuit stuffing and lobster mac 'n cheese. And your sweet tooth will be soothed with brown butter bourbon pumpkin pie for dessert.
Cost: Menu prices vary.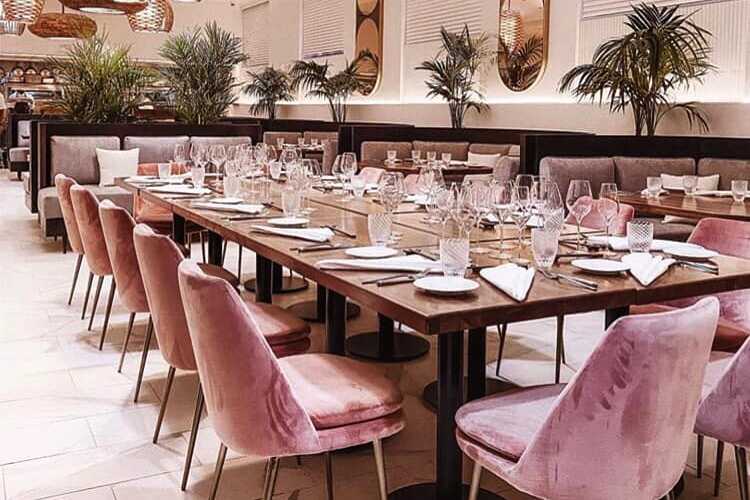 Sérêvène

| Sérêvène
For something completely different that still keeps the Thanksgiving theme, check out this French-inspired spot inside the Greystone hotel. Its four-course menu is filled with stuff you're probably never had during the holiday, starting with a honey nut squash bisque topped with nutmeg crème and amaretto crumble. Move on to a cranberry kale salad with bagel crisp and soy ricotta. Then indulge in a turkey sage roulade with wild mushroom bread pudding, turkey velouté, and cranberry coulis. The capper? Rather than pumpkin pie, you'll be enjoying Captain Crunch French toast with holiday ice cream.
Cost: $109 per person.
The Biltmore

| The Biltmore
You know what's a slightly more elegant setting than your still-sticky kitchen island—with screaming football fans blaring from the TV—for Thanksgiving dinner? The illustrious Biltmore, which is inviting the entire South Florida family in for a Thanksgiving feast at either brunch or dinner. If you like eating dinner at 2 pm, you can hit the usual Biltmore brunch spread, that'll include carved turkey, ham, mashed potatoes, and cornbread. Or opt for the three-course dinner, starting at 6 pm.
Cost: Brunch is $145 per person; dinner is $95.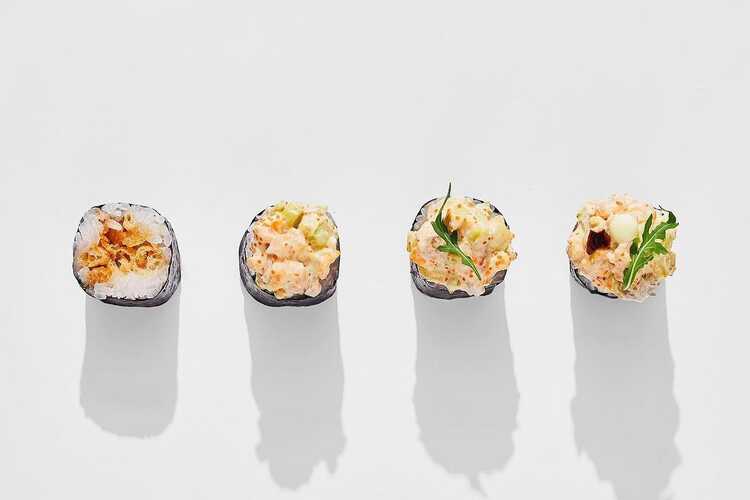 Tanuki

| Tanuki
Sushi? For Thanksgiving? No, we're not espousing trying turkey tartare, but if you're not up for the carb bomb that is a traditional dinner, take a look at Tanuki. Yes, you can be thankful over sake, toro sashimi, and dragon rolls. But you can also give a nod to Thanksgiving with a special take on the three course turkey dinner. Its Turkey Mazemen ramen is served with stuffing spring rolls and cornbread kasutera.
Cost: Menu prices vary; Thanksgiving special is $35.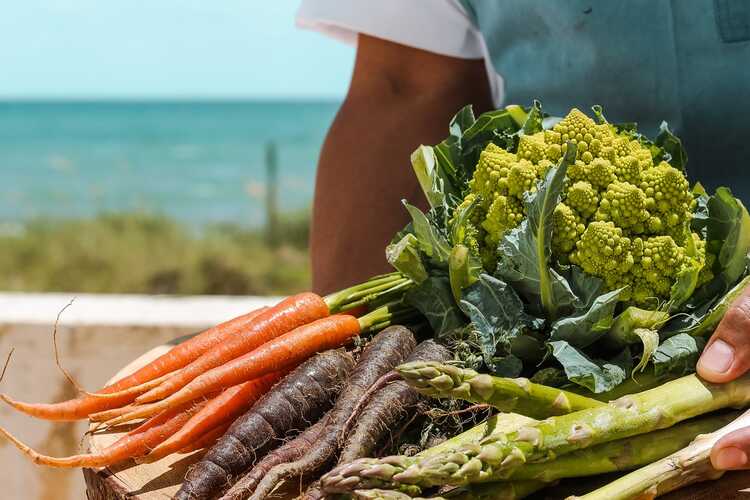 The Strand Miami

| The Strand Miami
Nothing puts you in a thankful frame of mind like a day of treatments at the Carillon spa. If you feel like capping off your day of mindful bliss with a big turkey dinner, you won't have to go far, as the Strand is offering a four-course feast with seatings at 5:30 pm and 7:30 pm. Dinner begins with a butternut squash soup, then moves on to black fig ravioli, lemon pepper roasted turkey with all your favorite sides, and cinnamon and apple tart for dessert.
Cost: $95 per adult, $45 per child under 12.
Old relatives live up in Aventura and refuse to ride in a car for over ten minutes? Skip the mall and take them to Corsair, where you'll stroll through the posh JW Marriott before arriving at your holiday table. The meal begins with butternut squash soup, kale Fall salad, and short rib ravioli. Entrees are roasted turkey breast stuffed with roasted acorn squash; pan seared snapper; or pan roasted filet mignon. Desserts are traditional—think pumpkin, pecan, or apple pie—which is probably best if you're dining with people who are still leery of cell phones.
Cost: $75 per adult, $35 per child under 12.