Almost as cool as knowing the secret password to get you in the door at LIV (hint: there isn't one) is knowing the stuff to order at your favorite restaurants that even highly literate people who can, like, read menus wouldn't know about. And how does one get to this almost unobtainable, Fonzarelli-like level of cool? By reading our roundup of Miami's top six off-menu items, of course.
Maine Lobster Pot Pie, Bourbon Steak
Aventura
Once only available to a visiting Jessica Fletcher, this wicked pissah pie is available to everyone upon request, served tableside in a copper pot with a 3lb lobster, seasonal vegetables, brandied truffle cream and Béchamel topped with a golden brown puff pastry.
Cracker Jack Milkshake, Tongue and Cheek
Miami Beach
You can sip on this creamy mixture of cashew butter and caramel all you want, you're still not finding that secret decoder ring.
Black Truffle Pizza, Cecconi's
Miami Beach
Kinda like Miley Cyrus, this hand-tossed pie with goat cheese and black Winter truffles got too popular for its own good and went off the rails menu. But you can't just turn on EVERY SINGLE TV STATION OR OPEN EVERY MAGAZINE to see this pizza, you've gotta ask for it special.

The Chowfather Burger, Blue Collar
Little Haiti
Danny Serfer's got a whole secret menu, with sandwiches named after all kinds of local media personalities (Where's the Thrillist risotto, Danny? WHERE?), but the highlight is the Chowfather Burger, topped w/ "Big Ragout", a potato latke, bacon & a fried egg.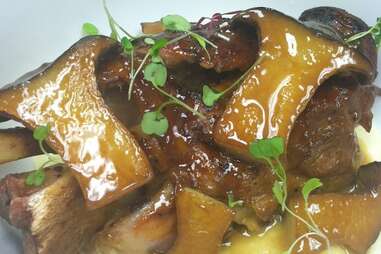 Pork Shank, The Federal
Little Haiti
"Let's go to Haiti" isn't just a song by little-known NYC punk band The Exit. No, it's also what you'll say now that you've heard about this Smoked Pork Shank w/ cheesy grits, creamy mushroom gravy, and roasted trumpet royales.
Alaskan King Crab for 10, Red, the Steakhouse
Quite possibly the most frightening food item in Miami (until they make an edible version of Richie Incognito), this 6ft monster is available from November to February and needs to be ordered three to four days in advance, since they serve it within 24hrs of delivery.