We Uncovered the Best Secret Menu Items in Miami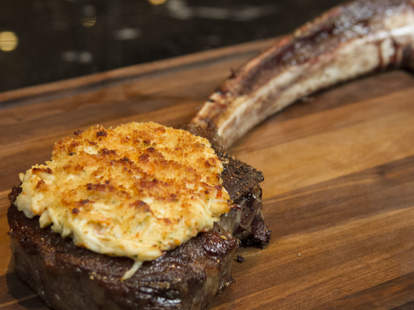 Ninety percent of people who move to Miami are full of secrets. Maybe you just got divorced. Maybe you barely escaped indictment for a Ponzi scheme. Either way it always makes dating here an adventure, but it's also why we've got cool stuff like secret bars and entire menus you don't even know about. Until now.
We asked chefs, restaurateurs, longtime regulars, friends in the know, and now we're spilling the beans about these secret, off-menu foods and drinks you can covertly order throughout South Florida.
Crab-crusted tomahawk steak
RED the Steakhouse
SoFi
Never one to scrimp on indulgence, Miami's best steakhouse is topping a gargantuan 29oz dry-aged certified Angus beef prime rib-eye with a king crab cake then finishing it in the broiler. Equinox gym memberships are available a few blocks away.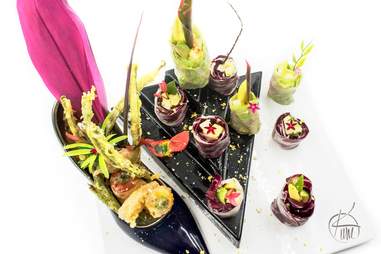 Courtesy of Kaori
The Pyramid Plate
Downtown
We're not going to think too hard about why "Million Dollar Chef" Walter Martino wanted to put this special menu item at his brand-new Miami outpost in a women's stiletto heel. We'll just tell you the shoe is filled with vegetable tempura including green and white asparagus, scallions, baby beets, baby zucchini, and baby carrots, and the platter next to it is a bresaola Wagyu beef roll made with truffle honey.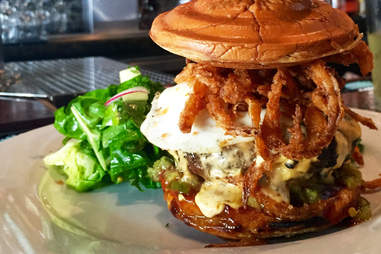 Courtesy of The Local
Secret Burger
The Local
Coral Gables
Yeah, it's one of the best burgers in Miami, but that doesn't mean Chef Phil Bryant needs to tell any pesky tourists about it. The secret burger at The Local Craft Food & Drink changes frequently but in-the-know guests can always order whichever burger graces the menu "secret style," which adds a fried egg and switches out the regular bun for The Local's Mc'Discos - two disks of melty housemade pimento cheese, hot pressed between a potato roll.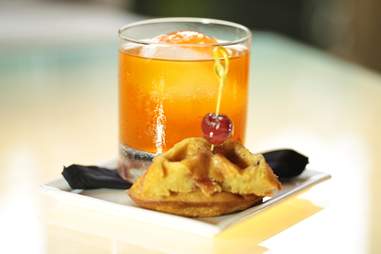 Courtesy of Mandarin Oriental
Breakfast of Champions
MO Bar and Lounge
Brickell
Most "champions" who start every day with a cocktail haven't been champions of anything since Spring Break 2005. Or are David Wells. But you can near that level of greatness/notoriety with this beast. It's made with French toast-flavored bourbon which has been fat-washed with bacon, and is then topped with a bacon maple waffle.
Courtesy of NaiyaRa
Ob Aroi Plaa
Sunset Harbour
Chef Bee's long awaited return to South Beach has brought a menu full of some of the freshest, hottest Thai food Miami's ever seen. But you won't find this Oshi Thai favorite -- made with simmered glass noodle and Vietnamese swine fish with ginger and sesame oil -- anywhere on it.
Courtesy of The Federal
Uni Croissant
The Federal
MiMo
You might think putting sea urchin in a croissant is gross. But you might also think something called "duck in a jar" or "chicken and waffles made with pork" would be a little weird too. Don't, and instead trust Cesar Zapata, he knows what he's doing, and this off-menu invention with Maine sea urchin, chive, and cilantro on a hot buttered croissant is yet another reason step out of your comfort zone.
Courtesy of Makoto
Shishito Pepper Tempura
Makoto
Bal Harbour
That one (out of 20) shishito pepper that makes you feel like a chili bomb went off in your throat will be SLIGHTLY more palatable when served tempura style. Not that we can promise it'll soak up all the fire in your mouth, but at least the breading, dashi broth, sesame, and shaved bonito can give you something to taste other than pain.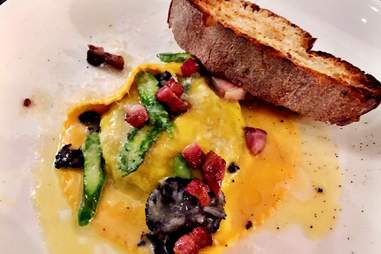 Courtesy of Valentino Cucina Italiana
Ham and egg ravioli
Valentino Cucina Italiana
Ft. Lauderdale
You think it took you a while to figure out how to make your "famous buffalo chicken dip?" Chef Giovanni Rocchio tried this stuff at a restaurant in Italy TWENTY years ago, and has been perfecting it ever since. The tweaks continue -- as the dish isn't anywhere on his menu -- and until now only longtime regulars to one of Lauderdale's best Italian restaurants even knew about it.
Courtesy of Coyo Taco
Yogi Bowl
Coyo Taco
Wynwood
You're all excited to take your date for some big, meaty tacos at Coyo, and when you get there she says something like "Oh, yeah, I don't eat meat. Or carbs. It's cool I'll just have a water." Order up this bowl with quinoa salad, grilled cactus, corn esquite, guacamole, pico de gallo, pickled onions, salsa, and chopped cilantro, and you'll not only look knowledgeable, but also probably save your boring date.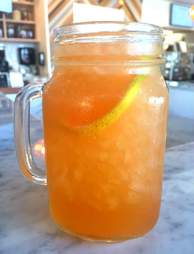 Courtesy of Dirt
Iced Relax Tea
South Beach
Even if you look at a menu that touts its options for raw, vegan, and paleo eaters and think "That rabbit food ain't for me!", there's still something for you at Dirt. Stop by after a long day on the beach to cool off with this iced tea made with chamomile, rooibus, and lavender, then mixed with ruby red Florida grapefruit juice, and Madagascar vanilla simple syrup.
Courtesy of Mandarin Oriental
Peruvian KFC
La Mar
Brickell
Though it would be pretty fantastic if Gaston Acurio brought stuff from a drive-thru in Lima all the way to Miami just so we could taste what fast food is like abroad, it would also be REALLY soggy. And, now that we think about it, not fantastic at all actually. Better that it's delicious fried chicken coated in a fiery sauce made with three Peruvian chili peppers and gochujang Korean chili paste.
Courtesy of PM Fish and Steak House
Crispy tuna tacos
Brickell
Though most people don't go to a steakhouse for seafood -- or tacos -- there's always that one person in the group who just has to be different. Tell your contrarian buddy to go all crazy off-menu and order these fish tacos served carnitas style with mashed avocado, fresh tomatoes, and treated onions.
Courtesy of Azul
Chirashi Don
Azul
Brickell
The typically unreachable Azul has opened up an Izakaya Nights special on Thursdays where you'll get a five-course Japanese menu for a reasonable $55. But that stuff's available the rest of the week too if you ask (priced a la carte), and the highlight is this bowl made with yellowfin tuna, avocado, sushi rice, furikake, and ponzu.
Creamy Carbonara
Fooq's
Downtown
Fooq's is already a go-to for impressing a date with a cozy little place in an otherwise-skethcy neighborhood. But you'll double your cool points by ordering this off-menu specialty, made with Schaller & Weber bacon, Parmigiano-Reggiano, and black pepper. Though we can't be held responsible if she asks how often you go there to know stuff that's not even on the menu.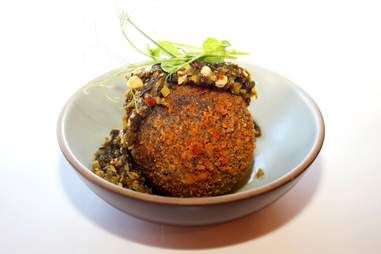 Courtesy of Seaspice
Uni Arancini
Seaspice
Miami River
Chef Benjamin Goldman describes this as beautifully as we've ever heard a rice ball described:

"It was a one of the last minute ideas, conjured up with some fresh Uni and leftover coconut rice from service one night. My purveyor brought these beautiful ramps one evening which became useful for a simple pesto. The rice ball and pesto came together in perfect unison. The inspiration came from eating classic Italian Arancini as a child. My neighbor down the street used to make the best arancini and gravy. I would crave it."
Sign up here for our daily Miami email and be the first to get all the food/drink/fun in town.
Matt Meltzer is a staff writer with Thrillist who's just excited to order from a menu he doesn't have to look up at. Follow him on Instagram @meltrez1.