Pig ears? Home-aged craft beers? Downtown Dadeland just got delicious.
If Plato had lived in Miami, he might have said, "He was a wiser man who invented the $14 beer and convinced people it was cool." He'd probably also think wise the father/son team of Jorge Ramos Sr. and Jr., who're bringing a much-less-than-$14 craft beer and inventive American/Latin/Asian small plate emporium to Downtown Dadeland, an area that, until now, was the culinary equivalent of Orlando.
The Ramos' are Cuban-American Miami natives, so you know the menu is long on pork. This is an applewood-smoked belly cooked in pineapple soda with a Jupina glaze, served atop sweet corn puree and pina colada jus, and topped with a roasted red.
You wanna know what these are? Papa Ramos says, "Eat it, then I'll tell you." But also, we'll tell you first -- they're pig ears in a spicy Sriracha sauce.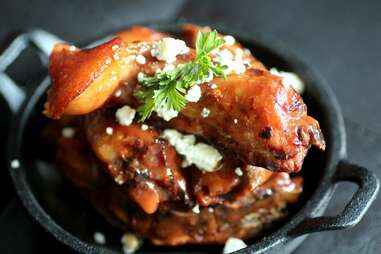 Or if pig ears are just a little too pedestrian, you can go to the other end of the hog and eat the tail, topped with bleu cheese.
Another for the "just shut up and eat it" file: Pan con Beef Tongue. It starts with the strongest muscle in the bovine body, then adds roasted onions, peppers, potato sticks, and a fried egg.
If hops and barley had tongues and ears, they'd be serving beers made from those too. But they don't, so instead B&S has 29 craft beers from all over the world, plus 34 Italian and American wines.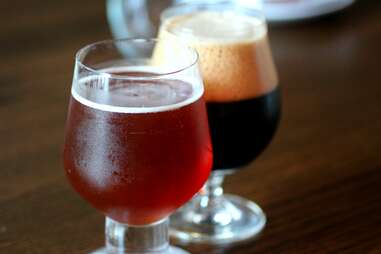 The Ramos' used to own The Joint around the corner, and had some full kegs left when they shut down. The result? This year-and-a-half aged Avery Maharaja IPA and a four-year aged Southern Tier Choklat imperial stout that clocks in at 10% ABV.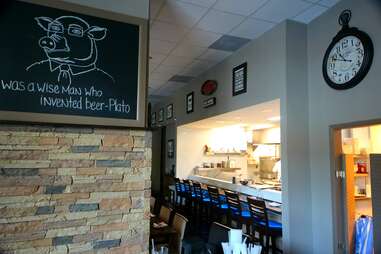 They're serving everything out of an open kitchen, which brings to mind another classic Plato quote: "He was a wise man who invented air conditioning."