Given that Miami is the American city most obsessed with keeping our waistlines from growing, it's pretty funny that we're also the fastest-growing food city in America. But trying to figure out how that's possible is even harder than figuring out which of the 305's badass burgers you should try. That's why we went and figured that second thing out for you: feast your eyes on the 12 best burgers in Miami...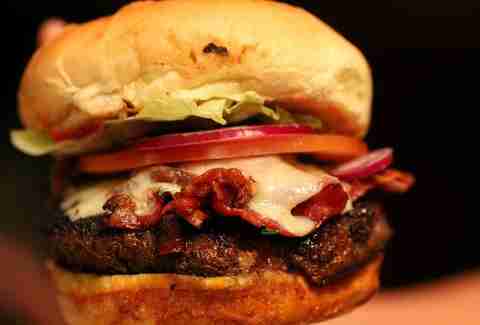 Coral Gables
The burger: Blackened Pub Burger
The Irish aren't particularly well known for their innovation in Cajun spices, but this is Miami, where we've got Irish pubs with salsa bands, so it should come as no surprise that one of the best burgers in the city comes from this longtime Gables pub which blackens 8oz of beef, flame-broils it, and tops it with Irish cheddar and smoked bacon.
Westchester/Coral Gables
The burger: Toston Burger
Lots of places have tried to make some kind of "only in Miami burger" by throwing the ingredients from a Cuban sandwich on a bun like they were the first ones who thought of it. You wanna be the Pitbull of burgers? Take that beef and put it between a couple of fried plantains, then top it with homemade cilantro sauce.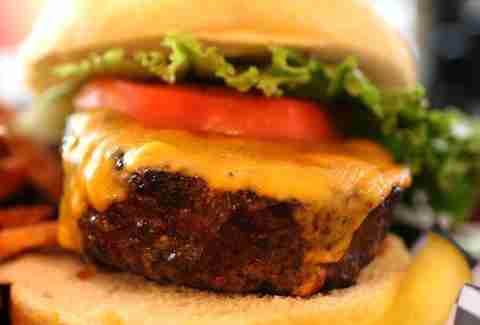 Ft. Lauderdale
The burger: 8oz Certified Angus Beef® Burger
Before you jump down to the comments and tell us we failed eighth-grade geography, we know. Gilbert's is in Fort Lauderdale. But for a lot of people that's actually closer than Kendall, and this burger is worth whatever kind of drive you have to make. Pure Certified Angus® char-grilled to perfection and served up on a fresh roll by the nicest people you will ever meet in South Florida. Who'd never call us out in the comments.

Multiple Locations
The burger: The Twenty Eight
BurgerFi is like South Florida's version of In 'N Out or Shake Shack. But what it lacks in inexplicable cult popularity it more than makes up for in something way more important: taste. The farm-fresh beef and hand-cut ingredients they use makes it one of the hottest franchises in America, and this burger with 28-day dry-aged ground brisket, blue cheese, and BurgerFi sauce is up there with anything you'd get in a restaurant.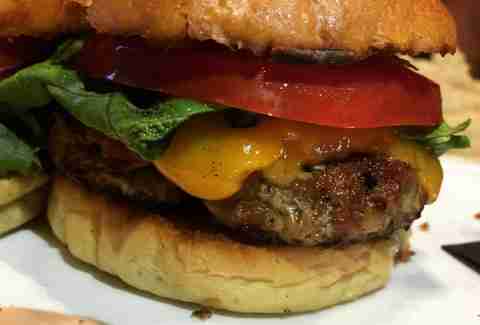 Hallandale
The burger: Adena Burger
Never heard of this place? Well unless you're over 75, chances are three months ago you'd never heard of American Pharaoh either, but both are making their mark on horse racing in 2015. And while it would be hard for a hamburger to win the Preakness, this one is easily the best new burger of 2015, using family farm-raised beef from Ocala, then flame-broiling it and topping it with LTO and cheese. Then serving it at a table where you can bet on horses while you chow down.
Pinecrest
The burger: Keg Burger
Kinda like Pinecrest itself, this burger is simple, understated, and super local, but still one of the best areas/burgers in Miami. Just good old-fashioned American beef grilled up right and served with cheese, nothing fancy, but pure perfection.

North Miami
The burger: The Hot Mess
A couple of years ago Top Chef alum and Miami barbecue master Howie Kleinberg made a bunch of Miami-themed burgers to represent different parts of the city. The best of the bunch was this one, made to honor what pretty much every Miamian is on a Sunday morning: a hot mess. But unlike you, who's topped with cigarette smoke and regret, this one's Certified Angus Beef® topped with bacon candy, caramelized & crisp onions, roasted mushrooms, blue cheese, and horseradish mayonnaise.
Brickell
The burger: Batch Attack Burger
Presumably crafted by some serious stockholders in whatever company sells Lipitor, this beauty is 8oz of prime brisket topped with maple-smoked cheddar cheese and pecan wood-smoked bacon candied with pecan Jameson and THEN topped with some panko-breaded Mac Attack, one of Miami's best mac and cheeses.

Coral Gables
The burger: The Secret Burger
Sure, taking out-of-towners to a place CALLED The Local will make you seem like a lifelong Miamian (even though you've never done any of these things). But you want some serious Dade cred? Order this off-menu behemoth: a bacon and brisket blend with house-made American, fried onions, and house barbecue sauce that's THEN topped with a fried egg and stuck between two Mc'Discos -- cheesy discs of house-made pimento cheese spread that are pressed between a potato roll.

Brickell
The burger: EDGE Burger
For much the same reason Aaron Brooks' steaks and fries are some of the best in Miami, this simple burger is so good not because of some heart attack-on-a-bun topping combination, but rather the quality of the Creekstone meat he uses and the flavor from the mesquite-chipped grill it's cooked over. It's like having a campout right in the lobby of the Four Seasons.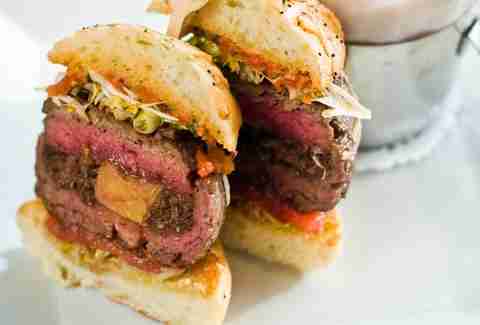 Downtown
The burger: The Original db Burger
If the good folks over at Zagat name you the best burger in Miami, then who are we to argue? This burger is made with sirloin then stuffed with braised short rib, truffle, and foie gras, which "almost justifies its $35 price tag," and also make it our pick for the best burger in Downtown.

Wynwood/Coconut Grove
The burger: LoKal Burger
The only way this burger could be any more Floridian is if it had stolen someone's identity. The guys behind both the Wynwood and Grove locations have taken Florida grass-fed beef, grilled it up, and topped it with local honey mustard, Jack, and Florida avocado and tomatoes.
Sign up here for our daily Miami email and be the first to get all the food/drink/fun in town.