New restaurants open all the time, and menus at our old favorites are changing regularly. Nobody has time to keep up with the influx of food, especially when all you want is a decent burger. That's why we've done the greasy work for you: these are Miami's 12 best new beef-bun combinations.
The Cali Burger
Island Burger at Jungle Island
Address and Info
MacArthur Causeway
Even rarer than some of the species of animals at Jungle Island is this thing, a unicorn-like reasonably priced food option at a tourist attraction that... ACTUALLY TASTES GOOD! Yep, and you don't even need a ticket to enjoy this flame-broiled patty topped with bacon, avocado, swiss, LTO, and Jungle Sauce. Just make sure you resist the temptation to feed it to the flamingos.
The Surf & Turf
Meat Market
Address and Info
South Beach
MM is about to go on a burger spree, rolling out a new style every week, but this one takes center stage thanks to spicy, fried lobster mac & cheese, bacon, and Swiss cheese.
The Wagyu Grilled Cheesus burger
Mondrian South Beach
Address and Info
South Beach
The chef was smart enough to keep the wagyu burger simple... except for the unconventional, yet DELICIOUS grilled cheese bun with white cheddar. Bonus: this thing comes with Mondrian's Burger Sauce, waffle fries, and don't forget that killer view of downtown Miami.
The 50/50
180 Degrees at the DRB
Address and Info
Downtown Miami
Not only is this spot one of Miami's most underrated restaurants, but their burger is suuuper Miami, boasting a half chorizo and half beef patty topped with queso frito, maduros, aioli, and an egg for good measure.
The Bar Burger
The Bar
Address and Info
Coral Gables
Chef Josh Marcus of Josh's Deli recently revamped the menu here and filled it with some gluttonous burger options including lamb and foie gras sliders with caramelized onions and tzatziki, as well as turkey & bone marrow sliders with sautéed mushrooms and Brie, but the star of the show is The Bar Burger, an old school number with a whole 1/3lb of beef.
The Porkey
Tarpon Bend
Address and Info
Fort Lauderdale
It's totally okay to be THAT person that orders a burger at a seafood restaurant, especially when it involves this much pork. This one's got BBQ pulled pork, BBQ sauce, three strips of bacon, and crispy onion straws, and even if you don't literally turn into a porker at the end of it, you'll definitely feel like one.
MB's Favorite Burger
Cena by Michy
Address and Info
MiMo
The old Michy's didn't have time or room for a burger, but now it's been updated, become more casual, and is serving a combination of beef, brisket, and short rib in patty form, topped with American cheese, caramelized onions, and special sauce. It's a solid addition to not only the Corridor, but also to your (presumably growing) belly.
The Meatropolis
American Social
Address and Info
Brickell/Fort Lauderdale
Loaded with an 8oz beef/bacon patty, roasted mushrooms, red onion marmalade, avocado mousse, garlic aioli, blue cheese sauce, chicory, and tomato, like the buildings in futuristic cityscape this burger is tall and eccentric. And would be worth going to... ugh... Ft. Lauderdale for, but luckily you can get it in Brickell.
The Burger
The Local Craft Food & Drink
Address and Info
Coral Gables
This sucker doesn't totally live up to its no frills name. Instead it incorporates a Miami Smokers bacon crust, fried American cheese, pickled onions, and Mississippi comeback sauce (a Southern cross between Thousand Island and rémoulade). Annnd, when you bite into the fried cheese, you accidentally turn your fries into cheese fries.
Grass-fed burger
Golden Fig
Address and Info
Brickell
A few months back, OTC did a 180 and turned into Golden Fig, which is all about that country life. Luckily the farm-to-fork deal includes a burger with sustainable meat sourced from Joyce Farms in Vermont, topped with goodies like cheddar, pickles, caramelized onions, and golden sauce.
Bru's Burger
Bru's Room
Address and Info
Westchester
Opened in September, this brotastic bastion of greasy bar food, brews, and sports on giant TVs actually fills a much needed gap in the 'hood's food scene. The Bru's Burger is a solid take on the classic, but because they are a sports bar, they've got a range of burger options from the Bob's BBQ with cheddar, bacon, BBQ sauce, and haystack potatoes, to a Sriracha Bacon Ranch with bacon, pepper jack, a jumbo onion ring, and Sriracha ranch, if you need something a little more creative.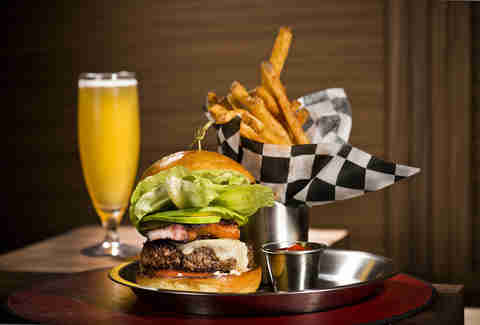 The Signature Burger
BH Burger Bar by the St. Regis Bal Harbour
Address and Info
Bal Harbour
Okay, we're totally cheating on this one 'cause the gourmet burger bar hasn't even opened, but when it does, get the signature with black truffle, grilled foie gras, tomato jam, lettuce, and tomato. Not enough? They'll also have build-your-own burgers, gourmet franks, wings, and shakes by Antonio Bachour.
Sign up here for our daily Miami email and be the first to get all the food/drink/fun in town.
Mandy Baca is a Miami native and freelance writer who may or may not have already had all these burgers. Ok she totally has. Follow her on Twitter @mandybaca.