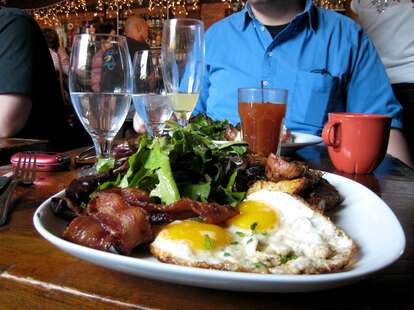 Flickr/LIibrarianavengers
Flickr/LIibrarianavengers
The best brunch in Miami is a hard thing to pick. And even if you consulted our handy guide of where to find the nearest boozy one, sometimes you need an expert to tell you where to go. Which is why we polled the top chefs in Miami to find out where they're eating brunch, and where you probably should too.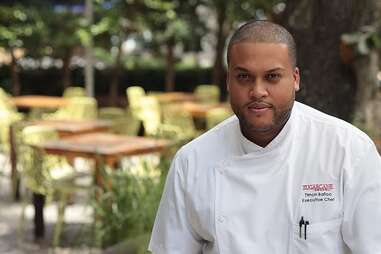 His pick: The Federal (address and info)
MiMo
This husband-and-wife duo make all good things come true through their passion for food and drinks. You can't go wrong with anything on the menu but do make it a point to stop in for the biscuits!

Their pick: China Pavilion (address and info)
Pembroke Pines
We go to China Pavillion in Pembroke Pines. No Benedicts, no waffles, no pig wings, when you see the stuff every day, you really don't ever want to eat it! We do steamed shrimp hargao, scallion and shrimp hargao, crispy custard puffs, turnip cakes, chicken feet (!), and baked pork buns.

For the days we are actually working brunch, we do post-brunch noshing at Sugarcane. Happy hour sushi and rosé works miracles after feeding 200 plus people.
His pick:Tongue and Cheek (address and info)
SoFi
Very family friendly and approachable menu, we're a party of five so kid friendly is important to us. My order there is always the same, I get the braised brisket Benedict, and I share an order of the lemon ricotta pancakes with my oldest (and by that I mean I steal most of her pancakes).

His pick: Mignonette (address and info)
Edgewater
Dan (Serfer) does an amazing job. I especially love the lobster rolls and croissants.
His pick:Front Porch Cafe (address and info)
South Beach
I like simple regular breakfast stuff for brunch like sunny side-up eggs, potatoes, bacon, and toast with some straight pancakes or French toast for the table. That being said, my go-to is the Front Porch in South Beach. I've been going there for 10-plus years. Michael does a great job.

His picks:Pubbelly (address and info) and Blue Collar (address and info)
Sunset Harbour/MiMo
The Korean pork chilaquiles are crazy good and after the meal I can head right over to the sand for a nice day at the beach. If I can find the time for a Saturday brunch, it's all about Blue Collar. Danny's latkes are one of my favorite things in Miami!
His Pick:R + D pop-up by Jugofresh (address and info)
SoFi
It's insane that vegan food can taste so good! Chef Paco kills it. Get the buckwheat waffles with fruit, lemon coconut cream, cacao butter, and maple syrup.

His pick: Matador Room at the Edition (address and info)
Miami Beach
Great ambiance on the terrace and the food is excellent. My favorite dish there is the huevos rancheros.
Her pick:Zuma (address and info)
Downtown
Zuma has three different tiers of brunch to choose from... a group of us recently went and chose the one where you got limitless Roederer Champagne, sake martinis, margaritas, and an amazing buffet. They have a cooked station, sushi sashimi station, and hot pot rice. You also get to choose a hot robata cooked item -- I chose the beef tenderloin which gets delivered to you.

His pick:Zuma (address and info)
Downtown
It's not like a traditional brunch, I love that it has a Japanese influence. Get the Japanese-style pancakes with octopus.
His pick:Fontana at the Biltmore Hotel (address and info)
Coral Gables
Old Miami elegance and such a stunning setting. The food reminds me how a brunch is supposed to be, old school and over the top. Carving stations, seafood display, caviar, and, of course, they pour real Champagne! Which is crucial to any brunch! Not-to-miss dish is the lobster salad martinis, so delicious I can't eat just one.

Her pick:Josh's Deli (address and info)
Surfside
It's a tiny neighborhood spot and Josh is always working on awesome new creations. Right now I'm all about the bialys!
Her pick:Blackbrick Chinese (address and info)
Midtown
It feels like going home. My top must-have is the char siu bao BBQ pork bun, tastes just like my grandmother's!

His pick:Brasserie Azur (address and info)
Midtown
It reminds me of when I was young in France with their tradition. The design is beautiful... you can see from the dining room all the way to the raw bar, pizza oven, and kitchen. Prices are very fair and the food is very simple and delightful. The chariot de desserts a la Francaise (dessert cart) has three different desserts and is just $16. And the butcher bagel is a must. And it's hard to find a place in Miami with a real handmade hollandaise sauce.
His pick: Wagon's West (address and info)
Pinecrest
It's the first place I had a real country breakfast when I moved to Miami. That said, I honestly don't go to brunch much. I'm either working it or sleeping in!
Sign up here for our daily Miami email and be the first to get all the food/drink/fun in town.